'The Office': Jenna Fischer Relied on This To Help Her Play Pam Beesly
The cast of The Office undoubtedly coveted their roles individually, but some actors had more of an affinity for their characters than others. There's a special reason why Jenna Fischer was so invested in the role of Pam Beesly Halpert — and it's not because of John Krasinski!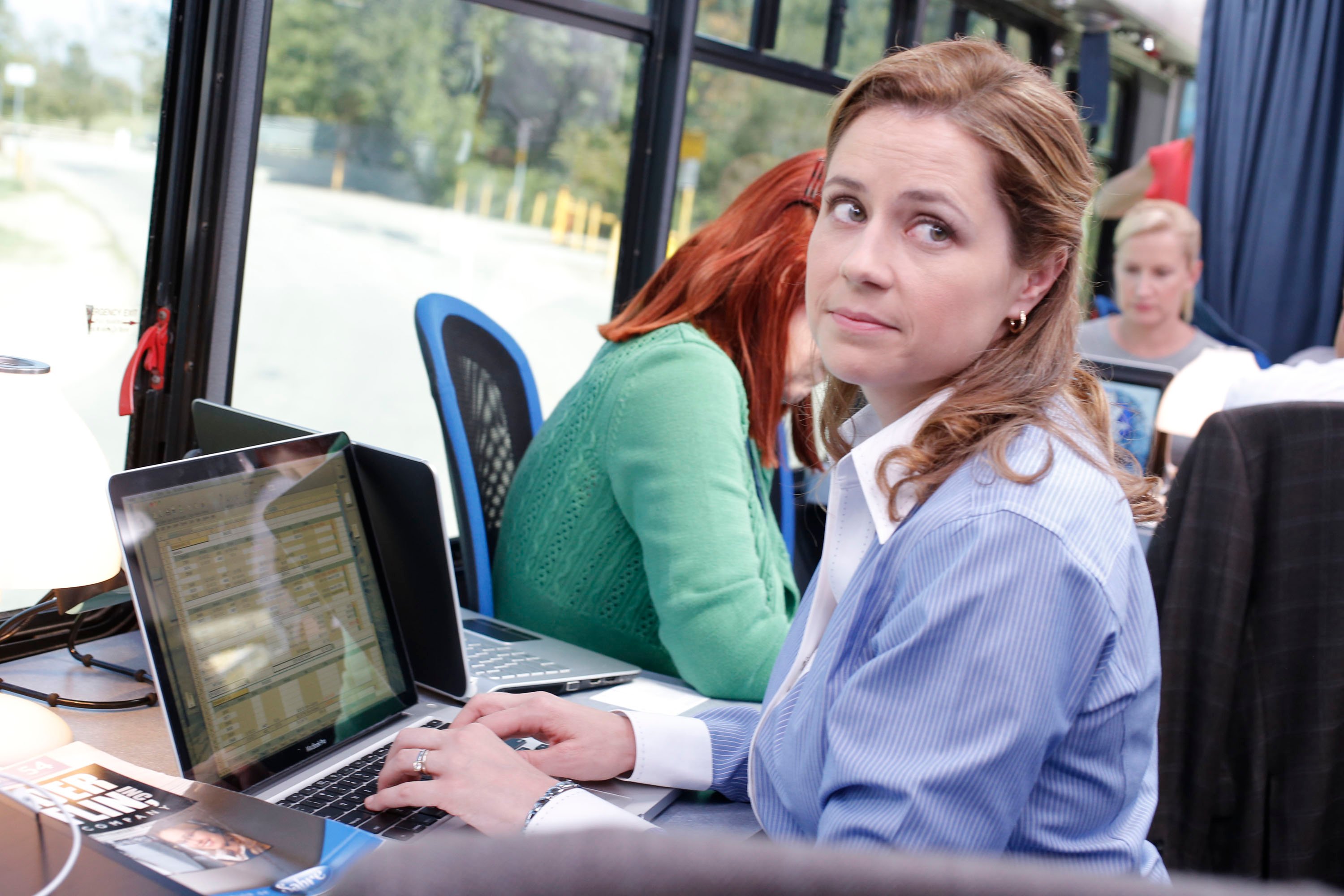 Jenna Fischer felt a special connection to Pam Beesly on 'The Office' 
Office star Brian Baumgartner spoke with Fischer on his podcast, An Oral History of The Office. During their conversation, Fischer revealed how she knew deep down that she was meant to play Pam, even before she auditioned for the role.
"I believed with my whole heart that this was the part for me," Fischer explained. "I am literally the only person who should play this part," she remembered thinking.
Fischer recalled thinking if they didn't pick her, then The Office wasn't the show she thought they were making. Fortunately, Fischer was picked for the role, and the rest is history.
Jenna Fischer wrote an essay about Pam Beesly for 'The Office'
As many actors are wont to do, Fischer created a backstory for Pam Beesly. In this way, she was able to go into her audition fully prepared. Fischer's preparedness also allowed her to field questions from the writers throughout the course of the show.
Fischer called her backstory for Pam "a document" that detailed who she was and what motivated her to behave in the way she did. 
"I had written probably a three-page essay on Pam's backstory," Fischer told Baumgartner. Some of the information was sourced from the original British version of the show. Other ideas came from the scripts Fischer received. 
Fischer's backstory was as detailed as they come. This document many details that proved useful throughout The Office's run, as the show's writers would often turn to Fischer for advice on Pam's behavior. 
'The Office's writers relied on Jenna Fischer for advice 
The Office had an excellent team of writers who came up with jokes and hilarious scenarios for the employees of Dunder Mifflin. Still, many writers turned to the actors for guidance on how a character might behave in a particular scene. 
"In our defense, we have 18 characters to deal with," writer Brent Forrester explained to Baumgartner. Plus, the writers felt they could not know the characters on The Office as well as the actors playing them did. 
RELATED: 'The Office': Why Dwight Schrute Is So Relatable
Fischer recalled a time Greg Daniels called her trying to figure out why Pam would choose to stay with Roy (David Denman). Naturally, Fischer had an answer. 
"I was like, 'Oh, Greg! I've got a document!'" Fischer laughed. "Pam's parents owned an appliance store in town, and Roy worked there in high school," she said.
Fischer believed Pam stayed with Roy for so long because she had gotten too comfortable. What's more, as fans saw during early season's of The Office, Pam wasn't very much into taking risks. 
Thanks to Fischer's connection to the role and her handy essay on Pam, many of her suggestions worked for the show.