'The Office': Jenna Fischer Revealed the 'Scary' Reason Why Pam Didn't Run in the 'Fun Run' Episode
Fans of The Office loved the Jim and Pam interaction in the "Fun Run" episode, but it raised one big question: why didn't Pam and Jim actually participate in the 'Fun Run Race for the Cure'? It turns out Jenna Fischer, who played Pam, had a pretty significant injury in real life that took her out of the race.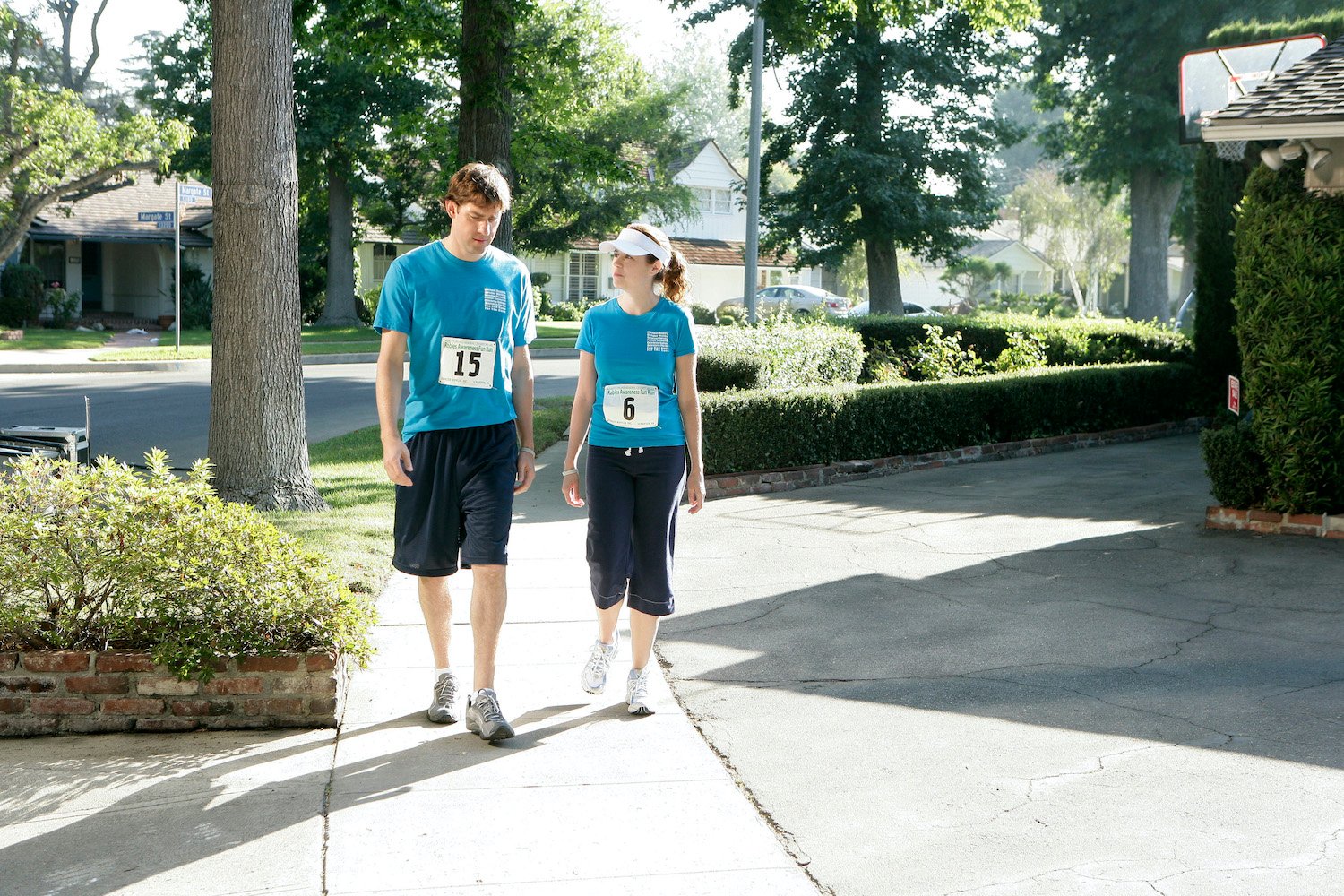 'Office Ladies' revisit the 'Fun Run' episode
During the Dec. 9 episode of the Office Ladies podcast, Fischer and co-host Angela Kinsey got into the details of the season 4 episode "Fun Run."
After Michael Scott hit Meredith with his car, she went to the hospital where she found out she had rabies. That prompted him to organize a fun run event to raise awareness about rabies — 'Michael Scott's Dunder Mifflin Scranton Meredith Palmer Memorial Celebrity Rabies Awareness Pro-Am Fun Run Race for the Cure'.
There are varying levels of interest and commitment among the race participants, with some members of the office giving it their all and others bailing completely and leaving the race route. Jim and Pam take a leisurely walk together, stopping at an estate sale and buying a lamp.
There's a big reason why Jim and Pam didn't run
Jim and Pam didn't run in the race, which tracks with how their characters likely wouldn't be that competitive or interested in the activity. There was a bigger reason why they didn't run, however — Fischer had suffered a pretty big injury and her doctor wouldn't allow her to run.
The Office writers were tasked with writing a storyline for Jim and Pam that had them walking rather than running.
Fischer shared the details of the nasty spill she had taken a few months before they filmed this episode. It was quite a serious fall that left her with a fractured back and literally took her out of the race.
Jenna Fischer fell and injured her back
During the Office Ladies podcast, Fischer shared why Jim and Pam didn't run and the reason was quite surprising.
"The reason for this is because, in May of 2007 — we shot this in August — in May, I fell down a set of stairs in New York City and I fractured four bones in my back and I was not allowed to run," Fischer shared.
She continued, "So the writers had to write a reason for me to only walk through this episode."
Fischer and Kinsey were at a work event at a New York club and the actor said she had just gotten a drink and started to walk down the marble stairs when she slipped and fell. The scary moment left Fischer badly hurt and disoriented and a bouncer at the event carried her to a back room. She was rushed to the hospital.
Fischer shared more details of her time in the hospital, with Kinsey by her side, and her co-star and BFF even stayed with her when Fischer had to continue to stay at the Ritz-Carlton hotel in NYC while waiting for family to arrive because she couldn't travel.
Fischer was in the hotel for two weeks and, thankfully, healed from the injury, but it did create a challenge for the show.
"That's why Pam doesn't run in this episode," Fischer said. "I was healed, but I don't think at this point I was driving myself yet and I wasn't allowed to run."
Kinsey added, "Your doctor had you on a very specific sort of recovery plan because you do not mess with the back."
Fischer's injury allowed for Jim and Pam's storyline to have some sweet moments in the episode, with Fischer and Kinsey commenting how "it worked" to have the characters take a leisurely walk.