'The Office': Jenna Fischer Revealed Why the Writers Had Pam Fail Art School
When Pam failed an art class on The Office, she decided to quit the graphic design program rather than retake the class that would keep her in New York City for 12 more weeks. Some fans thought that Pam was choosing Jim over her dreams but Jenna Fischer, who played Pam, shed some light on why Pam came back to Scranton.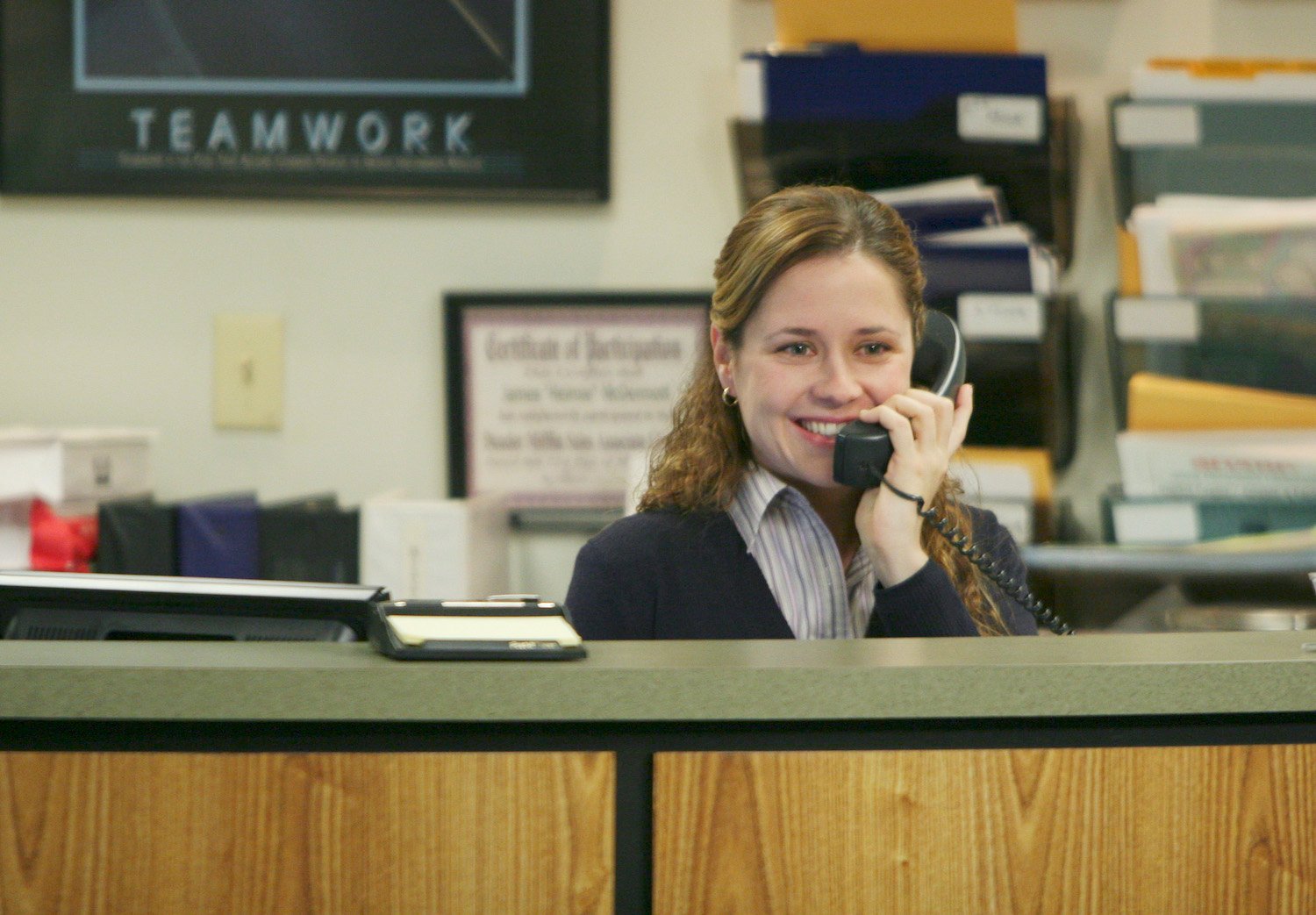 'The Office' episode saw Pam failing an art class
During the July 14 Office Ladies podcast, Fischer and Angela Kinsey discussed The Office "Business Trip" episode. Pam calls Jim to talk about how she failed an art class and will need to stay in New York to retake it. She's not sure if she wants to spend another three months away from Scranton, but Jim encourages her to take the class again and come back "the right way."
"It's not about me. I mean, this your dream," Jim tells her. "And you went to New York to do this. So when you come back, you come back the right way. Right?"
Despite his pep talk, Jim finds Pam in the parking lot after work. She tells him, "I'm coming back the wrong way. It's not because of you. I don't like graphic design. That's it."
"I really didn't like it," Pam adds. "It's just designing logos and stuff … and I miss Scranton. But it is not because I missed you. I just really wanted to come home … and I know you said to come home the right way, but you can't tell me what to do. Got it?"
Jenna Fischer shared the real reason Pam dropped out of art school
Pam could have toughed it out and taken the failed class again but, despite Jim's encouragement, she ultimately decided to quit art school altogether.
During the Office Ladies podcast, Fischer said that writer Jen Celotta thought that was the right choice for Pam but not in the sense that the character was giving up on her dreams to be with a man.
Fischer addressed how Pam chose Scranton over retaking the failed class when she answered a fan's question on the podcast. "Why did the writers have Pam fail art school?," the fan wondered.
Fischer spoke with the episode's writer, Brent Forrester, who explained why Celotta wanted to have Pam return to Scranton. "The truth for Pam was not that she was giving up on her dreams for Jim but that she was distinguishing what her real dreams were," Fischer explained.
Pam quit because she wasn't passionate about graphic design
The actor said she "really liked" the way the storyline played out. "Because I think what Pam did here in going to graphic design school was that she was taking her real dream of being a creative artist and she was doing what a lot of artists do and she was trying to find a practical application," Fischer explained.
Fischer noted how people usually pursue graphic design because they have a passion for it. "And the truth is that Pam discovered she does not have a passion for graphic design," she shared.
Fischer also explained that she tapped into that idea when Pam was crying on the phone with Jim after finding out she had to repeat the class. "Pam is realizing that even if she did pass the course, this isn't for her. But she's also embarrassed that she failed," the actor explained. "But what she definitely does not want to do is spend 12 more weeks studying something she doesn't love."
RELATED: 'The Office': Jenna Fischer Said This 'Big Storyline' for Jim and Pam's Relationship Was Scrapped