'The Office': Jenna Fischer Reveals How Jim and Pam Would Be Doing Today
Jim and Pam from The Office will go down as one of TV's most beloved couples. From best friends to a married couple with kids, The Office fans have watched the characters portrayed by John Krasinski and Jenna Fischer go through it all. Their relationship was not without its fair share of hardships. It wouldn't be unheard of to think that, maybe, in the end, Jim and Pam would go their separate ways. In an interview Fischer gave in Feb. 2021, she weighed in on how The Office couple would be doing today.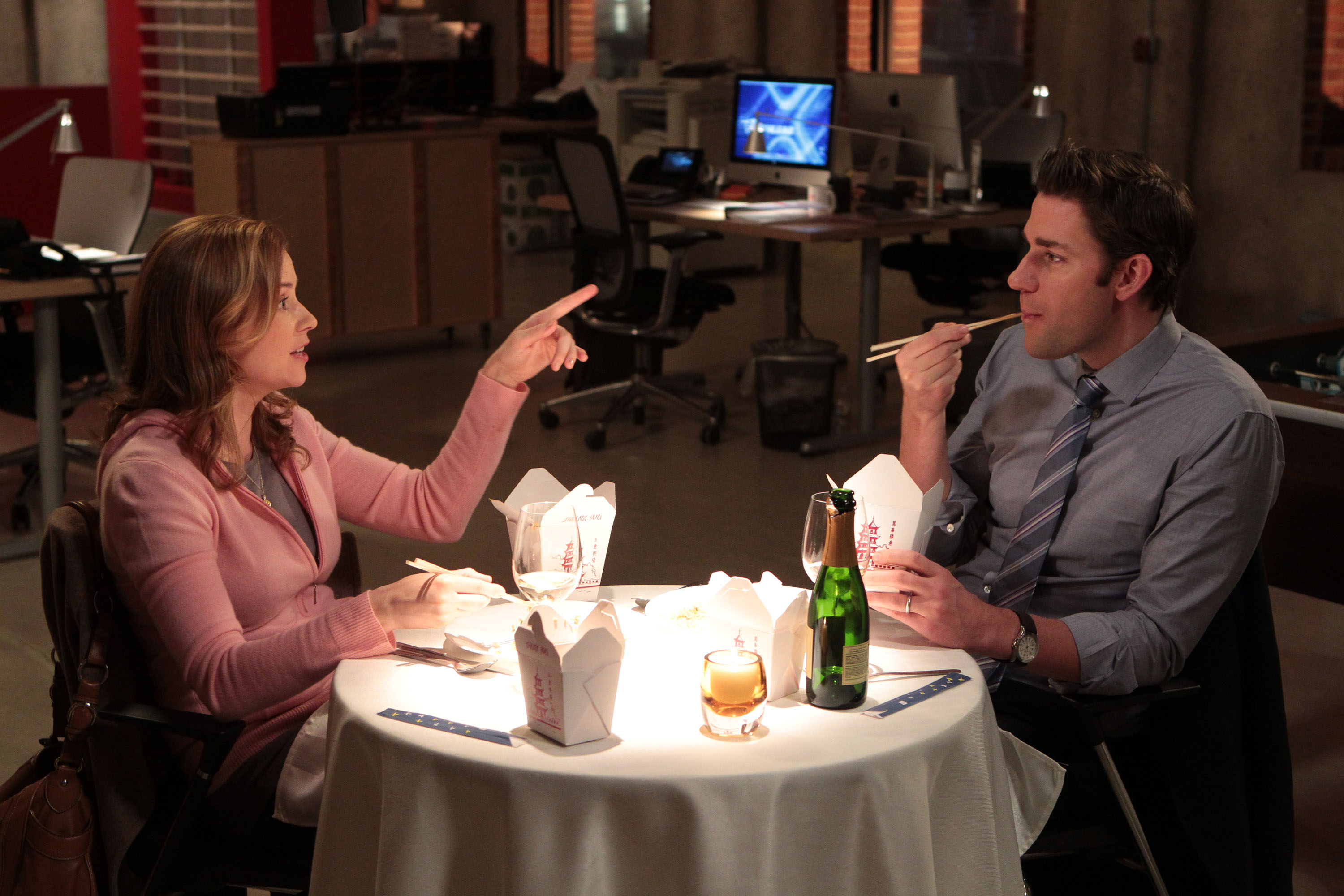 Jim and Pam were going to break up in Season 9 of 'The Office'
In Andy Greene's book, The Office: The Untold Story of the Greatest Sitcom of the 2000s, it is revealed that showrunners considered splitting Jim and Pam up in Season 9. The book says that Krasinski was an early supporter of the idea.
"My whole pitch to Greg was that we've done so much with Jim and Pam, and now, after marriage and kids, there was a bit of a lull there, I think, for them about what they wanted to do," said Krasinski, as reported by Vulture. "For me it was, 'Can you have this perfect relationship go through a split and keep it the same?' which of course you can't. And I said to [showrunner and creator] Greg Daniels, 'It would be really interesting to see how that split will affect two people that you know so well.'"
Writer Brent Forrester also spoke about the potential breakup.
"Greg really wanted to do something extremely risky and high-stakes, which was the documentary airs and we see what effect it has had on these characters," he said. "And there was going to be a reunion episode where you see that Jim and Pam have split up by this time, and they will have their reunion in the reunion episode."
'People just absolutely did not like that'
The introduction of Brian, a member of the documentary crew, was supposed to ease viewers into the possibility that Pam may be having an affair. But the audience response to the episode was not positive.
"People just absolutely did not like that," said writer Owen Ellickson. "They were bothered that there might be some triangle that Pam and Jim would be involved in and even more insulted that we thought they might believe that. That's how it felt to me. Greg absolutely turned on a dime after that and we pivoted away, I think pretty skillfully given how quickly we had to do that."
In the end, Krasinski also agreed that having Jim and pam split up would be "too painful" for "the ultra fans of the show."
Jenna Fischer thinks Jim and Pam are still happily married
So Jim and Pam ended The Office together and on the cusp of a new chapter of their lives. But where would they be today, all these years later? If you ask Fischer, she's confident they're still going strong.
"I am positive that Pam and Jim are doing very well and Cece and Phillip are growing up into fine, fine little people," Fischer told People in Feb. 2021.
"I think the move for Pam and Jim was great for them because they were able to invest a little bit more into the types of things that really give them meaning in their life," she continued. "They're very happy. Don't worry."