'The Office': Jenna Fischer Reveals Jim and Pam Scene Had Her 'Crying for 2 Hours'
The Office star Jenna Fischer shared how one touching Jim and Pam scene was extra emotional to film. Pam was devastated on her wedding day, so she called Jim. He assured her and even cut his tie to prove a point.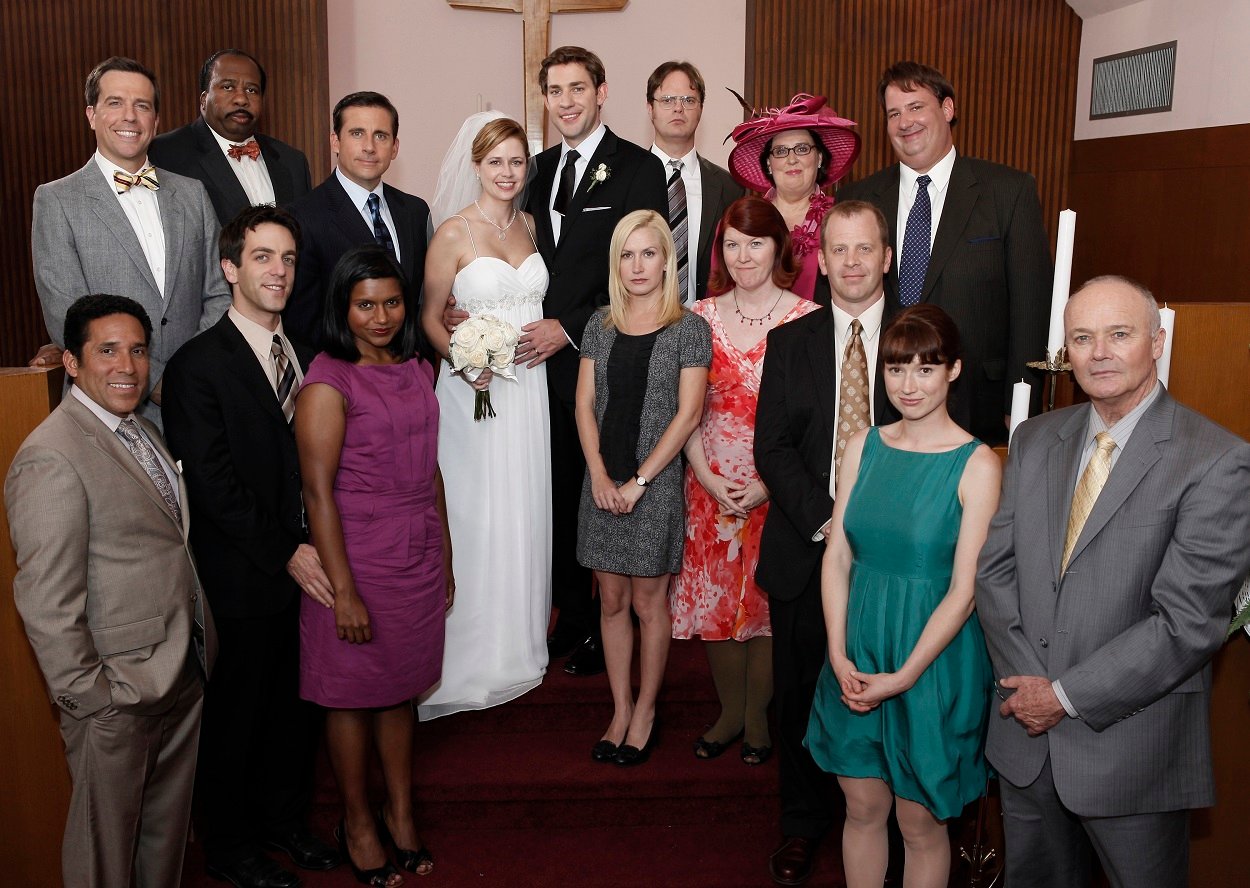 Jim and Pam were married on a boat on 'The Office'
During the Feb. 16 episode of the Office Ladies podcast, Fischer and Angela Kinsey discussed The Office Season 6 episode "Niagara." Jim and Pam's wedding episode had some ups and downs and Pam ended up falling apart when she ripped her veil.
Jim and Pam share a touching moment and he cuts his tie, saying, "Now we're even." Then they run off, leaving their wedding guests wondering what happened to them. Eventually, they return to the church and have their wedding ceremony. The couple's friends and family dance down the aisle while scenes show Jim and Pam getting married on the Maid of the Mist boat.
Jim explains in a talking head interview that he bought the Maid of the Mist tickets as a backup plan. "I bought those boat tickets the day I saw that YouTube video," he says. "I knew we'd need a backup plan. The boat was actually Plan C. The church was Plan B and Plan A was marrying her a long, long time ago. Pretty much the day I met her."
Jenna Fischer explained why 1 scene was so draining
Fischer admitted that the Jim and Pam scene after her veil ripped was emotionally draining.
"When Jim gets to Pam's room, she's totally crying," Fischer said. "Like, she tore her veil. She thinks she looks terrible because she got no sleep. She's five months pregnant…"
The actor continued, "She feels like, I don't know, this day is just not going how she wanted."
Fischer shared some behind-the-scenes details about filming the scene and how "intense" it was for her. "I remember I had to really work myself up because I wanted this emotion to feel really genuine," she explained. "And I mean, we filmed the scene so many times. I feel like I was crying for like two hours."
The actor added, "It was like, I had a headache afterward. Like, it was a really intense day of acting for me."
John Krasinski's tie was already cut in the scene that aired
Fischer also shared how, even though they had multiple ties for John Krasinski to cut in the scene, they ran out of ties and had to find a workaround.
"Well, it's in this scene where Jim is going to try to make things better by cutting his tie to kind of prove to Pam that this day can be perfect without everything being perfect," she explained.
Fischer continued, "We did a lot of takes of this. We wanted to get it just right. We ended up doing like seven takes of this scene, but we ran out of ties. We didn't have a ton of ties … And so what we did was John would snip just the bottom of the tie. And then on the next take, he would go more to the middle."
If you look closely, you can see Krasinski's tie had been cut. "And if you look at 10 minutes, six seconds, you can see that the bottom of his tie is already cut off," Fischer said. "It goes by really fast. But if you pause it, you can tell."