'The Office': Jenna Fischer Reveals the Heartbreaking Pam and Jim Moments That Made Her Cry
Jenna Fischer said this line on The Office made her heart drop into her stomach it was so heartbreaking.
Fans of The Office have found the comedy series to deliver laughs but also, from time to time, some tears too. During various Office Ladies podcast episodes, star Jenna Fischer, who played Pam, dished on some of those more emotional moments between Pam and Jim (played by John Krasinski) that made her cry and broke her heart.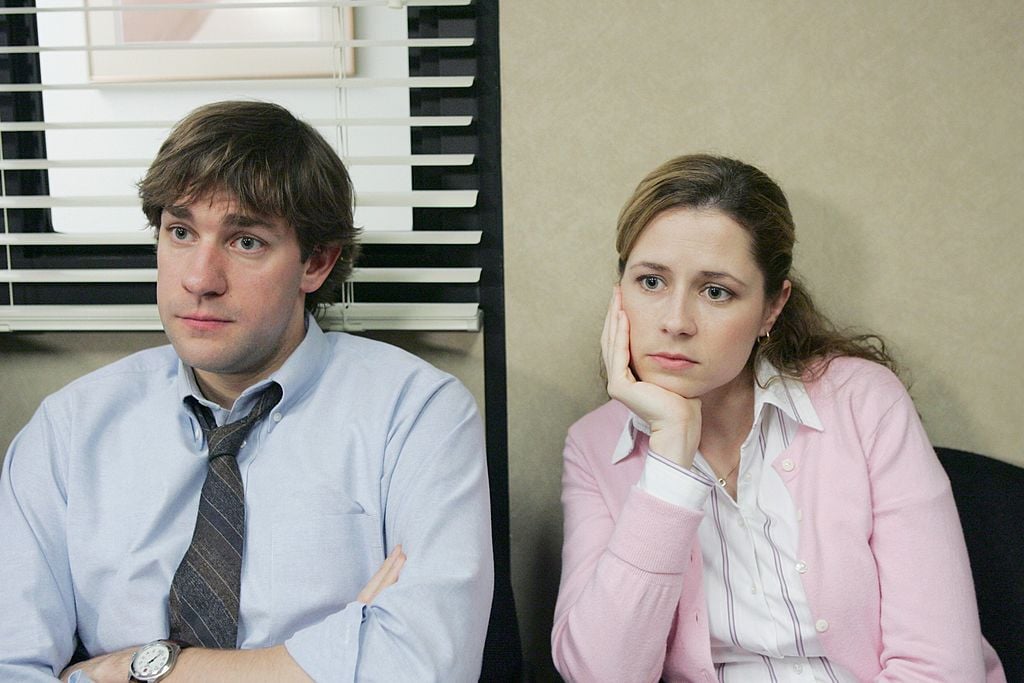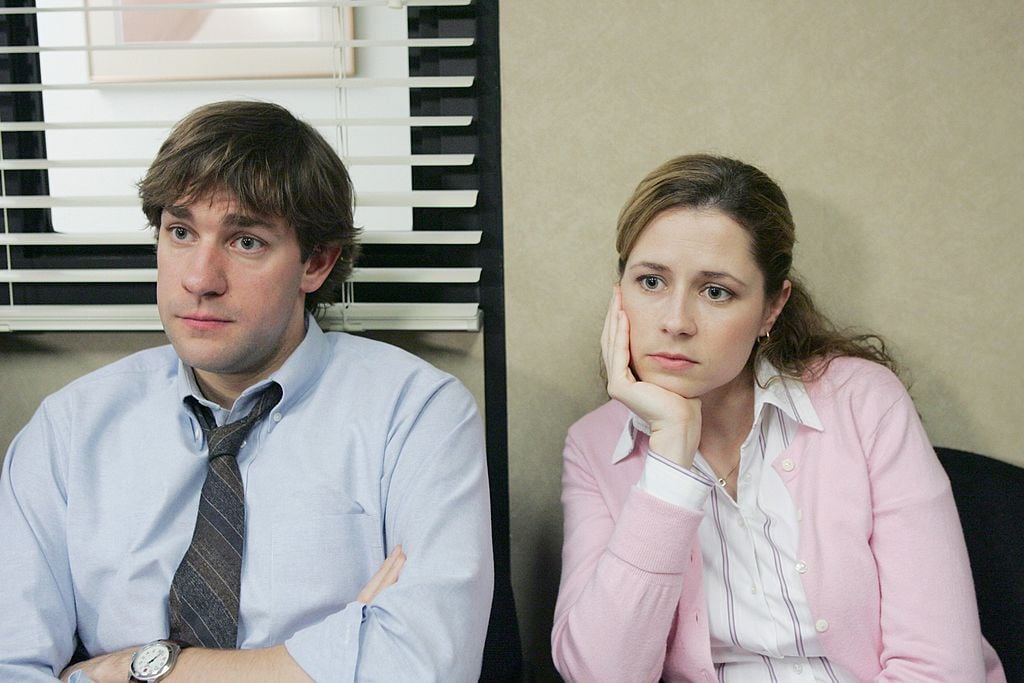 Pam and Jim's relationship developed over the series
Viewers were taken along for the ride of two office workers who were friends who had romantic chemistry. In the early seasons, that was complicated by the fact that Pam was engaged to Roy. Jim finally got the nerve to profess his love for Pam in the season 2 finale, only to be shot down by Pam… but the couple finally shares a kiss at the end of the episode.
The relationship was a roller coaster for fans, who were happy to ride the ups and downs toward the couple getting the happily ever after they deserved.
'The sweetest of sweet moments'
Throughout the show's run, there were plenty of sweet moments but one in particular Fischer calls "the sweetest of sweet moments" between Pam and Jim. On the March 18 episode of Office Ladies podcast, Fischer recalled the season 2 episode "The Carpet" which includes a very touching moment for Pam and Jim she called "the sweetest of sweet moments."
After the two characters spent most of the episode apart, something touching happens right at the end. When Jim leaves for the day, he stops at his desk and finds that Pam has left him 7 voicemails.
"This whole episode we've given you no indication that Pam is clocking Jim in any way, but Jim walks to his desk, he sees the little message light flashing, and he plays his messages," Fischer explained.
She continued, "Pam has left him 7 voicemails all about her day… and you see him kind of walk to his car as these messages play."
The scene that made Fischer cry
On the March 25 Office Ladies podcast, co-stars Jenna Fischer and Angela Kinsey did a deep dive into the "Boys and Girls" episode where Jim hurts Pam's feelings.
Fischer recalled Jim and Pam's first fight in season 2, episode 15, called "Boys and Girls." Jan visits the Scranton office for a "Women in the Workplace" seminar and encourages Pam to pursue an internship.
Pam gets support from Jim but not her fiancé Roy, and Jim throws a bit of shade about how Roy disregarded Pam's interest in the internship. "This episode is Jim and Pam's first fight," Fischer shared. "It's a real fight."
Fischer said she shed real tears in the episode. "We go back to the talking head and Pam just breaks down," she explained. "She's talking about the terrace, but we know what she's really talking about. She says 'it's just not practical' and 'you're not going to find that,' and what she's really saying is, 'I'm never gonna have Jim. I'm never gonna have true love. I'm never gonna be who I want to be.'"
"Guys, there are times as an actor where your heart just breaks for your character. I just felt her heart breaking and it made my cry," Fischer said of tapping into the emotion of the scene.
"I wasn't thinking about my dead pet or something like that. I was thinking about how it must feel to have someone not encourage you, to feel trapped, and to feel so alone. And I thought about how the one person who was trying to help me I just pushed that person away," she added.
'My heart dropped into my stomach'
One of the most emotional scenes to play out between Jim and Pam happened in the season 2 episode "Casino Night." During the Office Ladies' May 13 podcast, Fischer shared how emotional the scene in the parking lot was, as Jim finally confessed to Pam, "I'm in love with you."
Pam rejected Jim, saying that she "can't" because she's engaged. When Krasinski improvised the line "Don't do that" as Pam says his friendship is important to her, Fischer explained how heartbreaking it was.
"My heart dropped into my stomach," she explained. The way Krasinski delivered during that vulnerable moment, even crying in some of the takes, she said, "It wrecked me."