'The Office': Jenna Fischer Said This Michael Scott Moment 'Broke My Heart'
Michael Scott had his sweet moments on The Office in between the "That's what she said" jokes and cringey times. Jenna Fischer found one of Michael's talking head interviews particularly adorable, saying that it "broke my heart" when he was elated about a moment with Holly.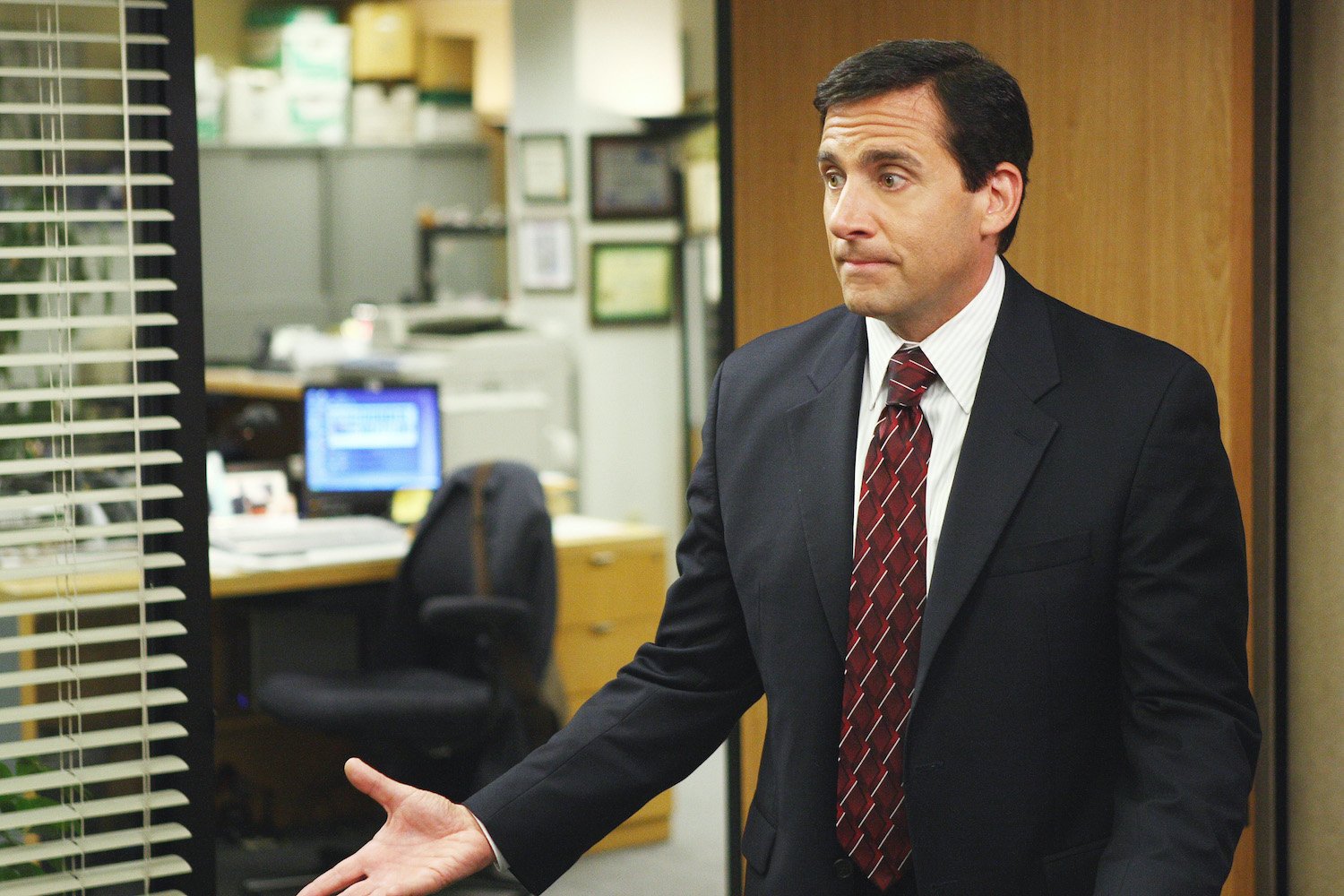 Holly extends a sweet gesture to Michael in this 'The Office' episode
During a May 5 Office Ladies podcast discussion of The Office episode "Goodbye, Toby," Fischer and Angela Kinsey shared their thoughts on a moment between Holly and Michael that was very sweet.
Holly catches Mose, Dwight, and Meredith putting a raccoon in her car in an attempt to haze her as the new employee. "Michael really comes to Holly's defense," Kinsey explained. "You know, he tells them they should be ashamed of themselves and that that Holly is the best thing to happen to this company since World War II."
Fischer pointed out that Holly touches Michael's arm in response — but that she lingered for a moment. "And she is going to be so appreciative that she touches Michael's arm," the actor explained. "And it kind of lingers there for a second."
Jenna Fischer said this Michael Scott moment was heartbreaking in a good way
Fischer went on to explain that the talking head interview that followed "broke my heart" because of how elated Michael was over this interaction with Holly.
Michael and Holly instantly connected during her first day, so the way she touched him really sent his spirits soaring.
"This talking head broke my heart," Fischer explained. "He's so excited, this is so good, he says, 'Did you see that? Did you see that?' He's kind of talking to the documentary crew, right?"
"He's like, 'You know, Jan didn't believe in affection,'" she added. "So sometimes he just doesn't know how to react when a girl touches him, but he really likes it."
Jenna Fischer said the whole episode made her 'choked up'
It wasn't just the adorable Michael talking head that had Fischer in her feelings — the whole episode was filled with moments that left her feeling emotional for Michael.
Kinsey noted, "There are so many great scenes between Holly and Michael in this episode, and there are even more wonderful ones in the script."
"I really wish they all could have stayed in," she added. "I know they had to trim them, but you really see the build of their sort of mutual crush on each other."
Fischer loved the way Holly and Michael appeared to be so perfectly matched.
"I got choked up watching this episode," Fischer explained. "Every time she returns his affection or flirts with him a little bit. I mean, I was so excited for Michael that a woman was being kind to him. I mean, I was emotional."
Kinsey added how watching these two connect is endearing. "Not just kind, but she gets him," she said. "They have the same humor."