'The Office': Jenna Fischer Said This Was Her 'Biggest Fear' After Steve Carell Left the Show
When Steve Carell left The Office, the loss of the Michael Scott character was definitely felt by the show's fans and the ratings dropped after his departure. Jenna Fischer, who played Pam, explained what her biggest fear was after Carell left, as she and the cast prepared for the next chapter of the series.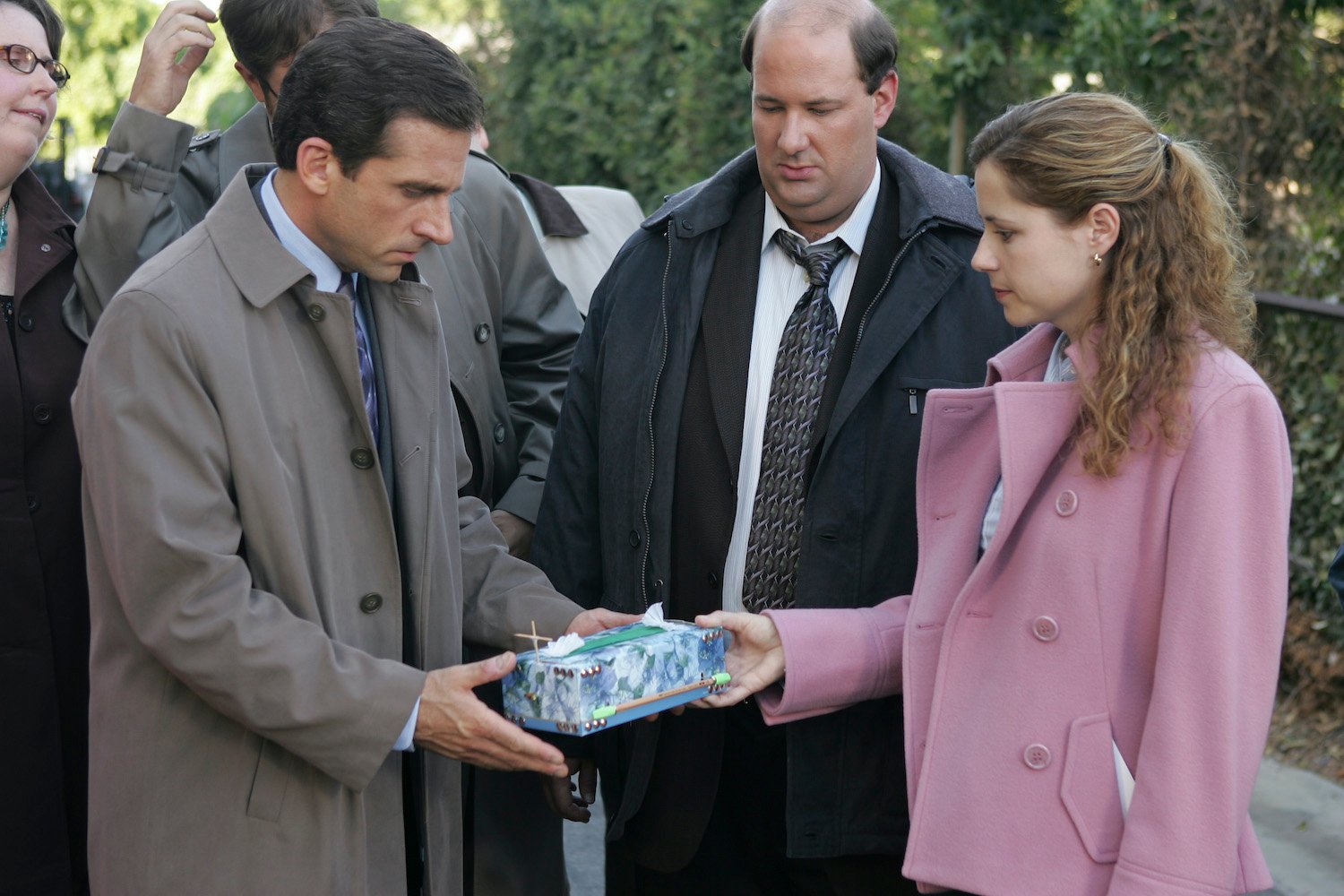 Steve Carell left 'The Office'
Carell's final episode, "Goodbye, Michael" in season 7, included an idea that was pitched by the actor himself.
On the August 25 episode of An Oral History of The Office podcast, Carell explained that he knew how Michael should end his time in Scranton before heading off to Colorado with Holly Flax.
"Six months before, I talked to Greg [writer and showrunner Daniels] about how I wanted Michael to go out, like what I thought sort of a final arc would be," Carell explained. "And the idea that I pitched was — you know, obviously he and Holly would be together — but I said, specifically, on his last day I thought that there should be a party being planned but that he should basically trick people into thinking he was leaving the next day."
Carell believed that playing Michael's final day that way "would be the most elegant representation of his growth as a human being." He added that Michael would typically want "to be the center of attention," so passing up a big party showed he changed in a huge way.
"But the fact that he'd walk away from his big tribute, his big sendoff, and be able to, in a very personal way, say goodbye to each character — that to me felt like it would resonate," Carell noted.
Steve Carell called his last episode 'emotional torture'
Carell may have come up with the perfect way for Michael to connect with each of his co-workers, but the reality of filming his last show was very difficult for the actor.
"It was almost more than I bargained for because that's what happened. I had scenes with everyone in the cast and it was emotional torture because imagine saying goodbye for a week," Carell explained.
He added, "It was just fraught with emotion and joy and sadness and nostalgia. But it was also really beautiful. I treasure it. I treasure just doing that episode because it did allow me to kind of have a finality with everybody."
Jenna Fischer revealed her biggest fear after Steve Carell left
During the Sept. 1 episode of An Oral History of The Office, host Brian Baumgartner did a deep dive into how the show moved forward after Carell left and there was definitely some uncertainty for everyone involved with the show.
Fischer shared the concerns she felt at the time. "My biggest fear was even just, what is the on-set vibe going to be like without Steve?," she explained.
She added, "Not to mention what stories are we going to tell? Who are we without this leader?"
Baumgartner asked John Krasinski, who played Jim, "Did you think the show could go forward when Steve left?," and he also had some worries. "I knew the show could go forward, I didn't know what the plan was. I couldn't see through the trees," he explained.
Rainn Wilson, who played Dwight, shared during the podcast, "I had great reservations about the show existing without Steve."
The show managed to move forward, but fans definitely missed Michael Scott.