'The Office': Jenna Fischer Says Michael Scott Reminds Her of a Dad
There is no shortage of colorful characters within The Office. From the cat-obsessed Angela to know-it-all Oscar, the large ensemble cast did a wonderful job of bringing their dynamic characters to life. But perhaps one of the most-loved characters on the show is Michael Scott. Played brilliantly by Steve Carell, Michael has become one of the best and most memorable characters in television history.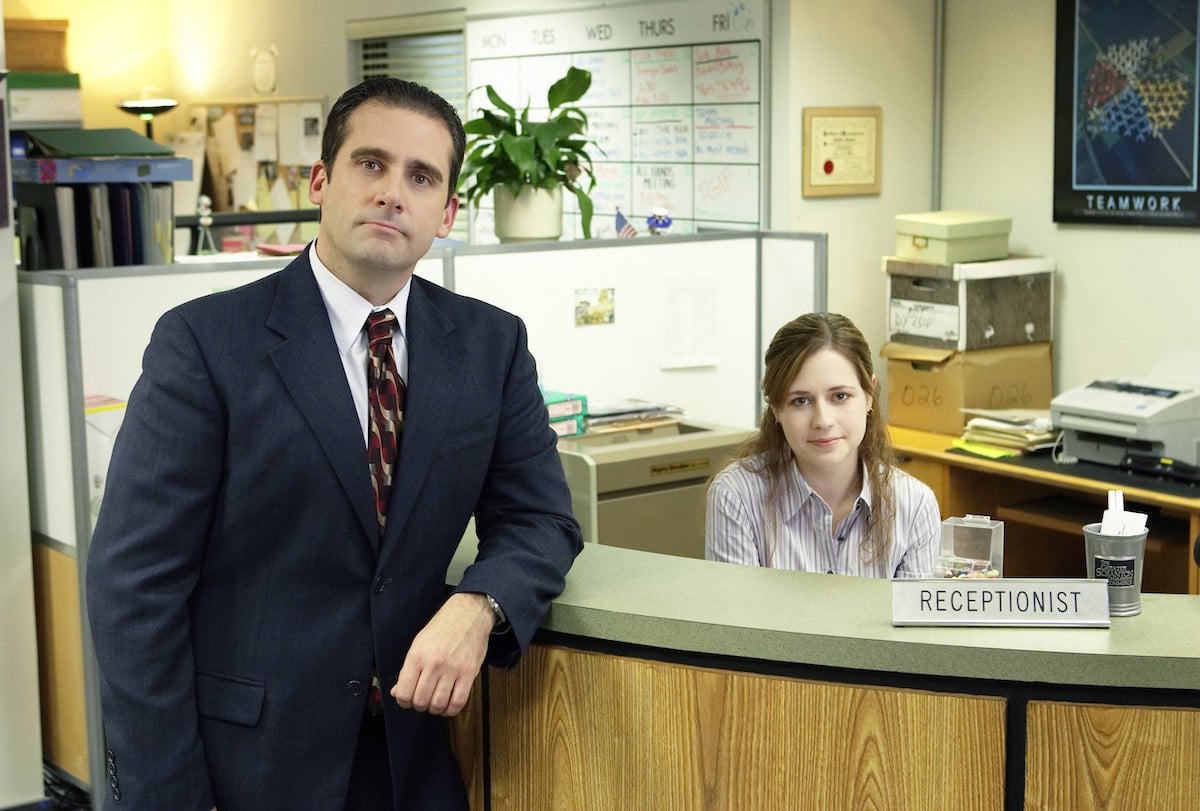 But what is it that makes Michael such an interesting character? Perhaps it's because there are so many different sides to him. At times, he is wildly inappropriate and insensitive while at others he is incredibly endearing and supportive. Even within his role as a manager, fans of The Office witnessed him being both a bumbling idiot and a competent leader with acute business acumen.
Why Jenna Fischer believes Michael Scott is like a dad
Because Michael is such a paradoxical character, even members of The Office cast view him in drastically different ways. For example, Jenna Fischer, who played Pam Beesly on the show, once described Michael as an embarrassing parental figure. In a behind-the-scenes interview for the show, she explained her take on Michael.
RELATED: 'The Office': John Krasinski's Height Made 1 Prank 'Much Funnier'
"Every office has that boss or that manager who wants to be really popular and well-liked," Fischer shared about Michael while on set of The Office. "And I think that like Steve Carell's Michael character, he reminds me a lot of that dad who's trying to be really cool with his teenage sons. And you're just like waiting for him to leave please and he's not going and everyone's uncomfortable. So I don't know if that describes it well, but that's sort of what it's like."
'The Office' cast views Michael differently based on their characters' interactions with him
We're sure some fans of The Office would agree with Fischer's description of Michael. In fact, Michael himself refers to himself as a "daddy" to his employees multiple times throughout the course of the series. However, there are other members of the cast that view Micheal's character completely differently due to the relationship that he has with their character. A great example of this is the way Paul Lieberstein, who played Toby Flenderson, views the character, Michael.
RELATED: 'The Office': 1 Cringeworthy Jim and Pam Moment Is Based on a Real-Life Experience
"I always felt a little different as Toby," Lieberstein shared with The Daily Beast while talking about The Office. "To me, it always felt like Toby was the parent of a three-year-old in Michael Scott, who's constantly having tantrums. He's just there to be patient, wait it out. Of course, it impacts his day, but you can't get too mad at your three-year-old, so you have to just internalize it."
'The Office' writers and Steve Carell helped to make Michael a nuanced character
Clearly, Michael Scott is an exceptionally multi-faceted character since The Office cast have wildly different ways of describing him. The talented writers and Steve Carell certainly hit the nail on the head when they were creating such a memorable and well-loved character.