'The Office': Jenna Fischer Initially Thought Rainn Wilson Was 'the Weirdest Person I Ever Met' Because He Was in Character as Dwight
Rainn Wilson's portrayal of Dwight Schrute in The Office is a master class in what it means to truly dive into the psyche of a character for comedy's sake. And according to Wilson's former castmates, he really dove in.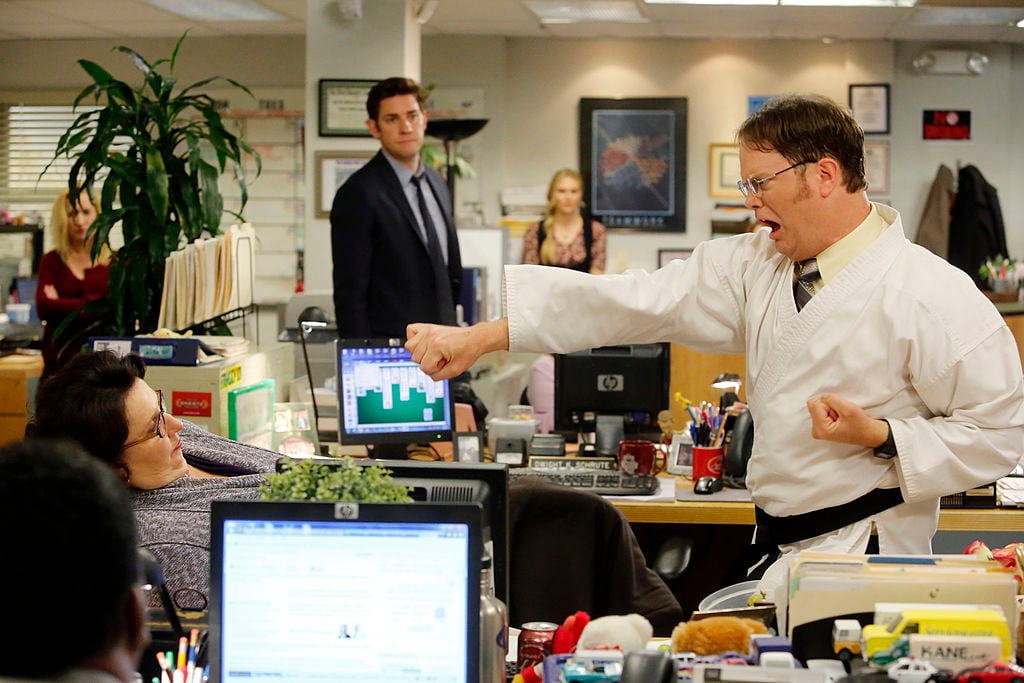 When Jenna Fischer met Rainn Wilson she thought he was just like Dwight Schrute
When Jenna Fischer (Pam Beesly) first met Wilson he was completely in character as Dwight. She thought that's how he really was.
"I remember meeting Rainn, but I didn't meet him in the waiting room. I never met Rainn. I met Dwight. I was introduced to him during an audition, so I left that audition not knowing the real Rainn Wilson. Dwight is such a distinct character. It was hard for me to believe that the real guy could be different and he is. Rainn Wilson is very different from Dwight Schrute, but I think of all of us, Rainn nailed his character most thoroughly, most quickly," she told The Hollywood Reporter back in November 2017.
RELATED: The Interesting Reason 'The Office' Writers Were Also Actors on the Show
In an episode of her podcast, Office Ladies, Fischer elaborated on the day she met Wilson. It was at a live test audition, which is where several potential actors read their parts with different groups of actors to see who has the best chemistry, who works well together, who looks good together, etc.
Apparently, Wilson showed up to the audition already in character as Dwight.
"I thought he was the weirdest person I ever met in my life," she said. "He was just Dwight."
Fischer says she also came in character as Pam. She wore her hair half up, as Pam does, and sat quietly so as not to bring attention to herself.
John Krasinski was originally called to audition for Dwight
Though it's hard to imagine anyone other than Wilson playing Dwight, John Krasinski was called in to audition for Dwight rather than Jim. But Krasinski said on another episode of Office Ladies that after reading the script, he felt he was a much better fit for Jim.
"I said, 'You know what, I'm gonna put my best foot forward. Let me know when they're casting Jim,'" he said. "And I remember the response from the NBC casting director to my manager at the time was, 'No, but honestly, who does he think he is?'"
Despite the casting director's response, Krasinski was called in for Jim a few weeks later. And, apparently, it went well.
Read more: Ricky Gervais Warned 'The Office' Writers About Making Michael Scott Too Big a 'Buffoon'–Here's How They Made Him Still Likable