'The Office': Jenna Fischer Revealed How 1 Tricky Scene Was Set Up to Play on Pam's Insecurity
The Office's Pam found love and herself over the show's nine seasons — with some obstacles along her journey. Jenna Fischer, who played Pam, said there was one moment that really played on Pam's insecurity.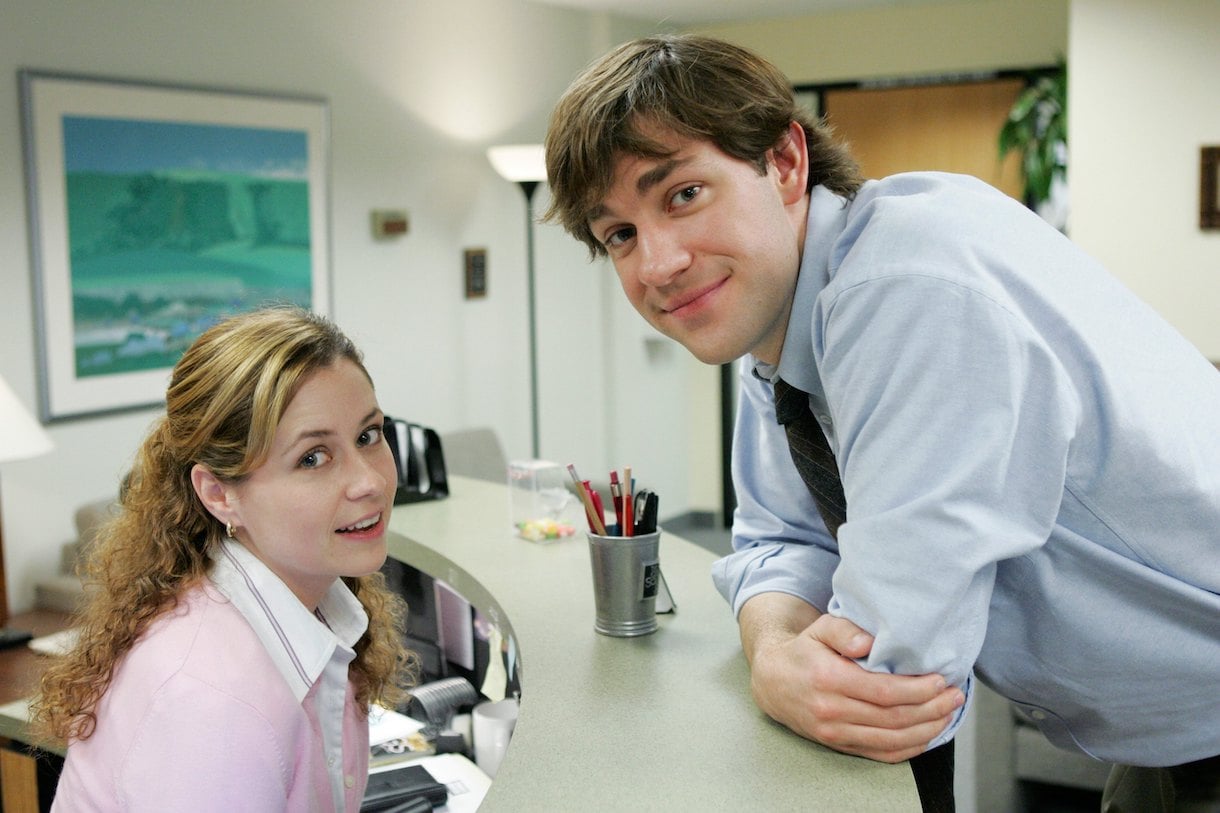 Pam teamed up with Jim's brothers for a prank during season 5 of 'The Office'
During the June 30 episode of the Office Ladies podcast, Fischer and Angela Kinsey discussed The Office Season 5 episode "Employee Transfer," which saw Holly moving to the Nashua branch of Dunder Mifflin. Holly and Michael realize during the move that the distance will be too much of a challenge for them and they break up.
During the episode, Pam meets up with Jim's brothers to plan a prank on Jim during their lunch. Pam wants to pretend she lost her engagement ring but the brothers have another prank in mind.
"And they're like, oh, we have a better idea. Their idea is that they're going to dog Pam about her career choice as an artist," Fischer explained.
Jenna Fischer explained how the scene was set up to 'further Pam's insecurity' about her her dreams
The prank is at Pam's expense and she really starts to feel bad that Jim's brothers' are joking about her. "Well, as this prank continues, it is really getting under Pam's skin," Fischer shared. "Like she is getting very flustered, I think, particularly when he suggests that she pay the bill by drawing on the napkin."
Kinsey pointed to the DVD commentary for the episode, in which the script supervisor praised Fischer's performance in the tricky scene. "She said, 'You know, the way this was scripted is tough because Pam has to want to be on board to be pranked, but then also start clocking like, hey, that's kind of a dig, OK, you're kind of going too far,'" Kinsey shared.
Fischer confirmed that the scene sort of chipped away at Pam's momentum with pursuing her dream career. "Well, it was kind of a fine line," she said. "Part of the storyline was also meant to further Pam's insecurity about the idea of being an artist."
"You know, because this is something that she wants," the actor continued. "But Pam is not a person with a lot of certainty all the time. And this was supposed to play on that. It was a lot for Pam to go to art school. It really was."
"And so this is meant to kind of discourage her momentum," Fischer added.
Jenna Fischer shared her theory about Pam's journey on 'The Office'
After Michael Scott left Dunder Mifflin, the documentary crew continued to film the employees and Fischer thinks the ending aligned with her character's journey.
During the Sept. 1, 2020 episode of An Oral History of The Office podcast, Fischer explained how the documentary followed Pam's journey.
"It's not lost on me that when Pam was ready to break free of Dunder Mifflin, the show ended," the actor explained. "So I always kind of thought it was the journey of a girl becoming a woman, finding herself, going out into the world."
"When we meet her, she's trapped behind this desk," Fischer continued. "And she sort of slowly moves to sales, and then finds the man she loves and starts this family."
The documentary filming finally stopped when her character's journey with Dunder Mifflin ended.
"She really fights against leaving and then when she's ready to go… it's all over," Fischer added. "Because the documentary doesn't stop when Michael leaves, so it's not really a documentary about Michael Scott. They decided to stop making the documentary when Pam leaves."
RELATED: 'The Office' Cast: Jenna Fischer Said She Got Her 'Big Break' Because of the Show's 1 Rule When Casting