'The Office' Star Says This Moment Is Jim and Pam 'Trying To Figure Out How To Love Each Other'
For a lot of fans of The Office, Jim and Pam truly are the heartbeat of the show. Watching their relationship shift and transform brought increased depth and dimension to The Office. Certainly, there were plenty of moments that stand out as classic Jim and Pam moments. From when Pam falls asleep on Jim's shoulder in "Diversity Day" to Jim finally admitting his love for Pam in "Casino Night" there's plenty of sweet moments that fans know and love.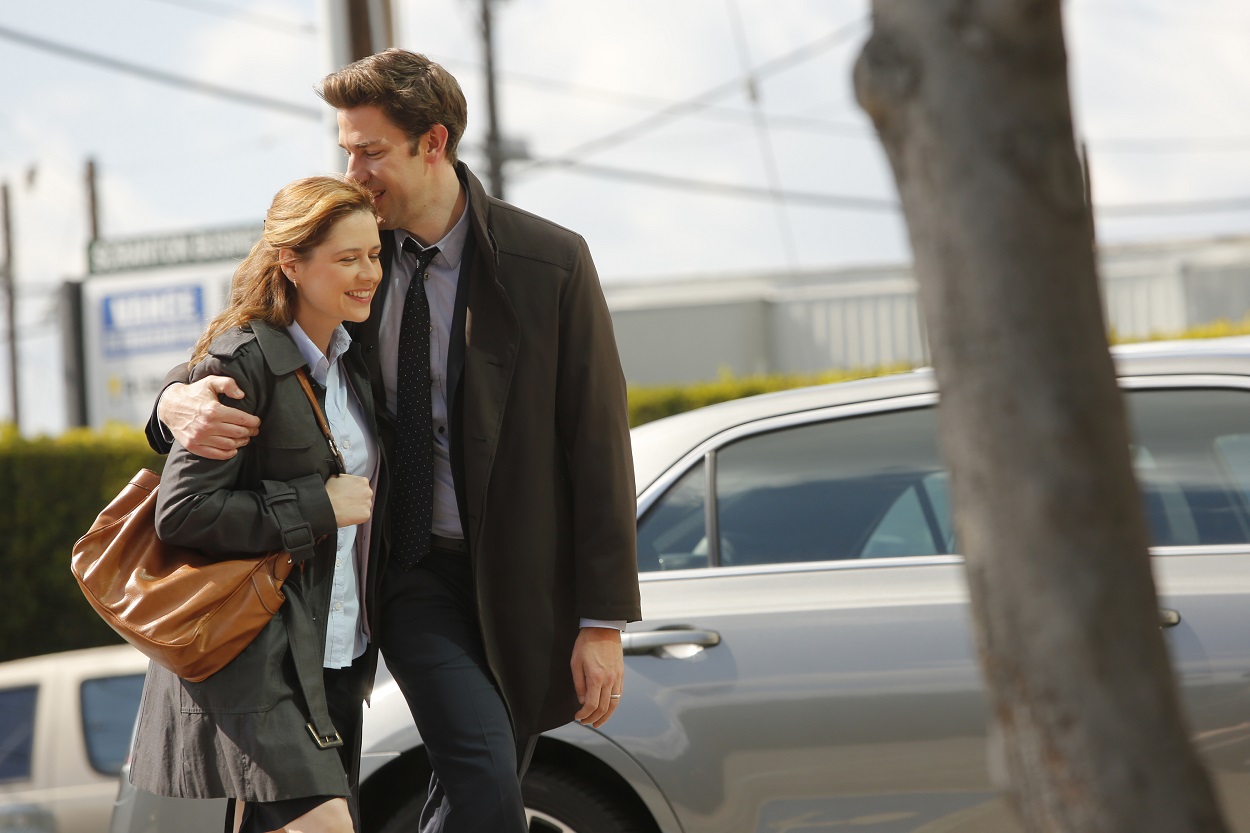 Of course, Jim and Pam's relationship was always a slow burn. Both of them had multiple instances where it was clear that they wanted to express their feelings for one another, yet they lacked the bravery and opportunity to do so. A good example of this is when Pam tries to speak to Jim after she gets drunk at Chili's in "The Dundies" episode. But perhaps the best example of a near-miss comes in the "Booze Cruise" episode of The Office, where the two share an intense moment of silence before Pam claims that she's cold and heads back inside the ship.
John Krasinski opens up about one of his favorite episodes of 'The Office'
But how did that moment come about? In an interview with Daily Actor, John Krasinski (who plays Jim Halpert) reflected on that episode and the instructions that Greg Daniels, who is the creator of The Office, provided him with in order to achieve the intensity of that moment between Jim and Pam. According to the actor, it was shot after a very long night of filming.
"'Booze Cruise' will always be one of my favorite episodes on many levels," Krasinski confessed, reflecting on his tenure at The Office. "I think it's hilarious and one of my favorite episodes. But, going up on the top of that boat and Greg – you know I remember the sun was almost coming up. We were shooting all night. It was the last thing we shot. I think we only had like 15 minutes or something, Greg, if you remember, and Greg just said …'You know, you're here to say I love you to her. Just, you know I don't know that would go, just do it.' And I got up and there and just stared at Jenna [Fischer, who played Pam] and had absolutely no idea what to do or how to say it."
The moment that Jim and Pam shared was unusual for television
Krasinski may not have known the proper way for Jim to express his feelings to Pam, but his speechlessness actually played very well for the scene. In fact, when that particular episode of The Office aired, the actor was particularly fascinated with the way the scene turned out. According to the A Quiet Place star, he's never seen anything like that on television.
"And when it aired, I remember it was like 20-something seconds of silence, and I remember watching that episode and saying, 'You know, I've never seen that,'" The Office alum revealed. "I've never seen a show commit to the characters and the story above, you know what would be good for ratings or, you know what the audience would see as very dramatic. It was just like, 'No, this is two people who are trying to figure out how to love each other.' And I just thought that that was really incredible."
Why are fans so invested in Pam and Jim's relationship?
Fans of The Office certainly echo Krasinski's sentiments of the moment being incredible. Many people know what it feels like to not be able to find the words to tell someone how they really feel. Perhaps that's why the love for Jim and Pam's relationship persists to this day. Because, at the end of the day, their love story, though tumultuous, was realistic rather than over-the-top.