'The Office': Jim and Pam Weren't Always Destined to End Up Together, Jenna Fischer Reveals
It wasn't always clear that Jim and Pam would end up together on The Office and maybe that's why the relationship felt so authentic, Jenna Fischer says.
Fans of The Office rooted for Jim and Pam to get together when they were flirty co-workers and, while it seemed that the couple was always destined to be together, it wasn't initially so clear if that's how it would end up. During an Office Ladies podcast, Jenna Fischer revealed that, early on, the writers didn't know if these two characters would have a love connection or if things would go in a very different direction for them.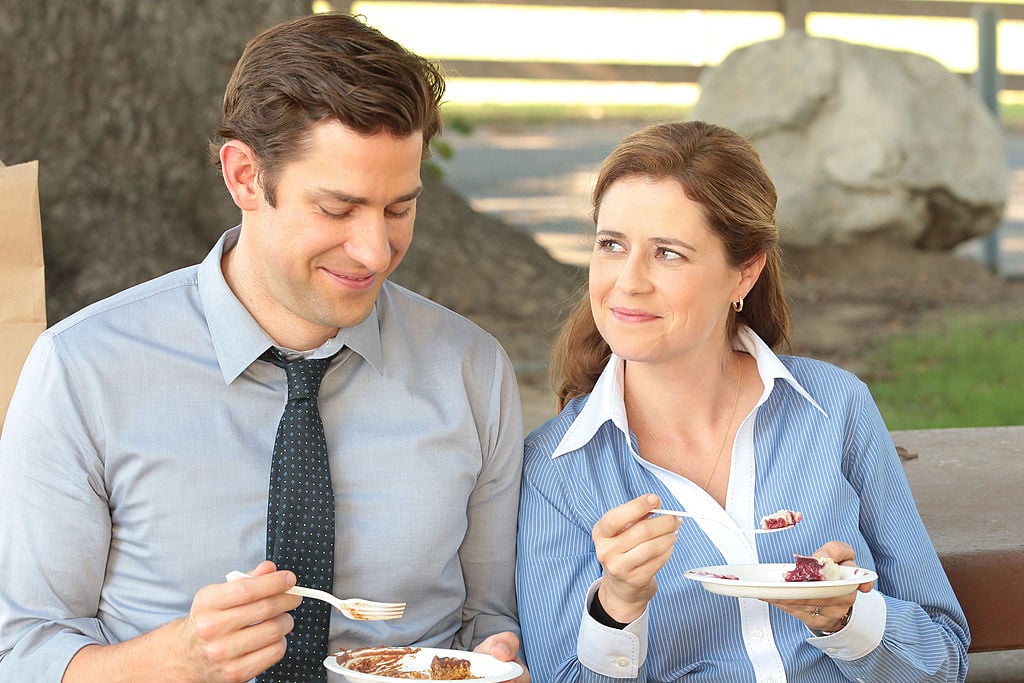 Jim left for Stamford
In season 3 of The Office, Jim (John Krasinski) transfers to the Stamford office to escape working with Pam (Fischer) after he confessed he loved her and was rejected. Feeling that he had no future with Pam and unhappy with the idea of her marrying Roy, Jim decided to cut ties with the Scranton office and move forward with his life.
In Stamford, Jim makes a connection with his co-worker Karen (Rashida Jones) and they begin dating. Meanwhile, Pam has called off her engagement.
It turns out that the show's creative team didn't really know how things were going to play out for Jim and Pam and perhaps they wouldn't be soulmates but would in some way help each other find romance.
There were a few ways Jim and Pam's story could have played out
During the June 17 Office Ladies, Fischer and her co-host, former Office co-star Angela Kinsey, discussed season 3 episode 4 "Grief Counseling" and Fischer shared some inside information about the initial uncertainty about Jim and Pam.
Although Pam and Roy decided not to get married, there was more interaction between the exes — that's because the writers were playing around with the idea of Roy and Pam getting back together. David Denman, who played Roy, became a series regular for season 3, indicating they had plans for his character to make more appearances.  
"There was talk in the writer's room that maybe Roy could win Pam back," Fischer shared. "I can tell you guys, nothing was decided at this point about what would happen with Jim and Pam, what would happen with Pam and Roy. They were feeling it out, week to week."
"I also remember it was constantly said that maybe in the series of The Office, Jim and Pam would not end up together in the end, but would instead lead one another to their actual true loves."
She added, "It had not been decided right now that Jim and Pam were one another's true loves."
It helped tell their story in an authentic way
Kinsey likely speaks for all fans when she told Fischer she wasn't happy with the possibility that Jim and Pam wouldn't end up together, telling Fischer, "When you just said that, I got angry. No! Jim and Pam end up together!"
"I think maybe that's why the writing of their characters felt so authentic," Fischer explained. "Because the writers were figuring out their relationship at the same time that Jim and Pam were."
Kinsey noted, "Yeah, as an audience we feel that. What will happen, we don't know. These are two people on journeys trying to find themselves and hopefully that leads them back to each other."