'The Office:' Jim and Pam's Wedding Almost Included A Dark Scene With Dwight Instead of the Dance Down the Aisle
Fans of The Office waited six seasons to see Jim Halpert (John Krasinski) and Pam Beesly (Jenna Fischer) finally head to the altar. Taking place in Niagara Falls, the two-part episode chronicled some mishaps the engaged couple went through on the way to their nuptials.
Considering the iconic location of the long-awaited wedding, showrunner Greg Daniels had an idea that would make the event even more memorable. Despite his creativity, Daniels was unanimously voted down due to the harrowing tone of the suggested scene.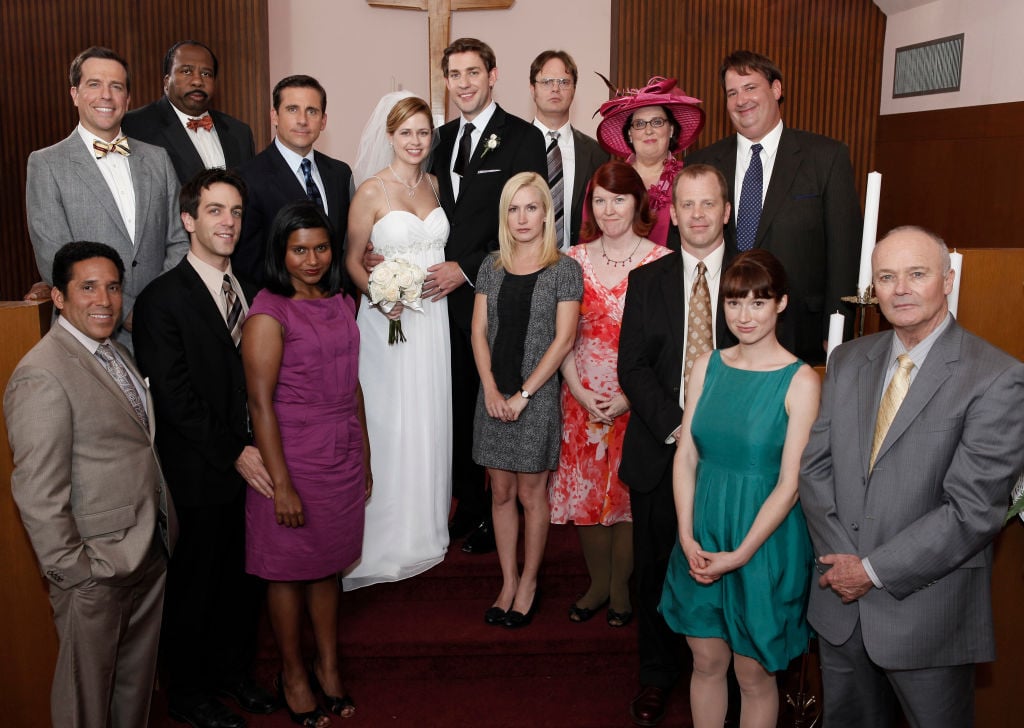 Dwight on a horse?
Stories of everything from people to memorabilia going over Niagara Falls have been around for decades. Inspired by the history of the landmark, Daniels came up with an idea for a subplot in the wedding episode.
"I had this idea that it would be really funny if Dwight was fascinated by stories of animals that went over Niagara Falls and survived," Daniels recalled, according to the Huffington Post. "He would try to go over Niagara Falls on a horse during the wedding because the wedding was at Niagara Falls, and then he would chicken out but the horse would go over the falls in the background."
As loyalists of the NBC sitcom can imagine, Daniels' idea was met with a resounding shutdown by everyone on The Office team.
"There was such an outcry among the cast and crew at the table read, because I brought this to the table read, and I was actually scouting big tanks at Universal," Daniels revealed. "But everybody was like, 'No, No! Not the wedding! The wedding was the most romantic thing! You can't ruin it with a horse going over a waterfall.' Anyway, I finally came to my senses and listened to them. I think it was a good idea."
RELATED: John Krasinski May Have Given 'The Office's' Jim and Pam a Shout Out in 'A Quiet Place'
'Forever' was a much better solution
Daniels was clearly outvoted and had to go with the majority, nixing the Dwight/horse debacle. The next task was finding a scene to put in its place. Coming up with a more heartwarming solution, Daniels decided to replace the dropped scene with the cast recreating a viral video with a dance down the wedding aisle to Chris Brown's "Forever."
"We found another funny thing to do. We found that funny music, dance parody," Daniels shared. "That started to be an alternative, and it seemed like a much more positive alternative than animal cruelty."
RELATED: 'The Office:' Rainn Wilson Went 'Full Out' Dwight in This Very Physical Cold Open
John Krasinski recreates iconic scene via Zoom
In his online show Some Good News, Krasinski surprised an engaged couple who were clearly diehard Office fans. Susan and John from Maryland had mimicked Jim's famous proposal to Pam at a gas station.
"So I knew the proposal needed to be something really special but also really something unique," John said, according to CNN. "The Office has been something that has connected the two of us for a very, very long time so it just felt right."
His bride-to-be immediately recognized the scene from their favorite show. "Then he got down on one knee and he said 'Just like Jim, I can't wait any longer,' " Susan recalled.
The couple had reached out to Krasinski via social media to invite him to their virtual wedding. Not only did Krasinski show up, he offered to perform their ceremony and produced a certificate showing he was ordained as a minister.
Surprising the couple by bringing in their parents and friends via Zoom, Krasinski served as best man and recruited Fischer to be Susan's maid of honor. As if that wasn't enough, Krasinski then assembled his former cast mates from The Office to perform the infamous dance from Jim and Pam's wedding.
"There's only one way out of this wedding. And Susan and John, because you so elegantly ripped off our show for your proposal, I feel like it's only fitting that you rip off the wedding too," Krasinski noted, as he brought on his co-stars including Steve Carell, Ed Helms, Mindy Kaling, B.J. Novak, Rainn Wilson, and Ellie Kemper.
No wonder Krasinski calls his show Some Good News!
RELATED: John Krasinski's 'Some Good News' Show Is Just What Everyone Needs Right Now