'The Office': 3 of Jim and Pam's Sweetest Moments
For most fans of The Office, there isn't a better couple than Jim Halpert (John Krasinski) and Pam Beesly (Jenna Fischer.) The couple has their fair share of ups and downs throughout the nine seasons the beloved NBC show was on the air, but what are the sweetest moments between the two?
We've ranked some of our favorite moments of the show. Here's what we came up with.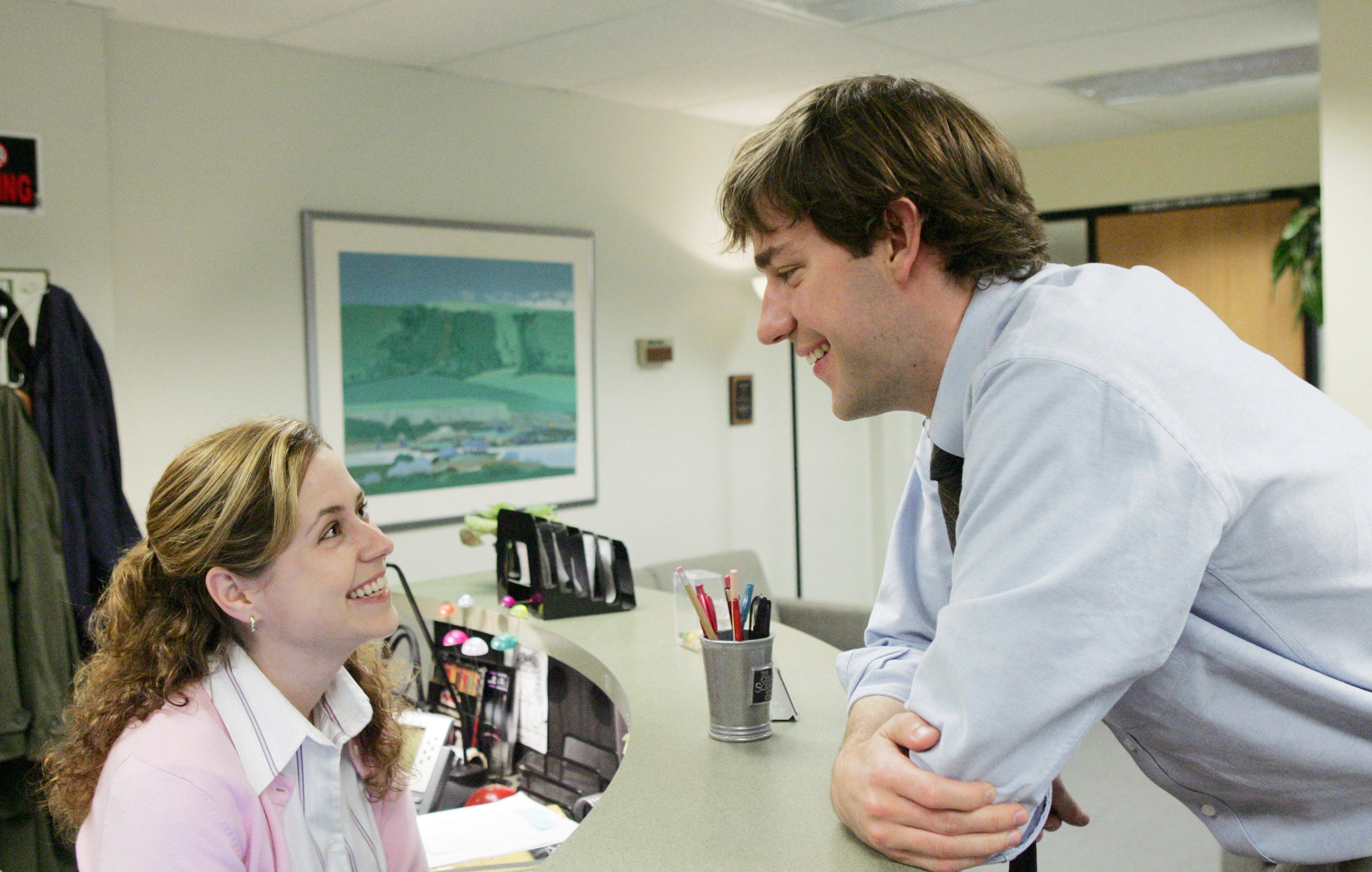 3. Casino Night
In the season 2 finale of The Office, fans watched the two coworkers bond over torturing their office mate Dwight Schrute(Rainn Wilson) and Pam's issues with planning her wedding to fiance Roy Anderson (David Denman.) The two both secretly have feelings for each other, but neither knows due to their current relationships with other people.
When Jim blurts out he has feelings for Pam after the Dunder Mifflin Casino Night, she apologizes for misinterpreting his feelings and tells him she doesn't feel the same. Later as she sneaks away to her desk to call her mom and tell her the night's events, Jim walks in and swoops her into a sweet (but definitely prolonged) kiss. Pam kisses him back, and the credits roll.
Those who have watched the entirety of the show might see this moment as bittersweet. When the show returns for season 3, Pam is still with Roy, and Jim is in Stanford. There's just something about that first real kiss between the two that always gives us butterflies.
RELATED: 'The Office': The Best Michael Scott Episodes and Where to Watch Them
2. Company Picnic
Fans might expect this one to be a little higher on the list, but there are so many moments to choose from. In The Office Season 5, Episode 26, the Dunder Mifflin branches gather for a company picnic.
In an intense volleyball game, Pam sprains her ankle, causing Jim to take her to the emergency room to have it checked out. While Jim is telling Dwight to stall the game, he's called back into the exam room. Viewers watch the doctors give him and Pam some news. Nothing can be heard through the window, but the giant smile on Jim's face gives everything away. They're going to be parents.
As Jim walks out and calls Dwight to tell him to send in the subs, no words are needed. With tears in his eyes and running his hands through his hair, he smiles at the camera and rushes back in to hug Pam.
RELATED: 'The Office' Creator Called This Person 'The Best Writer on Our Staff'
1. The Job
If there was ever a moment to make Office fans cry tears of joy, it's episode 23 of season 3. Jim goes with Karen as they interview for a position in New York City. After telling Jim in the previous episode her feelings for him, Pam comes to terms with the fact that the timing between her and Jim wasn't right. She tells the camera that she hopes he gets the job and she'll be happy for him if he does.
Just as she says these words, Jim pops his head into the confessional room and says, "Hey, are you free tonight?" Without hesitation, Pam replies yes, and he tells her it's a date. When she turns back to the camera, her eyes are brimming with tears, and so are ours. Viewers waited so long for this moment, and when it arrives, it's just as sweet as we expected it to be.
There are many more moments between America's favorite TV couple and if you haven't watched the series yet, add it to your to-do list. The Office currently has all episodes streaming on Peacock.