'The Office': Why Jim and Pam's Fights and Other Scenes Were Cut Shorter Than What Was Scripted
The sitcom, The Office is mostly a comedy so the episodes are packed with jokes. But there was romance between characters and the main one was between Jim (John Krasinski) and Pam (Jenna Fischer.) Find out why their flirty scenes were usually cut shorter than what was scripted and more.
Jim and Pam's relationship took time to start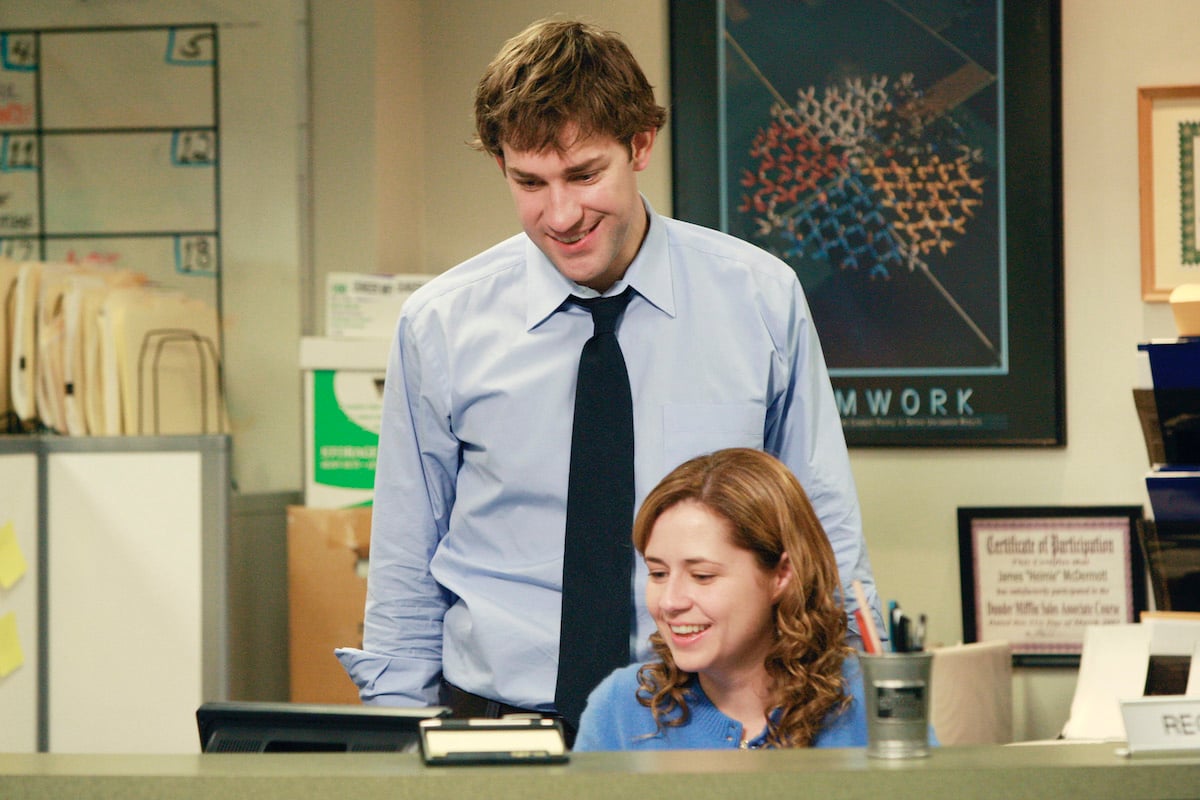 It was obvious from the start that Jim and Pam had strong chemistry at work. But Pam was engaged to Roy Anderson (David Denman.)
Jim finally worked up the courage to tell Pam about his feelings in season 2. But it almost ends their friendship. Luckily, after some time apart the couple finally got together and stayed that way for the rest of the show.
Most of their sweet moments were scripted. But the actors did improvise sometimes together.
John Krasinski and Jenna Fischer sometimes improvised
Many actors improvised on The Office usually to make scenes funnier. When Krasinski and Fischer worked together, they sometimes had more emotional scenes. They still managed to improvise together.
They talked about the episode "Casino Night" where Jim tells her how he really feels about her on the Office Ladies podcast. Pam wasn't ready yet and rejected him.
Fischer said Krasinski improvised by telling her "don't" and revealed how that felt. "When you said, 'don't' that was an improve and I like my stomach, like my heart dropped into my stomach," she said. Krasinski then said, "That's what I loved. It's like you're doing this as Pam and as Jen you're like 'So sorry, bro. That was really…'"
Their scenes together were cut shorter
Fans probably don't know that there were more scenes between Jim and Pam in the original scripts of the show. However, their scenes together would get cut back. Mindy Kaling, Jenna Fischer, and Angela Kinsey talked about this on the "Diwali" episode of the Office Ladies podcast.
"I will say one thing that we used to do I felt a lot, was to write scripts that advanced story and then we noticed when we only had 21 and a half minutes to air an episode that a little went such a long way," Kaling said. The writer used the example of scenes where Jim would have a rapport with an attractive woman. She later said, "We were always pulling back that stuff."
Kaling asked Fischer if she felt like her scenes with Krasinski weren't completely shown in the show. "Yes, and I would also add that there were some scenes where we would get in, I don't know if I would call it fights, but there were some disagreements in certain episodes," answered Fischer. "And they would pull back on those too and they would make them smaller."
Kaling then said it was always about "less is more" with the romance in the show. Instead, there would be a lot more focus on comedy scenes.