'The Office': Jim's Line After Pam Rejects Him Was Improvised, Jenna Fischer Says 'It Wrecked Me'
One of the most memorable moments of Jim (John Krasinski) and Pam (Jenna Fischer) on The Office happens in "Casino Night." Krasinski and Fischer reunited to talk about the heartbreaking scene of Pam rejecting him. Find out what was improvised and how it "wrecked" Fischer.
Jenna Fischer improvised in 'The Office' to pay homage to her favorite movie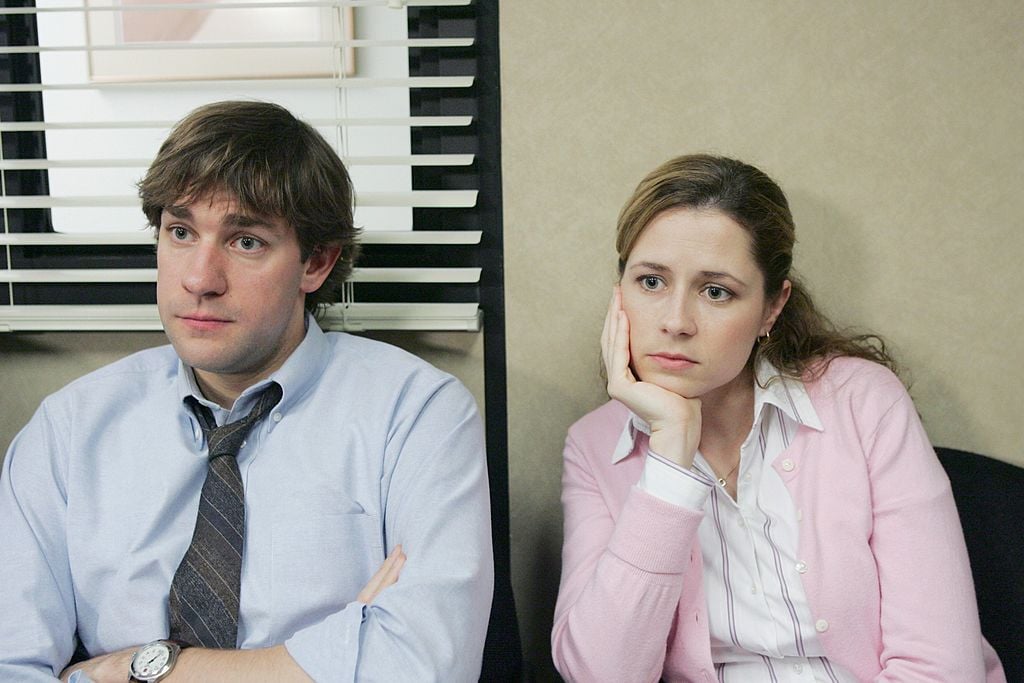 Fischer revealed that there was a scene between Jim and Pam in "Michael's Birthday" that was improvised. It was the scene where the characters are in a grocery store and Pam takes the microphone to say "Luke, this is your father!"
She revealed what part of this scene wasn't scripted on Office Ladies. "So the Luke line was scripted. However, I did improvise a little bit. So when I say 'I'm sorry' into the mic that was my fun idea and it was a little nod to the movie, When Harry Met Sally…." she explained.
In the movie, Harry (Billy Crystal) and Sally (Meg Ryan) are doing karaoke together in a store. Harry stops and Sally is wondering if it's because her singing is so bad. However, he tells her he sees his ex-wife, Helen. Sally then accidentally says "Helen?!" in the microphone for everyone to hear.
"I always thought that was such a funny bit so I thought I'm gonna say 'I'm sorry' in the mic really loudly," Fischer said. Krasinski also improvised in a scene with her.
John Krasinski improvised after Pam rejects Jim
The episode "Casino Night" showed Jim finally getting the courage to tell Pam how he feels about her. "I'm in love with you," he tells her. "I'm really sorry if that's weird for you to hear but I need you to hear it. Probably not good timing I know that it's just–" Pam looks completely disappointed and asks him what he's doing.
"I can't," she tells him. Pam then starts to say "You have no idea" but he cuts her off to say "Don't do that." She finishes saying "what your friendship means to me," but he says he doesn't want to do that. She apologizes if he misinterpreted their friendship.
Fischer and Krasinski talked about this important scene on the Office Ladies podcast episode of "Casino Night." "I also remember that those lines where I was saying 'Oh do you want me to take your money now or I could take it later?' That was all banter we came up with on the spot and then you were gonna' then like shock me out of," Fischer revealed.
She also revealed there was something Jim says that wasn't in the script. Fischer said Jim saying "don't" before Pam apologizes to him for misinterpreting their friendship was improvised.
"When you said, 'don't' that was an improve and I like my stomach, like my heart dropped into my stomach," Fischer said. Krasinski laughed, "That's what I loved. It's like you're doing this as Pam and as Jen you're like 'So sorry, bro. That was really…'" She pointed out that he cried in multiple takes but they used the first one because 'it wrecked me.'"
The actors revealed that they were more nervous for the rejection scene than their first kiss. Krasinski said it was his first kiss on screen ever.