'The Office': John Krasinski Had an Adorable Lunch Ritual with 1 Castmate
John Krasinski made some lifelong friends while filming The Office. Which castmate did he develop a lunch routine with for years?
It's rare that an ensemble cast as large as the one featured on The Office gets along so well. But nearly every actor has been candid about how delightful it was to film the hit NBC show. Though their actors' characters may not have always gotten along on camera, behind the scenes, the cast was as thick as thieves. In fact, some cast members, like John Krasinski, even developed lunchtime rituals with their fellow castmates.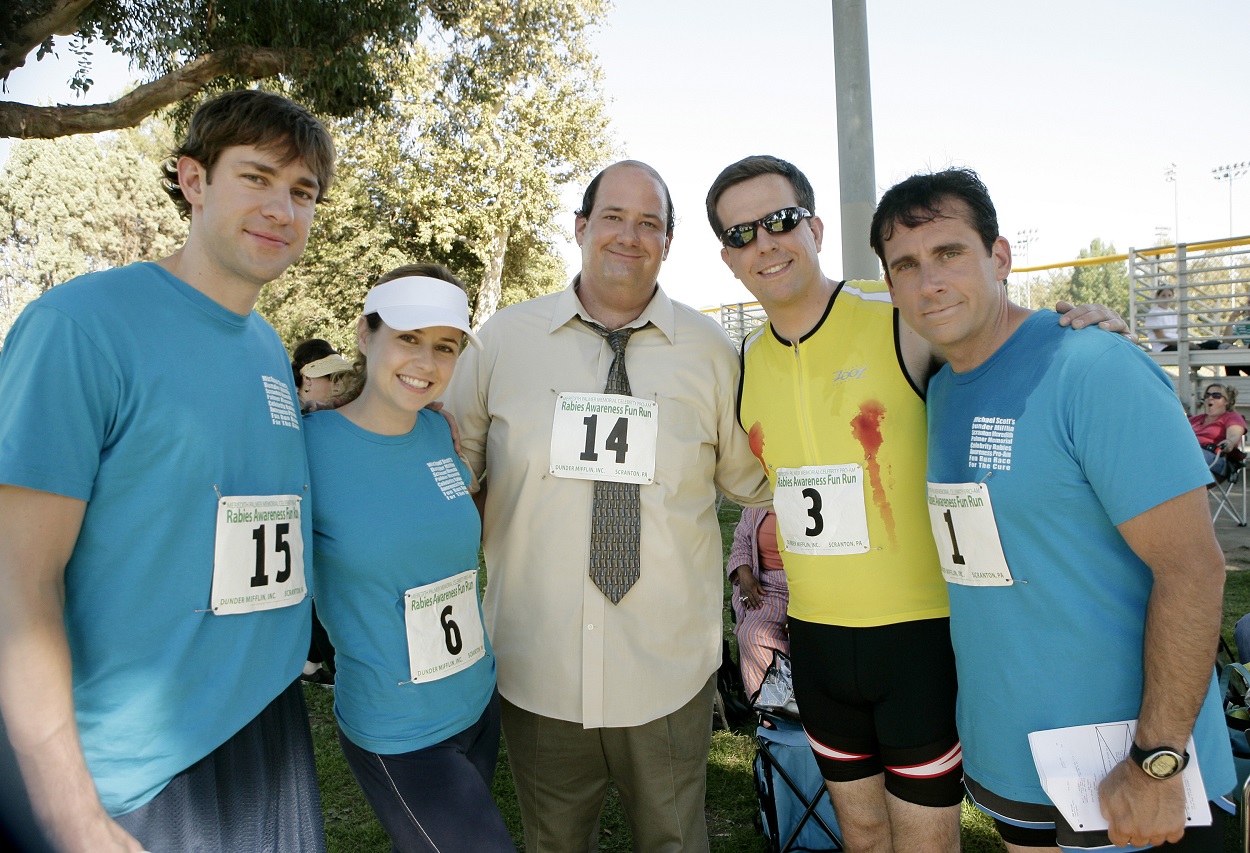 Krasinski has done plenty since he portrayed Jim Halpert on The Office, but he still credits the show for his "lottery ticket" life. Prior to being cast in The Office, Krasinski was very close to quitting acting altogether. However, his tenure on the hit comedy allowed him to have a successful career in acting and pursue other interests in the entertainment industry such as directing, writing, and producing.
John Krasinski reveals being cast in 'The Office' was like winning the lottery
"I take stock of the fact every single day that I'm living a lottery-ticket life," Krasinski shared in a 2016 interview with NPR. "It's so unbelievably rare to get the opportunity that I did to be on The Office, so what I try to do instead is try to deserve to stay here. That's why I branched out to do writing and directing and producing."
Of course, a career wasn't the only perk that The Office provided Krasinski with. The A Quiet Place star also was able to develop life-long friendships on the show. The actor has been candid about the fact that he still keeps in touch with his former castmates today. One person whom Krasinski grew particularly close to while on set was Brian Baumgartner, who portrayed Kevin Malone.
Krasinski and Brian Baumgartner ate lunch together for years
For several years, Krasinski and Baumgartner would forgo lunch the rest of The Office cast and instead spend it in Krasinski's trailer. But what were the actors doing on their lunch break? In a 2019 interview with Parade Baumgartner admitted that the pair would play Madden football at lunch every day like a bunch of college kids.
"If you asked people on set [of The Office] who was Brian's best friend, it would be John," Baumgartner revealed. "Every single day, no joke, everyone else would eat together and John and I never did. We went into John's trailer and played Madden Football. Every day."
'The Office' cast got very close while filming
But Baumgartner and Krasinski weren't the only ones who developed an adorable lunchtime ritual while filming The Office. Angela Kinsey and Jenna Fischer (who played Angela Martin and Pam Beesly) also ate lunch every day without fail. "We ate lunch together every day in her trailer because her table was better than mine," Kinsey shared about her long-time best friend Fischer. Clearly, the cast of The Office got along famously, so maybe fans aren't completely delusional to hope that one day they'll reunite for a reunion special.