'The Office': John Krasinski Was Against Jim Cheating on Pam, Refused to Film a Kiss Scene With Another Character
John Krasinski was not on board with the proposed idea that his character Jim would cheat on Pam on The Office. Krasinski stood his ground when Jim was supposed to kiss another character and the idea was (thankfully) scrapped.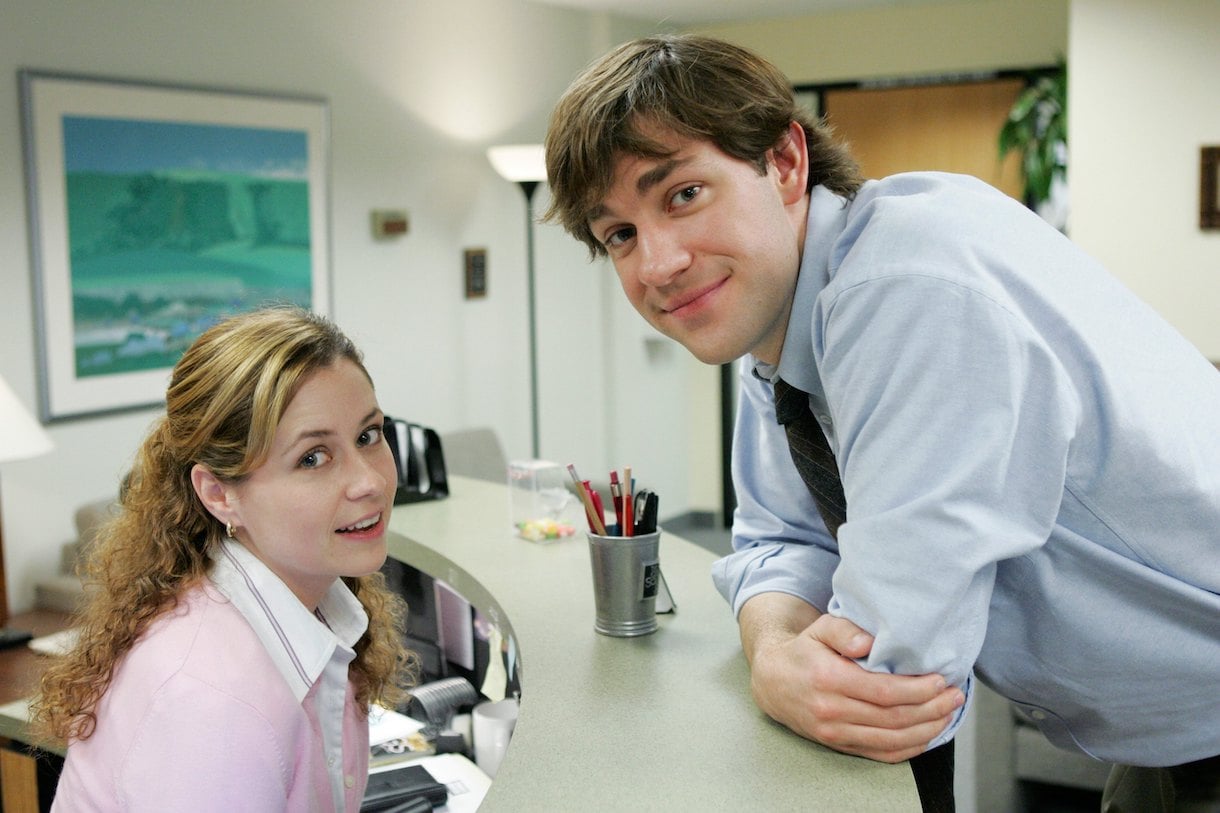 John Krasinski commented on the 'trajectory of Jim and Pam's relationship'
During the Oct. 19 episode of The Office Deep Dive with Brian Baumgartner, Krasinski shared how he was "very much against" Jim having a makeout scene with Cathy Simms. Cathy was a temporary replacement when Pam was on maternity leave. When Cathy went on a business trip to Florida with some of the other office employees, she flirted with Jim with the intention of hooking up with him.
Krasinski wasn't happy with The Office writers' idea to have Jim and Cathy make out on the business trip.
"Were you on board with the trajectory of Jim and Pam's relationship, like just in terms of the timing?" Baumgartner asked. "Did you have concerns about it happening too soon?"
Krasinski said no, explaining, "Truly in Greg [Daniels, the show's creator] I trusted… he was always so nice to involve Jenna [Fischer] and I. I remember that he would tell you kind of when things were going to happen and he would remind you in scenes, 'Don't worry, this isn't the moment that's going to lead to this, that'll happen later.'"
'The Office' actor said he wouldn't do a kiss scene with another character
Krasinski said that Daniels "had it all tracked out" for Jim and Pam but there was one storyline pitch that the actor thought would make the audience abandon the show. "We were what, in season 5 or 6 by the time that I was in that motel with that other girl and stuff like that," Krasinski explained "And that's the only time I remember putting — whatever, 'put my foot down,' not really — that was the only time I was very much against because he was saying 'You're going to actually make out with her in this scene.'"
The actor shared, "That was the only time we had like a — it wasn't like a bad/negative moment but I remember being in a room … I remember finding myself kind of saying things that I'd never thought I'd say before, like, 'I'm not going to shoot it.'"
"I remember Paul Lieberstein was in the room, he was like, 'No, you will do it,' not in an aggressive way but it was like he saw the benefit of doing it," Krasinski added.
Krasinski thought they shouldn't 'mess with' fans by having Jim cheat on Pam
Krasinski had some major concerns with exploring Jim cheating on Pam, especially when it came to the show's fans.
Krasinski recalled, "And I remember saying to Greg, 'There is a threshold with which you can push our audience. They are so dedicated, we have shown such great respect to them — there is a level of messing with them that you've done, like in a great way. You've messed with them by the whole kiss happening too early. And I think there's a moment where if you push them too far, they'll never come back. And I think that if you show Jim to be cheating, they'll never come back.'"
Krasinski said Jim was "supposed to kiss her in that bathroom, I remember that's what they were pitching. And I was like, 'I don't know that that's going to go well for us.'"
The actor confirmed that "it wasn't a negative fight" over his character at all. "It was a big conversation… I had trusted Greg up to that point and it was really hard for me to say 'I think we're actually making the wrong decision.'"