'The Office': John Krasinski and Jenna Fischer Reminisce About Their Audition Chemistry and It's The Sweetest Thing
John Krasinski and Jenna Fischer share how they had instant chemistry for their The Office auditions.
By now, every fan of The Office has heard about the audition process for the stars and how they landed the roles — and how their lives were forever changed. During the May 13 Office Ladies podcast, John Krasinski and Jenna Fischer reflected on their auditions again and hearing them describe their immediate chemistry solidifies that they were perfectly suited to play Jim and Pam.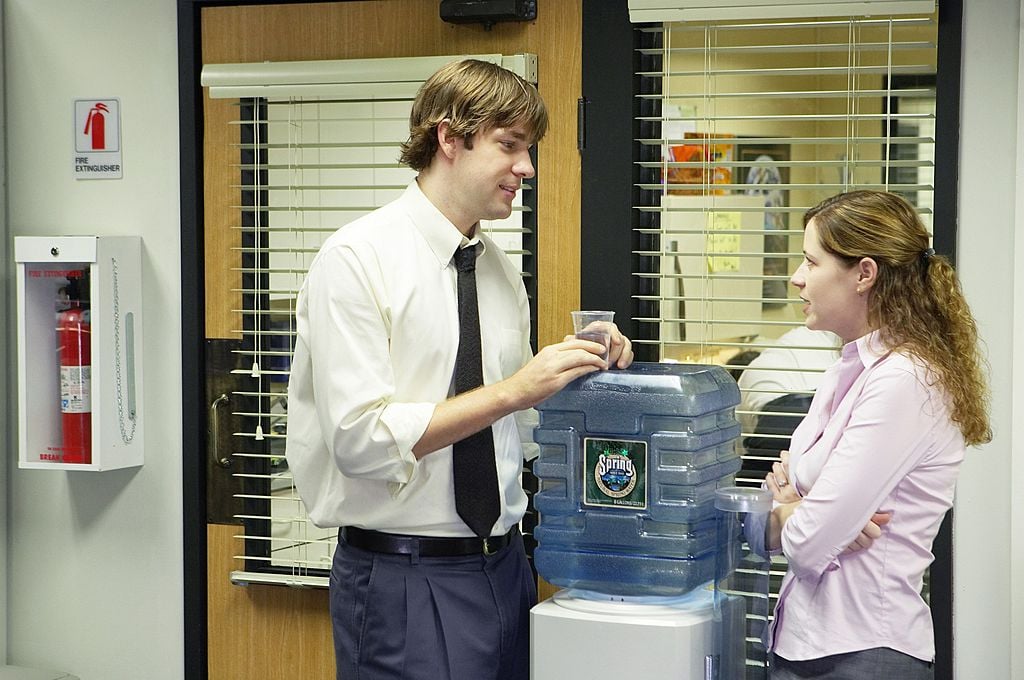 'The Office' auditions featured some familiar faces
If you've seen the audition video for casting The Office or heard some of the stories, there were some familiar names that turned up for auditions. Seth Rogen read for Dwight, Bob Odenkirk could have played Michael Scott, Adam Scott might have been Jim, and Kathryn Hahn auditioned for Pam.
Krasinski and Fischer recalled how their auditions played out and there was such a connection between these two actors who didn't know each other that they immediately clicked. Seeing them in action as Jim and Pam on The Office, it's clear that they were meant for the roles.
The co-stars shared their personal experiences
During the Office Ladies podcast where they discussed the "Casino Night" episode, Krasinski got in on the fun, chatting with Fischer and their co-star Angela Kinsey about their memories from the episode.
Since they had Krasinski on their call, they reminisced about their auditions and some interesting tidbits came out of the discussion. First, Krasinski was originally asked to audition for Dwight but he knew it wasn't a good fit and told them to let him know when they were casting Jims. The actor couldn't believe he had the audacity to say that since he had "zero dollars" in his bank account.
Krasinski had flown from New York for the audition and felt nervous when he was the last New York person among the LA people. When Fischer walked in, he said he knew she'd get in the show and felt like she was his ticket in. "If I don't go in with her, I'm screwed," Krasinski said. He did get to do the screen test with her and felt he had a shot.
They had real chemistry
Fischer shared how she had the same reaction when she was at the audition and saw him. She had an interesting way of describing how they had a connection when they auditioned together even though they didn't know each other.
"The best explanation I could come up with was, what if you walked into a room and music started playing and you and another person just started dancing in unison even though you'd never met… that's what it was like auditioning with you," she said of her reading with Krasinski.

He said he had anxiety because he knew Fischer would be in the show and after the audition he told her she'd get the part. She wondered if she should tell him he was the best Jim or whether it was bad form because she didn't know him. She blurted it out after he said she should play Pam, however.
Krasinski said he's forever grateful for the opportunity he had on The Office, calling it a "lottery ticket" life when he got the part and everything changed for him and he even met his wife because of it. When he was told he got the part, he said he actually jumped on a couch but didn't know if Fischer had got the part of Pam. He said he needed to know because if she was on it, "I was going to be on one of the best things that I'll ever do in my life," the actor noted.

When Fischer found out she got the part, she said she asked the same thing that Krasinski did, wondering if he had been cast. "I don't know if I can do Pam without you as Jim," she explained.