'The Office': John Krasinski Confessed His Rivalry with Rainn Wilson Made Them Become 'Brothers'
It's no secret that the cast of The Office got along well. Over the years the actors who starred in the hit show have been very open about the fact that they all are good friends and remain in contact with each other to this day. But two cast members had a relationship that extended beyond friendship. John Krasinski once revealed that he and Rainn Wilson had a relationship that felt very familial.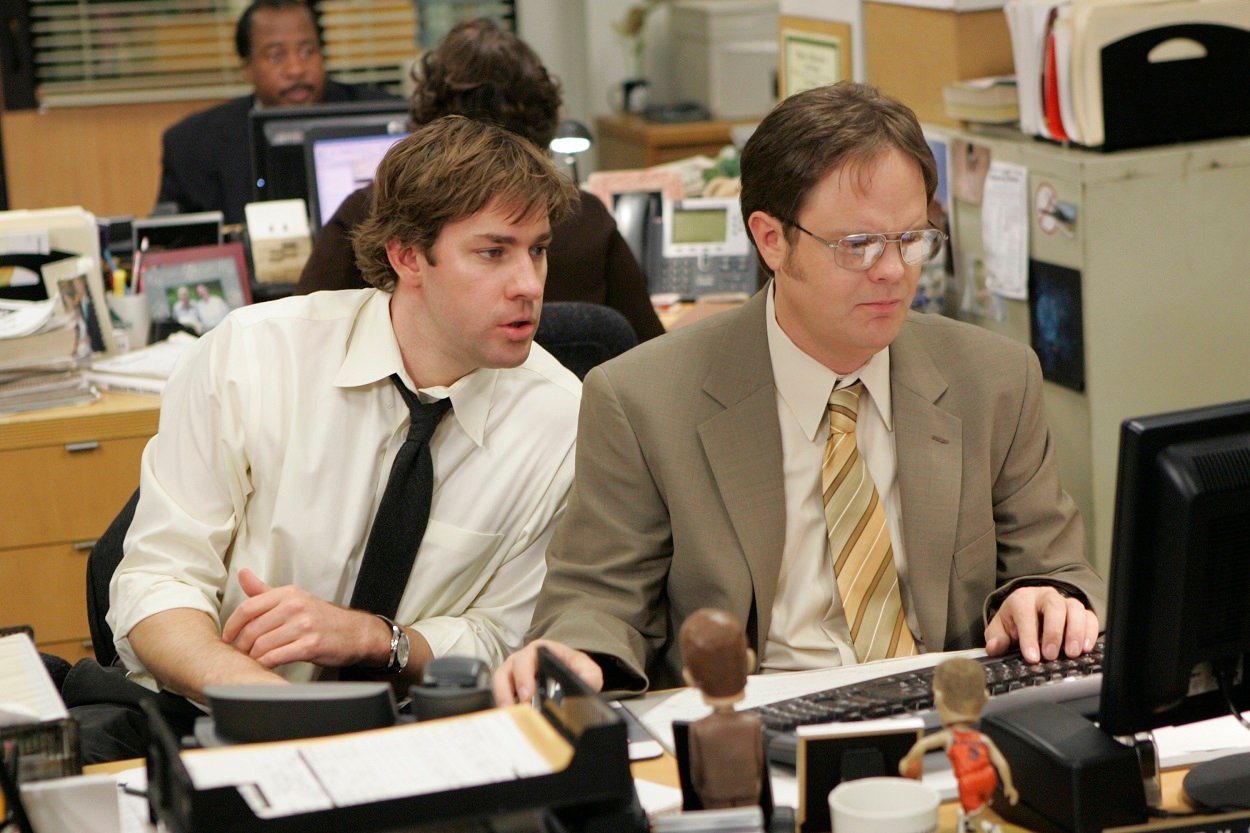 Fans of The Office will note that Wilson and Krasinski had a very contentious relationship on screen. Cast to portray Dwight Schrute and Jim Halpert, their characters were frenemies and constantly at odds with one another. The duo was constantly pranking one another and trying to one-up each other whenever possible.
'The Office' castmates developed a rivalry while filming the series
Though The Office stars got along far better than their characters ever could, there was a bit of playful competition between them. In a 2016 interview with NPR, Krasinski revealed that the on-screen rivalry that he shared with Wilson actually changed their relationship in real life.
"I think the rivalry made us become kind of like brothers," Krasinski shared about his relationship with his fellow Office castmate, Wilson. "I mean, there's that rivalry between brothers, obviously, and it's not necessarily competitive, it's just this free-spirited thing."
John Krasinski and Rainn Wilson loved to one-up each other on set
Naturally, this rivalry made the scenes that Krasinski and Wilson did together extremely hilarious. The pair were always trying to one-up each other which made the scenes that much funnier. In fact, The Office writers have shared that Wilson and Krasinski would even write insults for each other's characters and their penchant for trying to outdo each other made for some truly hilarious dialogue.
Funnily enough, the rapport between Krasinski and Wilson began before they were even cast in The Office. In fact, Greg Daniels (who created the American version of the show) revealed in a press call that during the audition process, Krasinski was the only person who could truly keep Wilson on his toes during their improv session. This, he admitted, was a huge reason that Krasinski ended up landing the role.
How Krasinski's chemistry with Wilson helped him get cast in 'The Office'
"In addition to being very funny in the talking heads and having a great chemistry with Jenna [Fishcer who played Pam Beesly], one of the aspects of the role was to be able to have this relationship with Dwight," The Office creator shared. "And in the improvs between John and Rainn, John was the only person who could stand up to Rainn and kind of throw Rainn back on his feet. And so he kind of hit all the marks and it wasn't a hard choice."
Clearly, the brotherly relationship that The Office stars developed lent itself to them having amazing chemistry on screen. The pair were able to push each other creatively and helped make the show what it was. Personally, we'd love to see the pair work together again in some capacity to see how different characters could benefit from their unique dynamic.