'The Office': John Krasinski Explains Why Jim and Dwight Were Such a 'Magical' Comedy Duo
The Office featured some memorable pairings — Jim and Pam, Michael and Dwight, and Jim and Dwight were a few of the relationships that fans loved to watch. John Krasinski explained why his character Jim and Rainn Wilson's character Dwight made such a "magical" comedy duo.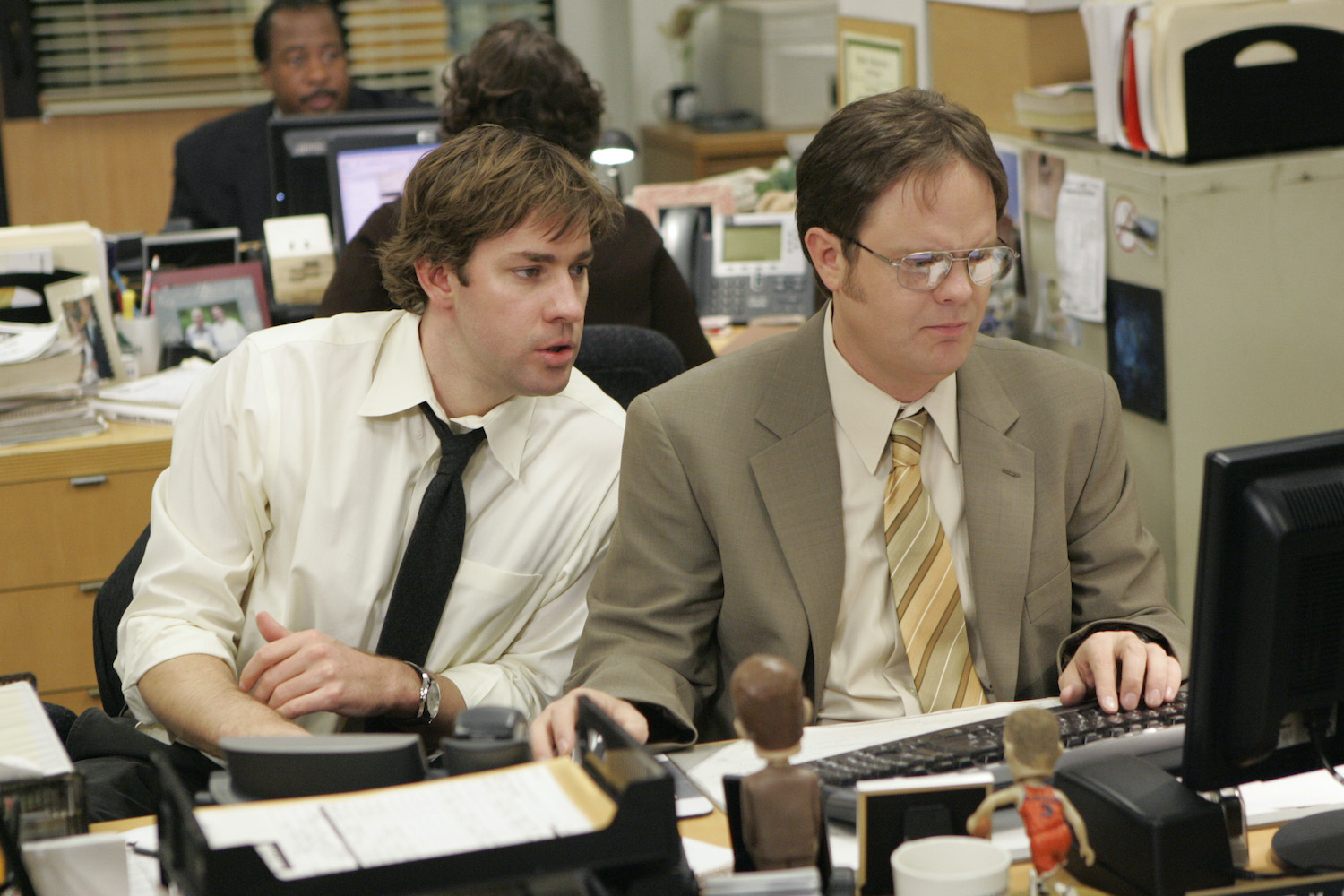 John Krasinski thinks that Jim and Dwight were 'magical' together
During the Aug. 4 episode of the An Oral History of The Office podcast, host Brian Baumgartner explored some of the relationships on The Office.
Jim and Dwight were a great comedy duo, as director Paul Feig shared during the podcast, "It's a classic set up of the person who just wants to drive the other person crazy." Greg Daniels, who adapted the show for American audiences, shared that Jim and Dwight "were equally matched" and "like Spy vs. Spy" in the way their relationship played out.
Krasinski found the relationship between the two characters "magical" because of their Odd Couple vibe. "Whatever happens when you put two polar opposite characters together is sort of magical because it's the Odd Couple," he explained.
While Jim was known for pranking Dwight, it was really done with love and in a brotherly spirit "that I think made them so great," Krasinski explained. He shared that the hijinks were never really mean-spirited but "I was doing something that I knew he [Dwight] kind of got a kick out too."
The Dwight and Jim relationship often left John Krasinski crying laughing
The hilarious give and take between the actors meant it was challenging getting through their scenes. Krasinski recalled that when they filmed together they would often break.
In particular, he recalled the talking head interviews they did together, explaining, "When I sat in a chair next to him, that weird energy radiated off of him," causing Krasinski to laugh. "I don't think I was professional once," he said of those scenes with Wilson, adding that he often cried laughing.
Krasinski and Wilson once shut down production because they couldn't stop laughing
As Krasinski explained, playing off of Wilson made for some tough moments to get through on set without laughing. One scene was so funny to them that they couldn't get through it and production actually had to shut down because they couldn't stop laughing.
In The Office Season 5 Episode 15/16 titled "Lecture Circuit," Dwight and Jim are tasked with heading up the Party Planning Committee after Michael removes Angela and Phyllis from the committee.
When Kelly gets upset about Dwight and Jim forgetting her birthday, they have to plan her party, but clearly have no clue what they're doing. Jim enters the conference room to see a banner that says "It Is Your Birthday" and some barely inflated gray and brown balloons that Dwight says "match the carpet."
Wilson revealed in his 2016 book The Bassoon King: Art, Idiocy, and Other Sordid Tales from the Band Room, that the scene was impossible for them to get through.
In the book, he explained that he's often asked, "How do you say all those lines with such a straight face?" Wilson admitted, "the fact is we never did. We 'broke' and laughed ALL the time. Just watch the bloopers."
"In fact we often had to hold the filming so that the laughter could die down enough to shoot," Wilson noted. "The longest inappropriate laughter was during the episode 'Lecture Circuit,' when Dwight and Jim are put in charge of the Party Planning Committee and Dwight hangs tiny brown and gray balloons and a banner that reads It Is Your Birthday."
He continued, "John and I literally could not stop laughing. We laughed until we cried. Production needed to be shut down for a twenty-minute break while we gathered ourselves and returned to film the scene."