'The Office' Star John Krasinski Once Shared His Favorite Episode of All Time – And It's Pretty Controversial
Many cast members from The Office have their all-time favorite moments from the NBC sitcom. Whether it's a favorite episode or one particular heartfelt moment, the show had many memorable moments. John Krasinski, who played Jim Halpert, once shared his favorite episode from the series. Yet, some may say it is considered a controversial take.
John Krasinski's shared his all-time favorite episode in the series
The Office aired for nine seasons on NBC before coming to an end in 2013. By using a mockumentary format, the series follows the lives of office workers from the fictitious Dunder Mifflin Paper Company, located in Scranton, Pennsylvania. Based on the British television series of the same name, creator and writer Greg Daniels made an American adaptation.
Throughout the show's run, former cast member John Krasinski's favorite episode of all-time marked a turning point for the comedy series. In 2018, the actor and director sat down with Stephen Colbert as part of 92Y Talks. 
During the interview, the actor said that the second episode of The Office, titled "Diversity Day," is his all-time favorite episode in the show. The actor noted the pilot episode was an exact copy of Ricky Gervais's British series. So for Krasinski, the second episode signaled a transitional period in the show.
"B.J. Novak wrote 'Diversity Day,'" he said. "I remember that day when [the diversity sensitivity counselor played by Larry Wilmore] comes in and says, 'My name is Mr. Brown,' and Michael says, 'I'm not gonna call you that.'" 
Krasinski continued, "It was that moment combined with Kelly slapping him [for his impression of a bodega owner] where I said, 'Oh my God, we're a part of something totally unique – and I don't think anyone will watch this. But I knew it was really good, and I [remember thinking] we were a part of something special."
Comedy Central removed 'Diversity Day' from the series line-up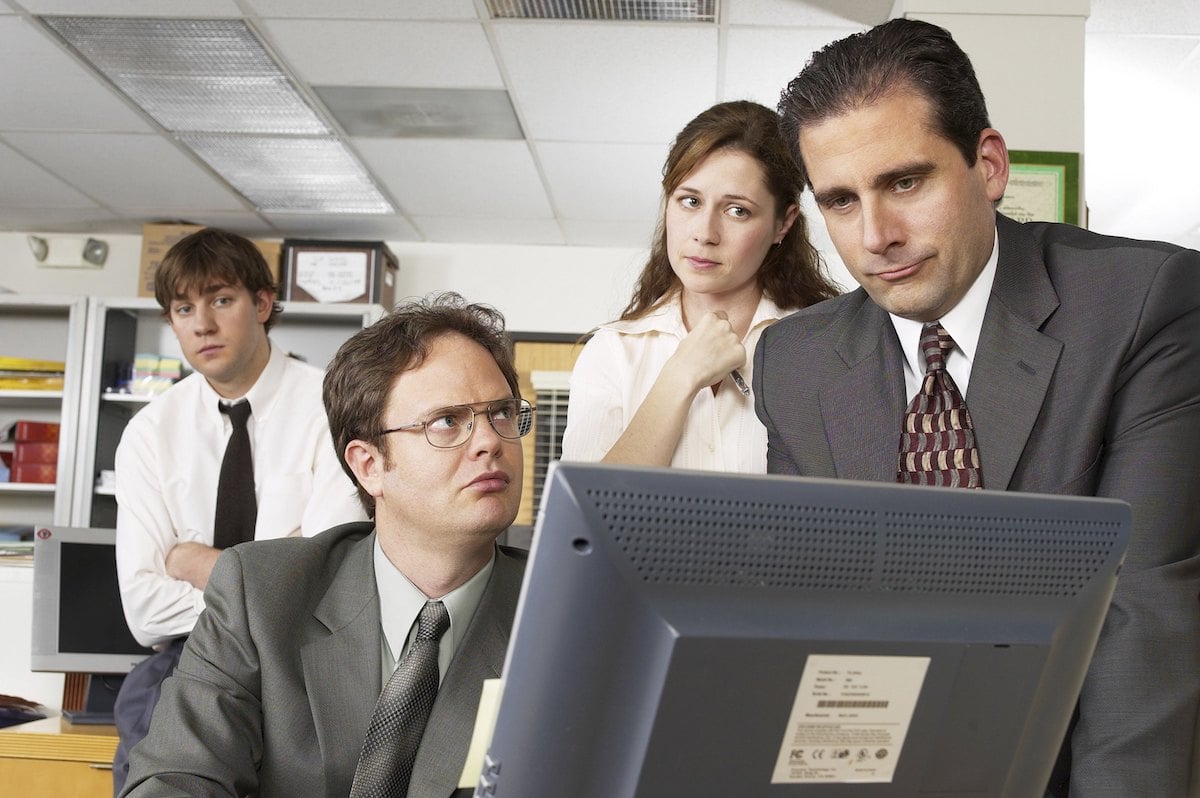 Although many fans may consider "Diversity Day" a classic, the episode is quite controversial. In The Office Season 1 Episode 2, Michael Scott (played by Steve Carell) makes a controversial impression of the actor and comedian Chris Rock. As a result, the office workers must undergo a racial diversity seminar. A consultant (Larry Wilmore) arrives at Dunder Mifflin to teach the workers about diversity and inclusion, but Michael creates his own separate seminar. 
So, he assigns each worker to wear an index card on their forehead with different ethnicities. But, they are pretty offensive – Michael wears an index card that says Martin Luther King Jr. on it. Soon after, the staff starts to get irritated. When Kelly Kapoor (Mindy Kaling) comes into the room, Michael proceeds to do an offensive Indian accent. The impression causes Kelly to slap him. The episode was a satirical take on the diversity policies implemented in a work setting. 
'The Office' fans respond to the network removing 'Diversity Day'
In September 2021, many fans noticed "Diversity Day" was absent from a weekend marathon on Comedy Central in the United States. According to Newsweek, The Office fans felt the NBC sitcom had succumbed to "Cancel Culture." Some took to Twitter to show their disappointment in the network's decision to remove the episode. 
"WTF Comedy Central?? You cannot cancel the office diversity day episode," one fan wrote on Twitter. "The whole point is to mock the companies that make shitty attempts to boost diversity. I'm so annoyed."
Meanwhile, one fan argued an episode like "Diversity Day" would get a lot of negative criticism today. The account wrote, "Diversity Day is one of my favorite episodes. The entire show is based on a character who is oblivious to political correctness of any sort, and the delivery makes it funny to me. I'm glad it aired when it did because it wouldn't fly at all today."
In a July 2021 interview with BBC, The Office star and co-creator Ricky Gervais said the sitcom would fall victim to "Cancel Culture" if it were to air today. 
"I mean, now it would be canceled," said Gervais. "I'm looking forward to when they pick out one thing and try to cancel it. Someone said they might try to cancel it one day, and I say, 'Good let them cancel it. I've been paid!'"
All nine seasons of The Office are streaming on Peacock.