'The Office': John Krasinski Got 'Full Payback' on Rainn Wilson in This Hysterical Scene
Unlike their characters, Jim and Dwight, The Office castmates John Krasinski and Rainn Wilson have always gotten along well. However, the pair did occasionally have a friendly rivalry with one another. They both competed to come up with the best lines and improvised bits for their respective characters. But when it came to physical encounters on The Office, Wilson was almost always able to best Krasinski.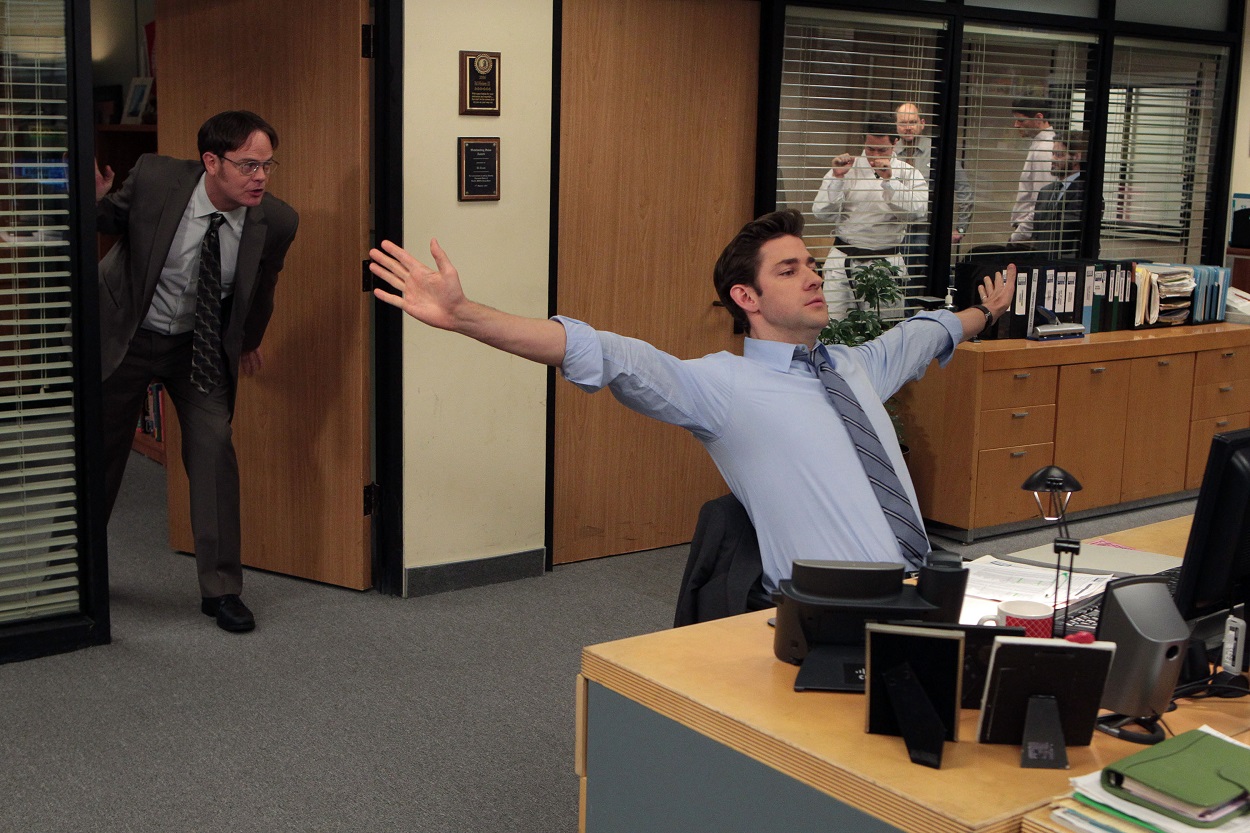 While Krasinski and Wilson almost never exchanged real blows on The Office, they did have to play fight every so often. Unfortunately, for Krasinski, he nearly always sustained injuries when filming the more intense physical scenes between Jim and Dwight. In fact, in a 2016 interview with NPR, Krasinski shared that this unfortunate trend persisted for years.
John Krasinski was occasionally nervous to film Jim and Dwight scenes with Rainn Wilson
"One of the things that I got nervous about was play fighting with him, because he's a very good actor, but I, for some reason, would always end up injured when we did any play fighting," Krasinksi shared about his fellow Office castmate, Wilson. "So there were all these scenes where he would throw snowballs at me and it actually hurt, or he'd go to push me and he'd push me too hard, and I'd actually get hurt."
Though Krasinski was a pretty good sport about his injuries, when he got the opportunity to give Wilson a taste of his own medicine, he leapt at the chance. Fans of The Office may recall that during the "Traveling Salesmen" episode in Season 3, Jim slapped a pompous Dwight right in his face. According to Krasinski, that scene was payback for all the injuries he'd endured over the years.
How Krasinski got revenge on his fellow 'Office' castmate
"After years and years and years of him doing all these things to me, there was one time where I'm walking through a door and I slap him in the face, and there was no way to fake that, because I had to actually slap him," The Office star confessed about the memorable scene. "I had in my head, 'This is my full payback for all these years.' And Rainn said, 'Listen, you can hit me as hard as you need to, don't worry about it.' And I said, 'OK.'"
Krasinski took Wilson's offer completely at face value and didn't hold back at all with the slap. The end result made for a truly hilarious scene and a gobsmacked Wilson. "And so the scene you see in the show is as hard as I've ever hit a human being before, and I have no idea why I took that opportunity, other than it was that brotherly thing of 'I can't let this happen,'" The Office alum recalled. "So if you go back and watch that scene, you will see Rainn genuinely stunned by how hard I hit him."
It's pretty hilarious that Krasinski used a scene in order to get retaliation for the injuries he'd previously suffered. We wonder if Wilson ever intentionally counterattacked throughout the rest of their tenure on The Office.