'The Office': John Krasinski 'Was So Happy' While Filming This Iconic Episode, According to B.J. Novak
One of The Office's most iconic episodes was a thrill for the cast to film because it was so different from the show's typical storytelling. B.J. Novak shared that John Krasinski, in particular, "was so happy" when they filmed the episode featuring Michael Scott's action film Threat Level Midnight.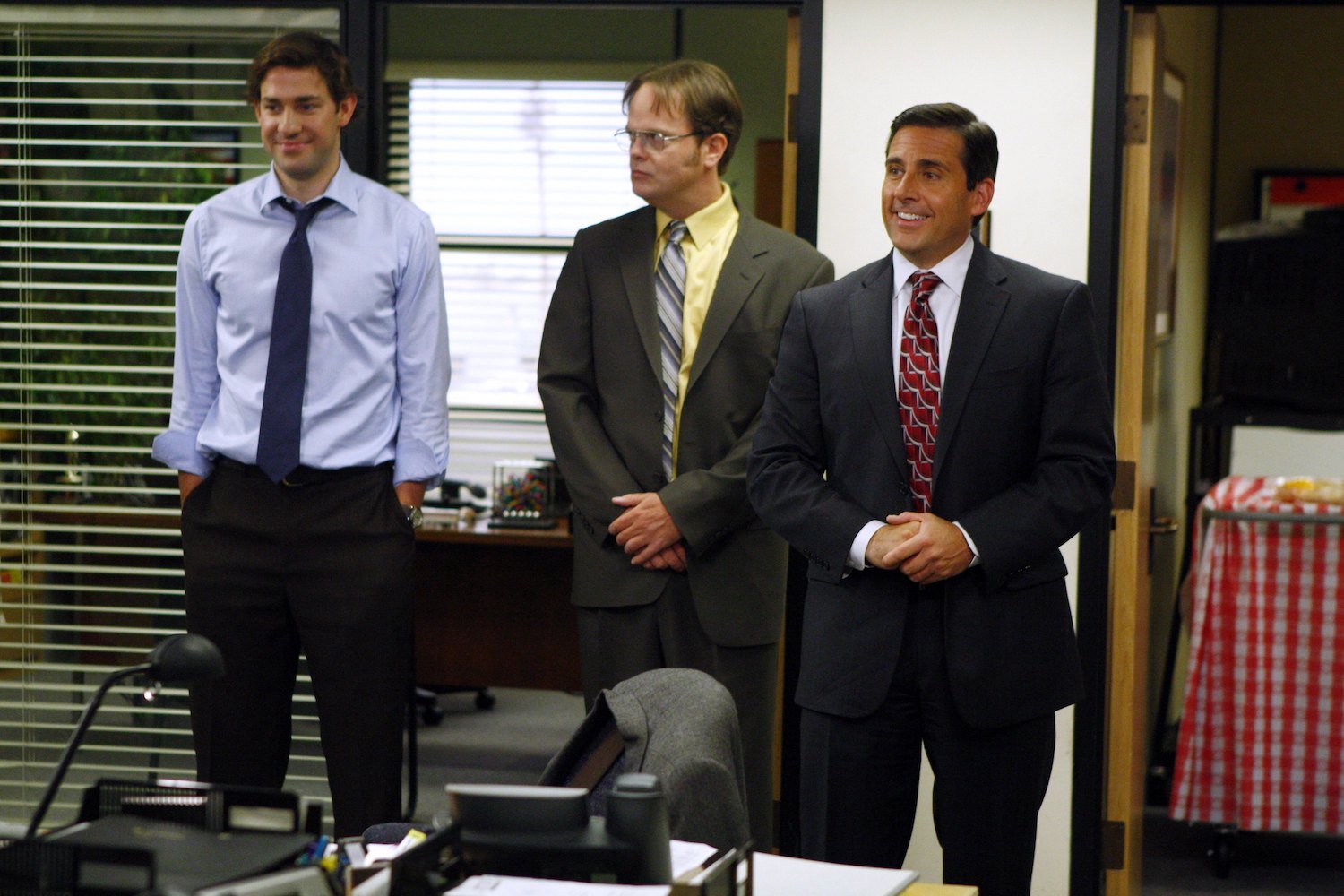 John Krasinski played Goldenface in the 'Threat Level Midnight' episode
The Office "Threat Level Midnight" episode was unlike anything the show had done before. In the episode, Michael screens the action movie that he made from the screenplay that was found in his desk in season 2. In the episode "The Client," the staff did a table read of the script while Michael was out of the office.
In season 7, fans finally got to see the film play out in all of its awkward glory and the episode became an instant classic.
Krasinski played the villain Goldenface and, according to B.J. Novak, who wrote the episode, the actor loved every minute of it.
In the episode's commentary, Novak explained how there was definitely a lot of energy surrounding the filming of this episode. "John was so happy this week," Novak shared. "I have never seen him as happy as playing Goldenface."
While discussing the vibe on set, Novak explained how making an episode so "out of the ordinary" from what they were used to "was this sudden shot of adrenaline to everybody."
'The Office' writers had to sort out the timeline for 'Threat Level Midnight'
The commentary also revealed the way that the timeline for Michael's movie was sorted out. "It all made sense," Novak said. "But we had to work out a backstory in our head."
Novak answered a similar question about "Threat Level Midnight" during a Q&A with OfficeTally. One fan wondered how the movie scenes were mapped out to "fit chronologically within the timeframe of the show's events" and it turns out there was quite a bit of effort involved.
"I made my very best effort to get those details right when writing it," Novak said. "Then David Rogers, our most veteran editor, and Veda Semarne, our script supervisor, both turned a very specific eye on it and mapped out when everything would have been filmed, looking out for anything that wouldn't have been possible."
'The Office' writers wanted to get Amy Adams for 'Threat Level Midnight'
Novak was also asked if there were other characters they wanted for "Threat Level Midnight" and he revealed, "We really wanted Amy Adams (Katy)."
"I had scripted a scene in which she is a 'Floozy' in bed with Michael Scarn before Dwight wakes him up with a mission from the president," Novak said.
"In the scene, Michael is unsatisfied from their empty lovemaking because no one is as good in bed as his wife was, and Michael explains to her what love feels like," he said of the scene.
"Then, in a talking head, Katy explained with a little embarrassment how she had some interest in acting back then, and we catch up with where she is in the present day," Novak explained.
Unfortunately, Adams had a scheduling conflict. "But she wasn't available to film the week we were filming," he shared.