'The Office': John Krasinski or Jenna Fischer, Whose Net Worth Is Higher?
John Krasinski and Jenna Fischer have done tons since leaving 'The Office'. Between the two of them they've added director, producer, author, and podcast host to their resumes. But which actor has the higher net worth?
John Krasinski and Jenna Fischer have both gone on to do great things since they starred in The Office. Still, the pair will likely always be known for the work they did on the hit NBC show. Portraying Jim Halpert and Pam Beesly, they were undoubtedly the emotional heartbeat of the show. In fact, they've become one of the most popular TV couples of all time. Playing Jim and Pam for nine years earned the actors quite a bit of money, but whose net worth is higher today?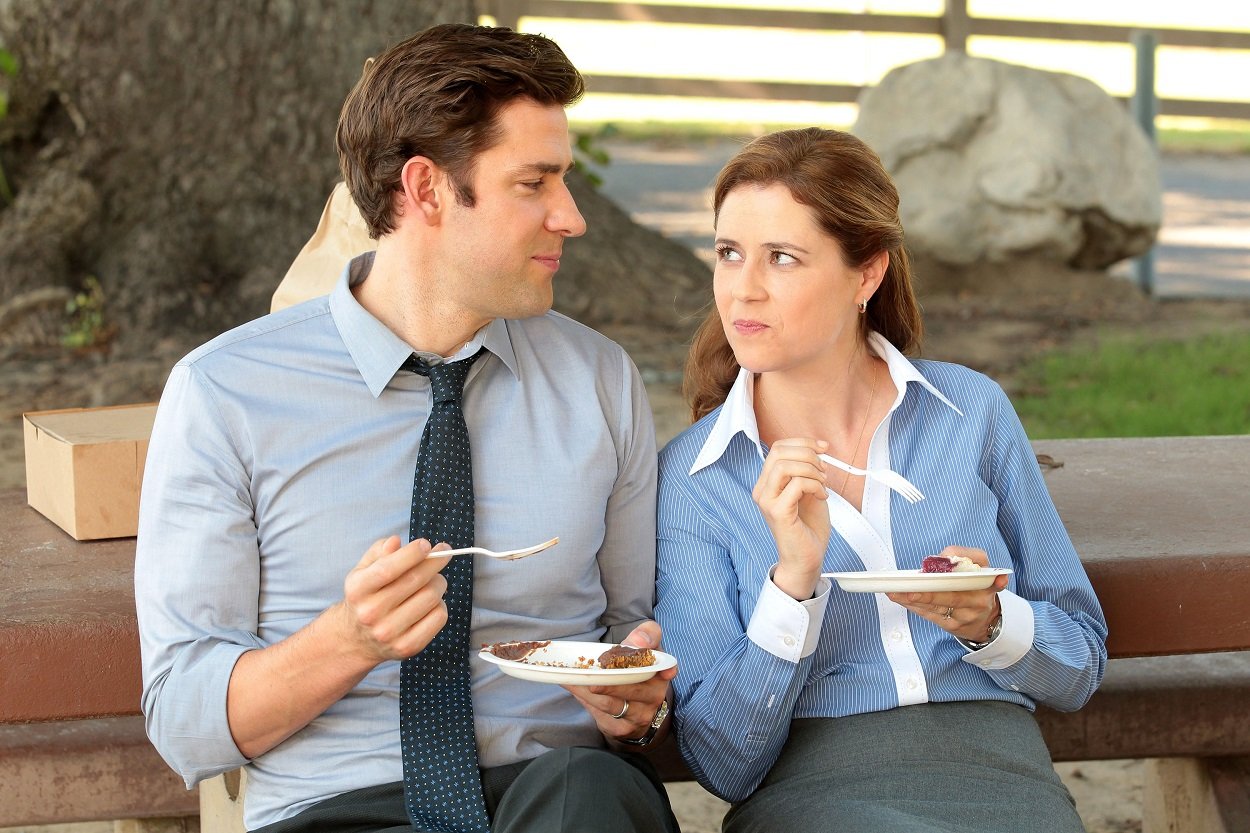 Krasinski hasn't been shy about how much The Office changed his life. In fact, he was seriously considering giving up acting altogether right before he was cast as the apathetic paper salesman. Fortunately, his mother encouraged him to stick it out a bit longer and he ended up booking the job. Following his stint as Jim, Krasinski has continued acting in shows like Jack Ryan, but he's also very involved in other aspects of the entertainment industry also.
John Krasinski has gone on to direct movies like 'A Quiet Place Part II'
In addition to acting, Krasinski has producing, directing, and writing credits on his resume as well, which certainly helps bolster his net worth. Currently, fans are looking forward to the release of his film, A Quiet Place Part II which he directed, wrote, and produced. Krasinski also stars in the film alongside his real life wife, Emily Blunt.
Fischer, like her former castmate, has also been busy since her stint on The Office. The St. Louis native has also continued acting and had her own show, Splitting Up Together, from 2018-2019. Unfortunately, the show was canceled but that hasn't stopped Fischer. In addition to acting, Fischer has become a successful author. Her book, The Actor's Life: A Survival Guide, serves as a valuable jumping-off point for actors who want to break into the industry and tells her unique journey to success.
Jenna Fischer hosts a popular podcast with her best friend, Angela Kinsey
Fischer also isn't afraid of returning to her Office roots. Together with her former castmate and real-life best friend, Angela Kinsey, she hosts a rewatch podcast for the hit comedy. Office Ladies has become extremely popular and fans love learning behind-the-scenes details of the beloved show.
Which 'Office' star has the higher net worth?
It's clear that both Krasinski and Fischer have found continued success since The Office officially wrapped. But which actor has the higher net worth? According to Celebrity Net Worth, Fischer is worth $14 million, and even though that's impressive, Krasinski has her beat by a wide margin. Krasinski is worth a staggering $80 million and with his new film releasing soon, we expect that number to increase. Still, both stars are worth a pretty penny and we're sure fans are itching to see what they do next.