'The Office:' John Krasinski Kept One Memento When He Thought The Show Was Going to be Cancelled … and it's Not the Teapot
The Office is often the go-to choice on streaming services, still reigning as one of the most iconic comedies in history. Fans of NBC sitcom may find it hard to believe that the show which launched the careers of Steve Carell, John Krasinski, Jenna Fischer, and several other cast members was on the chopping block at one point early on in the series.
In order to keep a record of his time with the cast, Krasinski made a request for a special keepsake.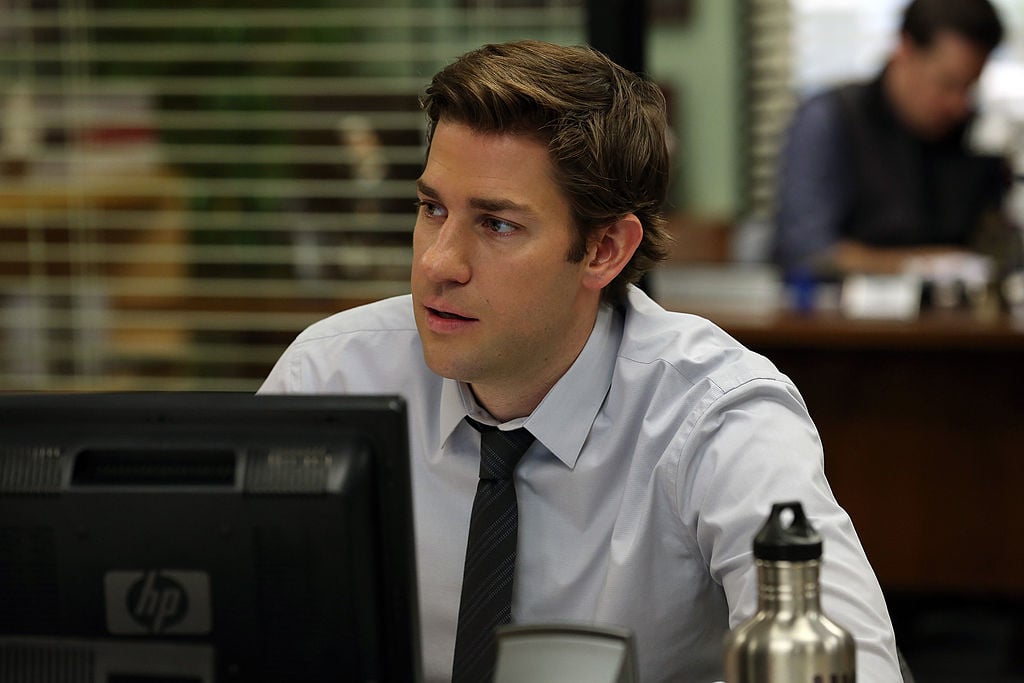 John Krasinski flubs his audition before entering the room
Knowing the show he was trying out for was based on the original British sitcom created and directed by Ricky Gervais and Stephen Merchant, Krasinski was nervous that the new American version he was reading for wouldn't measure up. As he was in the waiting room before his audition, the actor began speaking with a stranger.
"This guy sits in front of me with his salad and people are coming in and out and he goes, 'Are you nervous?'" Krasinski recalled, as reported by the Huffington Post. "And I was like, 'You know, not really. You either get these things or you don't.'"
The Boston native then revealed what was truly causing him anxiety. "What I'm really nervous about is this show," Krasinski told the gentleman. "It's just I love the British show so much and Americans have a tendency to just really screw these opportunities up. I just don't know how I'll live with myself if they screw this show up and ruin it for me."
Krasinski didn't realize he had been bearing his soul to The Office's showrunner. "He's like, 'My name's Greg Daniels, I'm the Executive Producer,'" the actor revealed. "And I was like [vomit noise]. I actually threw up in my mouth."
Needless to say Krasinski nailed the part despite his brief foot-in-mouth syndrome.
'The Office' struggled in Season One
Being compared to the success of the British show became somewhat of a stumbling block early on in the American version of The Office. "The first episodes took a while to find their own soul," producer Ben Silverman told Andy Greene in his book The Office: The Untold Story of the Greatest Sitcom of the 2000s.
Script coordinator Jason Kessler was concerned that viewers wouldn't catch on to The Office style of humor. "The first season really felt like an experiment," he said. "It was clear NBC wasn't putting all its chips on The Office. … I absolutely loved it… But I don't know if I believed a network audience as a whole would get it. It's just a very specific, dry brand of humor."
Despite the cast and crew's belief in the show, director Paul Feig had his doubts. "Watching those first six [episodes], as hilarious as they were, it was like, 'Wow, I don't know if this is going to survive,'" he told Greene. But we were hoping it would, because we saw how funny it was."
John Krasinksi's request for his own keepsake
With threats of cancellation constantly looming on set during the first season, Krasinski wanted to make sure he had some sort of record of his time on the show.
"I remember every week being told that this would be our last episode, and unfortunately we weren't going to keep going," The Office alum said in Greene's book. "I remember saying, 'Is there any way I could get a DVD of this to show my mom, because this is definitely the best thing I've ever done.'"
Krasinski's wish was granted, not just with the DVD, but with the show remaining on the air. The actor has held on to the disc as a priceless memento from that time period of his career.
"I actually still have that DVD," he revealed. "So for us, it was just like we were in the best regional theater group in the world. We just thought no one was necessarily paying attention, but we were having a blast."