'The Office': John Krasinski Said He Was Laughing So Hard During 1 Scene, They Couldn't Film His Signature 'Jim Face' Reaction
John Krasinski often had a hard time getting through scenes on The Office because the writing and his co-stars were so funny. One time, in particular, was so challenging that he had to physically remove himself from the scene — and he was supposed to give his signature 'Jim face' reaction.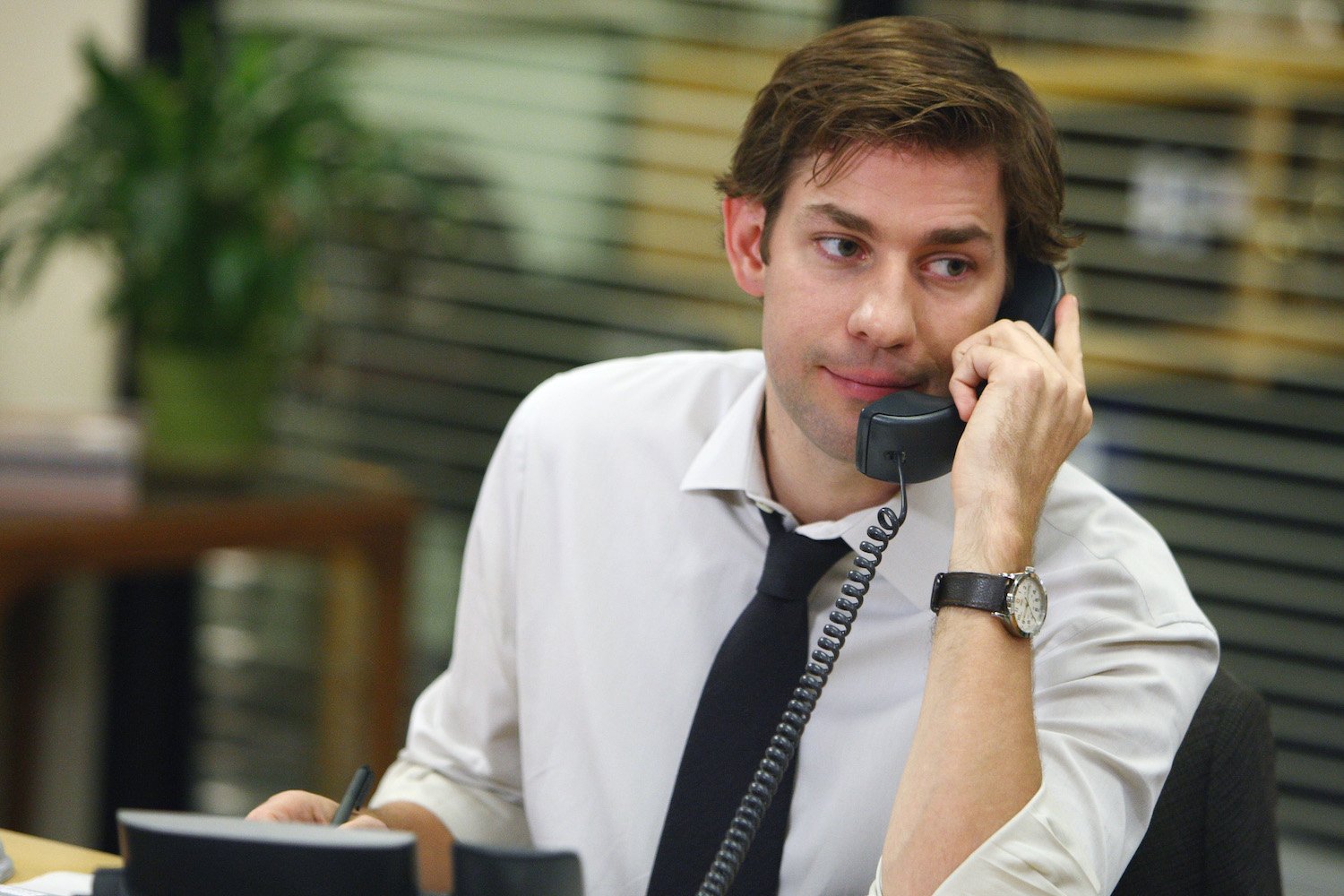 This Christmas party scene on 'The Office' had the cast cracking up
The Office's season 6 episode "Secret Santa" found Michael upset because Jim told Phyllis she could dress up as Santa for their holiday party.
In true Michael fashion, he makes a big deal about it. He gets a chair from his office and invites Kevin to sit on his lap. The Office scene was so hilarious, the cast couldn't keep it together — and some of them are seen in the background breaking character.
During the August 4 An Oral History of The Office podcast, host Brian Baumgartner gave some insight into what it was like to work with Steve Carell. "Steve made the character his own, with his gifts as an actor and as an improviser … he was so honest and so funny that he could make us break and laugh uncontrollably during a take."
That played out when Carell improvised for the scene with Baumgartner, who played Kevin.
Writer Paul Lieberstein explained just how difficult it was for everyone in the room to keep it together. "That maybe was the moment we had the hardest time not breaking in the history of the show," he explained.
Carell admitted how difficult it was to film that scene. "I'll crack up as much as anyone but I try not to because I always feel like, if I laugh … if I crack up, it's unusable," Carell shared on Baumgartner's podcast. "There are times that I'm sure you can watch the show and just see tears welling in my eyes. That was one of the hardest things, was to not lose it."
John Krasinski said this is the hardest he laughed while filming 'The Office'
Krasinski's character Jim was well-known for giving a grin or reaction to the camera and he was supposed to give an ending to this Santa scene with one of those looks.
He called the scene one of his "favorite moments of shooting ever" even if it was literally impossible not to break character and laugh.
"People always ask me what's the hardest you ever laughed on set. Without a doubt, it's when you sat on his lap," he told Baumgartner.
Krasinski didn't get to do his signature Jim reaction because he was laughing
When Krasinski spoke with Carell on his 2020 YouTube series Some Good News, the former co-stars reminisced about some of their favorite moments on The Office and Krasinski recalled how the camera couldn't locate him for his reaction because he had to leave the area.
"I remember when you did the episode where you played Santa and were very upset that Phyllis was already Santa," Krasinski recalled. "So you were asking people to come sit on your lap and Brian [Baumgartner], thank God, was chosen to sit on your lap."
He continued, "I was supposed to be the button of the scene where they cut to me and I did a Jim face. I was never there, I was physically never there because by the time they got to the swish pan to me, I was out."
"I was either on the floor or I had left the room," he added.