'The Office': John Krasinski Said Rainn Wilson 'Had This Weird Thing' That Always Made Krasinski Break
John Krasinski and Rainn Wilson shared a lot of hilarious scenes on The Office as Jim and Dwight over the years. Needless to say, there were a lot of moments where their give and take paired with the great writing made scenes challenging to get through without laughing.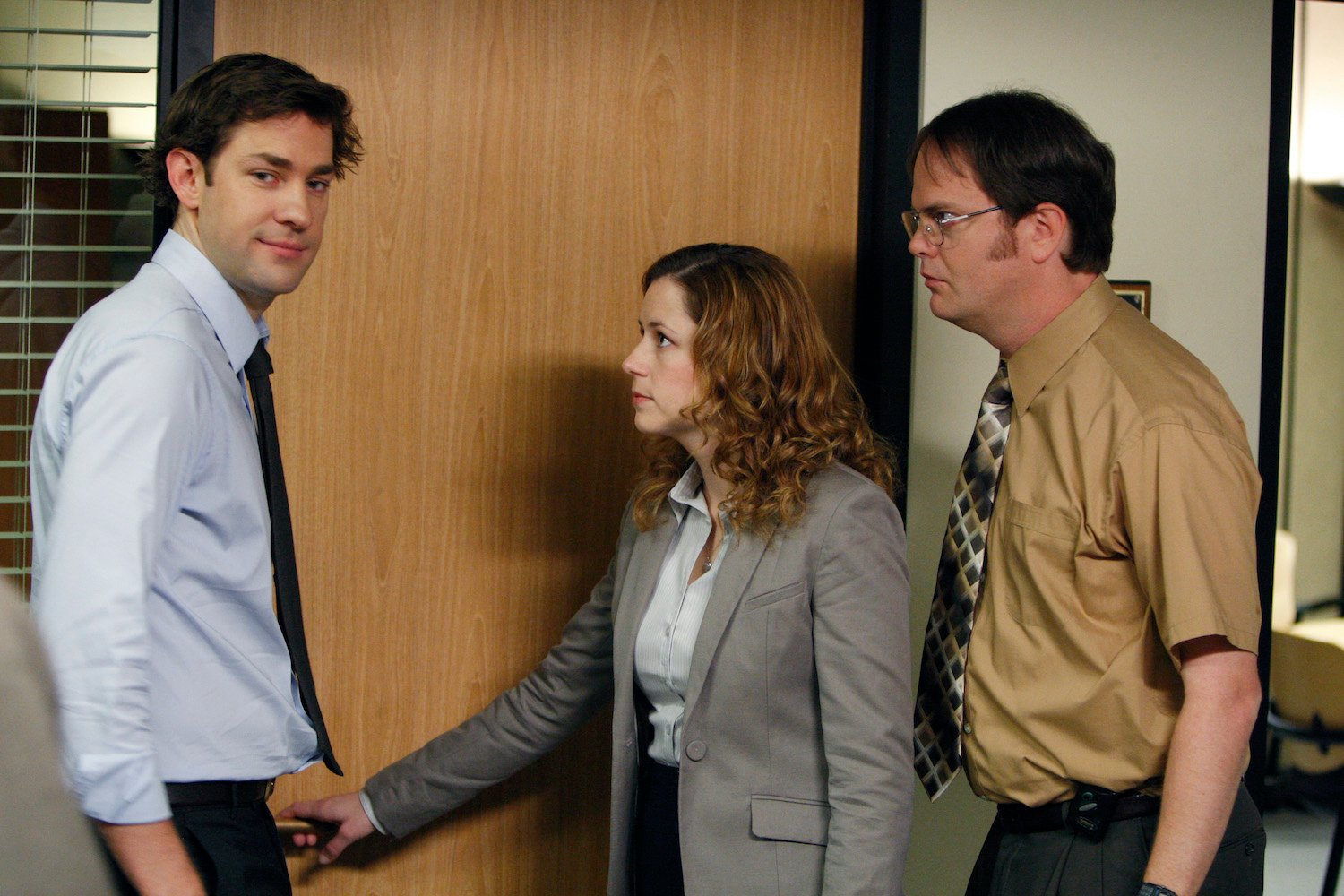 John Krasinski shared how 'magical' it was to work with Rainn Wilson
During the Aug. 4, 2020 episode of the An Oral History of The Office podcast, Krasinski spoke with host Brian Baumgartner about working with Wilson and their characters' relationship.
Krasinski compared them to the characters in the Odd Couple — with the relationship between two very different people creating a lot of laughs.
"Whatever happens when you put two polar opposite characters together is sort of magical because it's the Odd Couple," he explained.
Jim played a lot of pranks on Dwight, but Krasinski said the writers made those moments "kind of loving" and done with a "brother aspect to it that I think made them so great," he noted.
"I wasn't being mean," Krasinski added. "I was doing something that I knew he [Dwight] kind of got a kick out too."
Director Paul Feig weighed in as well about the Jim and Dwight characters and really enjoyed their relationship. "It's a classic set up of the person who just wants to drive the other person crazy," he said.
Rainn Wilson just had a vibe that made John Krasinski crack up
The Office's impeccable comedy writing and the actors' delivery of the lines often created challenging moments with getting through the scenes.
Krasinski admitted that Wilson had an energy about him that made the actor's job hard. "When we did stuff together and we were a team? That was great. That stuff was amazing," he said.
"Those talking heads where we do together? I don't think I was professional once in those," Krasinski shared.
"When I sat in a chair next to him, that weird energy radiated off of him and I just started laughing," he added.
'The Office' co-stars made each other laugh with just a look
During a 2018 interview with SAG-AFTRA Foundation, Krasinski was asked, "Who made you break up the most" on The Office and he singled out Wilson.
Krasinski said it was just a look sometimes that would get him giggling. "Rainn and I had this weird thing — I think he'd say the same thing too — it was just like, a look that he would give me and I would laugh all the time."
"I think it's in the bloopers, like he'll say something that he doesn't even look like he's breaking or anything but there was just… there really is such a thing as a twinkle in an eye," Krasinski explained.
The actor went on to talk about other moments that made him break during scenes. "I think the hardest I laughed — damn near died — was at 'Dinner Party,' when [Steve Carell] does that thing with the TV … that was the funniest thing I've ever witnessed in my life."