'The Office': John Krasinski Reveals the Hilarious Scene He Had to Work Hardest Not to Break During
John Krasinski admits this scene on The Office was so hilarious, he had a hard time getting through it.
Working with funny material proved to be challenging for the cast of The Office on many occasions — as evidenced by the many blooper videos from the nine seasons of the show. Many of the actors have shared their experiences about giggling through scenes and, in one instance, Rainn Wilson and John Krasinski laughed so much during a scene that they had to shut down production so they could collect themselves. There was another scene where Krasinski said he had to try and keep it together so he didn't break.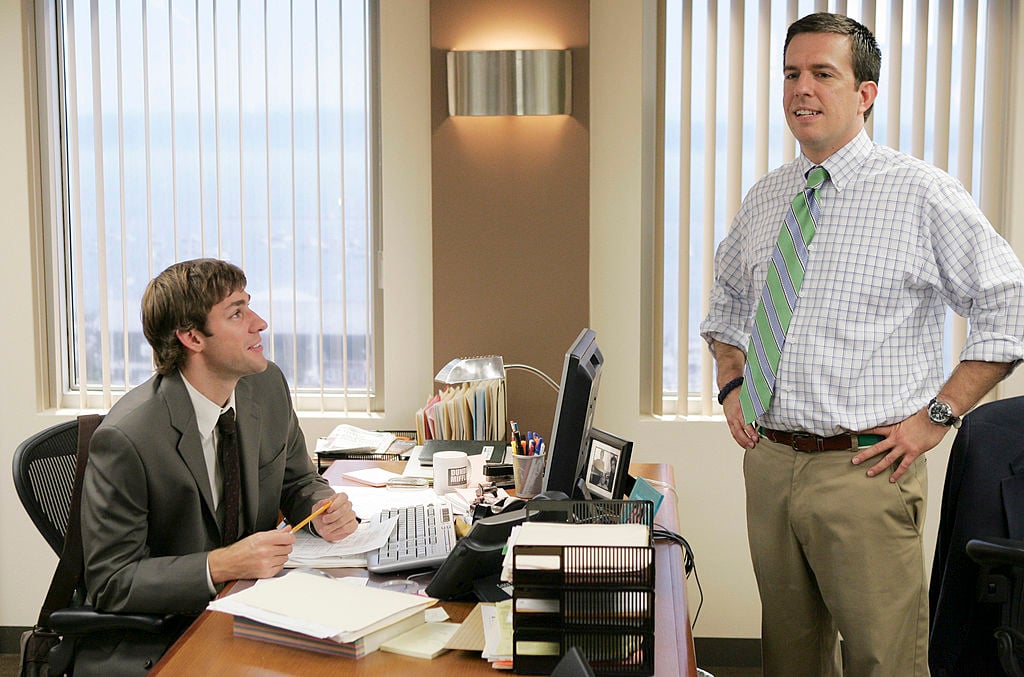 Jim plays 'Call of Duty' in Stamford
When Jim transferred to the Stamford branch he had new co-workers who were very into the video game Call of Duty. During season 3 episode 3 "The Coup," Jim finds out just how obsessed his office mates Karen and Andy are with playing the game. He explains how the office had started playing the game as a team building exercise and never stopped.
"We didn't play many video games in Scranton. Instead we'd do stuff like… uh, Pam and I would sometimes hum the same high pitched note and try to get Dwight to make an appointment with an ear doctor. And, uh, Pam called it… Pretendinitis," Jim notes.
Jim, it turns out, isn't much of a gamer, and he takes a bit of heat for how unskilled he is. At one point during the game, Andy yells at him, "Why did you do that?" and Jim says, "I'm just killing Germans any way I can."
Andy responds, "We're on the German team. Shoot the British," to which a confused Jim asks, "Wait, are we playing teams?"
Krasinski had a hard time with one scene
In the episode, Jim and Andy are called into the conference room by Stamford's regional manager Josh, who puts the Call of Duty game on hold… and Jim assumes they will talk business, but it's all about game strategy. It goes down like this:
Josh: This is not working, ok. We are getting slaughtered out there.
Andy: It's the new guy.
Jim: I'm sorry… I don't know what we're talking about…
Josh: We just need a strategy, okay? We're gonna set up a trap in the gun room. Alright, Jim, are you using the MP-40 or the 44?
Jim: Um, sniper rifle?
Josh: Snipe-
Andy: What!?
Josh: Jim!
Andy: Are you playing for the other team?
Josh: You don't snipe in Carentan, okay?
Andy: Saboteur! Saboteur! I'm going to kill you for real. This game — the game is over. I'm really going to shoot you.
Helms hilariously improvised part of it
During the June 10 Office Ladies podcast, hosts Angela Kinsey and Jenna Fischer shared some behind-the-scenes information about "The Coup," including the scene between Andy, Jim, and Josh. Kinsey noted that in the DVD commentary, Krasinski said that "this scene was maybe one of the hardest that he had to work not to break."
Ed Helms, who played Andy, improvised the part about being a saboteur and threatening to kill Jim, one of the funniest parts of the scene.
Kinsey noted that Krasinski said in the commentary that Chip (Esten, who played Josh) and Helms "were just crushing it" and he had "the toughest time."
How 'Call of Duty' made it on screen
A lot of Office fans wondered why Call of Duty featured so heavily in the episode and it turns out, according to Kinsey and Fischer, that the game was played by the show's editors and writers and that it was on the writers' wish list to build a storyline around the game.
Fischer dished that the writers and editors would play one another. "They did exactly what Stamford did. They would turn off the lights and they would have this elaborate match going on," she said.