'The Office': John Krasinski and Steve Carell Had an 'Existential Crisis' During This Scene
John Krasinski and Steve Carell shared a lot of hilarious scenes on The Office, but the two actors once had to deliver an emotional moment that actually brought the two to tears. Krasinski explained the "existential crisis" that happened between them when the camera started rolling.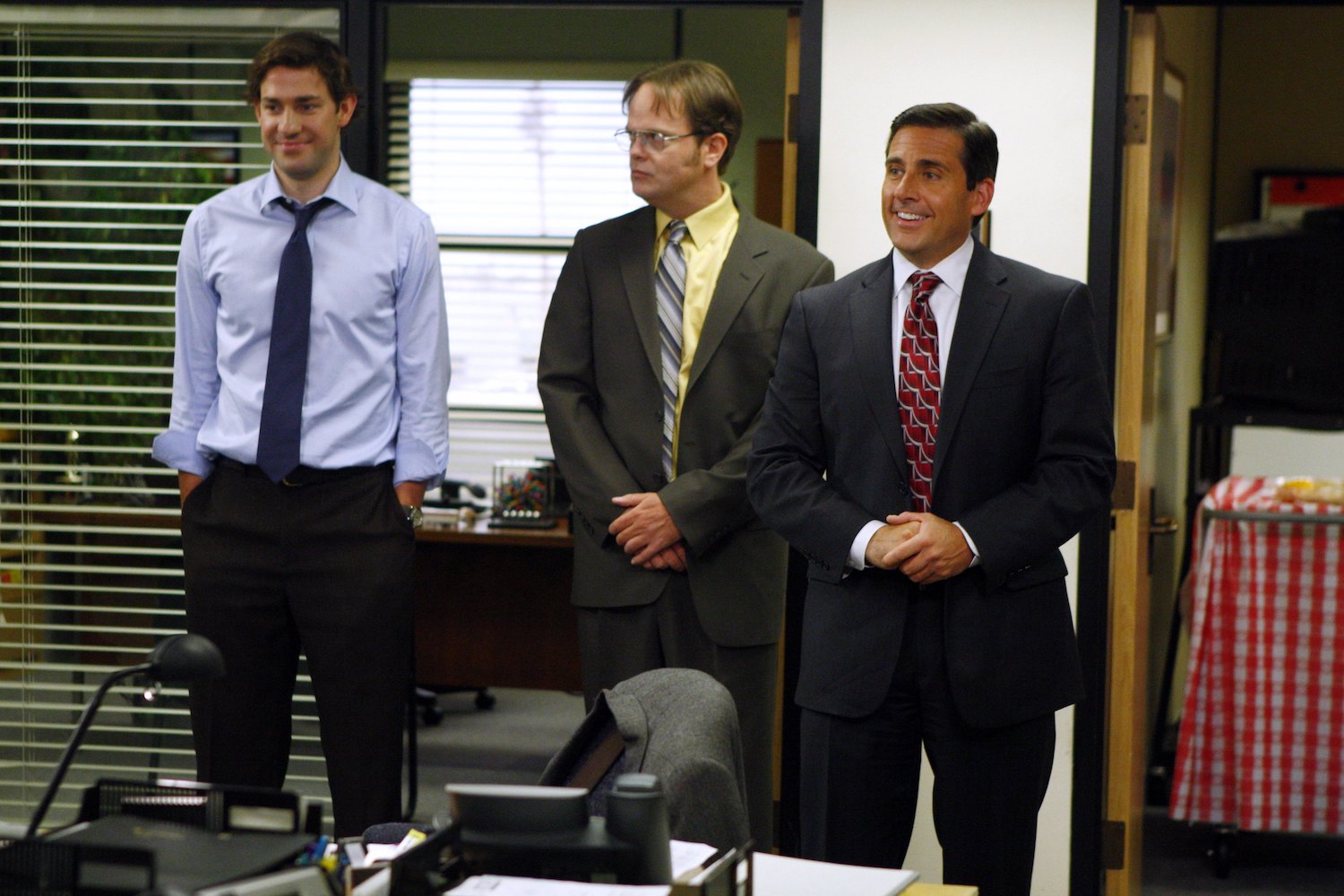 John Krasinski said this moment was so 'emotional'
When Carell and Krasinski caught up on the actor's YouTube series Some Good News, they revisited the emotional experience of trying to get through their final scene together.
In the season 7 episode "Goodbye, Michael" Michael Scott is leaving Dunder Mifflin and escapes having to say personal goodbyes by telling the employees that he's leaving the next day. Michael connects with each person without having to suffer all the sadness of a final farewell.
When Jim pieces together that Michael is actually on his way out, he stops by his office to share a sweet goodbye. The two men said getting through the scene was a huge challenge.
Krasinski called it "the most emotional I've ever been on a set."
Carell agreed with Krasinski. "That was a hard one," he said. "That was really — that one was tough."
Needless to say, a lot of takes were required to get the scene right. Krasinski recalled, "I was sort of hoping that they wouldn't do your scene and my scene, the episode where you leave, last," he said. "I think you and I counted, I think it was either 17 or 19 takes where there wasn't an audible word that came out, it was just 'action' and then you and I [emotional grunting]."
Krasinski and Carell shared an existential crisis moment
During a 2012 interview with Access Hollywood, Krasinski discussed The Office series finale and knew that when they finally wrapped things up, it would be tough.
"I was 23 when I got the show and now I'm 33 so that's a big important decade to be connected to one thing," he explained. "I'm so honored to be a part of it and I wouldn't take back one second of it."
The actor said that he hoped to be better prepared for the feelings that would come with the last day of filming and recalled how he didn't expect to struggle so much with his goodbye scene with Carell.
"I remember Steve's last day, the weeks leading up to it people were getting emotional and then the last day of shooting everybody was crying all over the place and I was like, 'Guys pull it together, it's going to be fine.,'" he recalled.
He continued, "And then the last shot of the episode was my character is saying goodbye to him and then they call action and just out of nowhere [cries] and just went up and hugged him."
"So then you have two grown men having an existential crisis on camera and they were like, 'None of this is on the script,' so hopefully I plan it a little better than I did then," he added.