'The Office': John Krasinski Thought Jenna Fischer Was Upset Before Their First On-Screen Kiss
John Krasinski and Jenna Fischer were nervous to film their first kiss on 'The Office.' Find out why Krasinski thought Fischer was upset.
Fans waited a while before Jim (John Krasinski) and Pam (Jenna Fischer) kissed. The Office then changed after the big moment, but there was a lot of work into creating it.
The actors were very nervous to film and Krasinski thought Fischer was upset right before they had to shoot. Find out the reason why and more.
Jim and Pam's first kiss on 'The Office' was in 'Casino Night'
Season 2 ended with the episode "Casino Night." Jim decides to tell Pam that he wants to be more than just friends during the work event.
That doesn't go over well. Pam tells him that she can't and he must have misunderstood their friendship. After all, she is still engaged to Roy (David Denman.) Fischer and Krasinski talked about filming this scene on the Office Ladies podcast.
Krasinski improved the line "Don't do that" once Pam starts apologizing to him. He also cried in multiple takes of the scene.
Fischer told Krasinski that when he said "don't" her stomach dropped to her stomach and she felt bad. Krasinski laughed, "That's what I loved. It's like you're doing this as Pam and as Jen you're like 'So sorry, bro.'"
John Krasinski thought Jenna Fischer was upset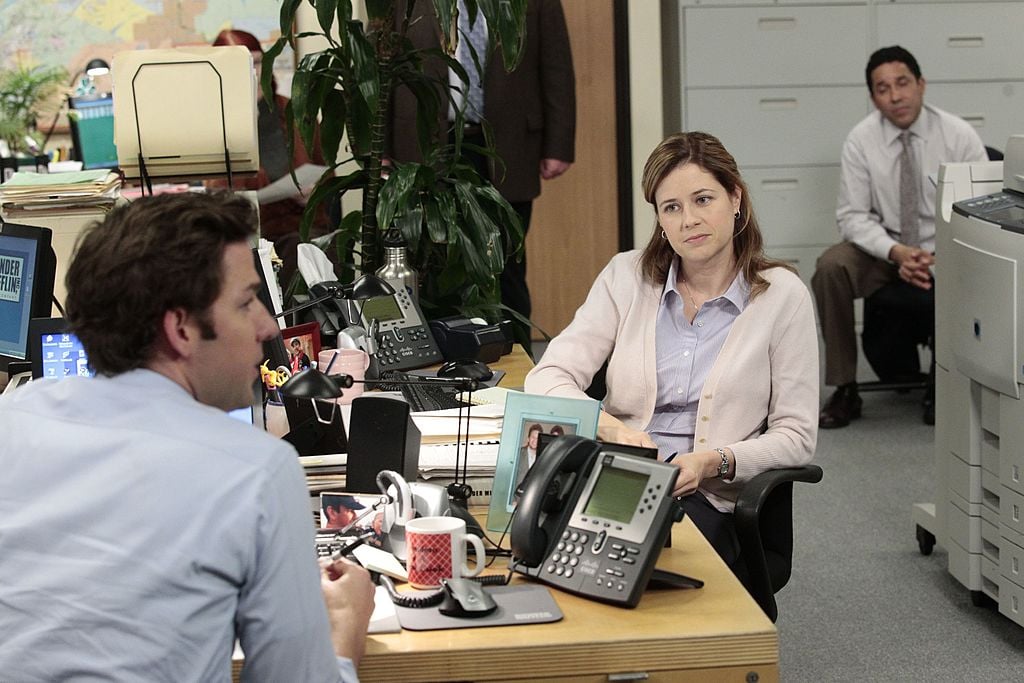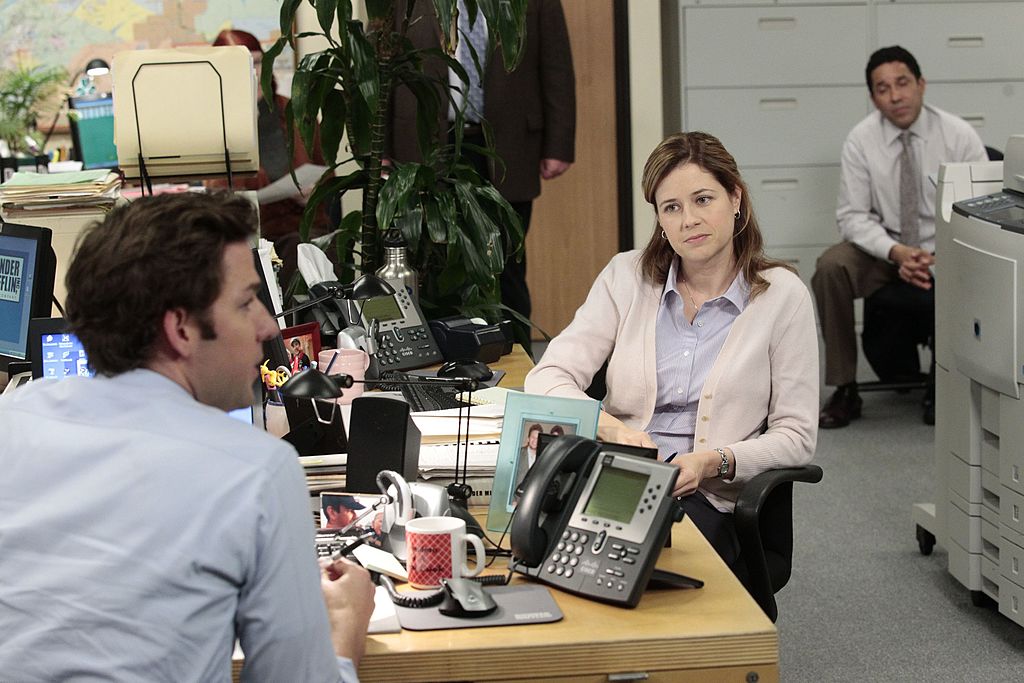 The day they shot the kiss wasn't a normal one. Krasinski admitted that he thought Fischer was upset before their big scene on Office Ladies.
"I also remember you were in your trailer for a while and I also thought you were upset," he told Fischer. "Because I was on stage all the time because I was usually around crafting and I had heard you were in your trailer. I was like 'Is everything OK?'"
He said later he was told they were ready to shoot. He was the first one on set and he was looking for his friends who he usually joked around with to settle his nerves about the kiss. The actor couldn't find them.
"I was looking for them and I was genuinely crestfallen because then I was really nervous," Krasinski said. He was told to go to the front door probably to start the scene and he was "so weirded out."
Fischer said she was brought to the set to rehearse by herself. "And then they said 'Now we want you to go back to your trailer and not leave until you're called.'" They also specifically told her to not speak to Krasinski.
Angela Kinsey, who played Angela Martin, noted that people involved with the show talked about preparing for the kiss in the DVD commentary. "They wanted to keep you guys apart. That's something that they talked about," she said.
It would be pretty odd to have your co-star avoid you right before an important scene. The good thing is that big kiss still worked even though the actors were nervous.