'The Office': John Krasinski Said He Wanted to Punch Rainn Wilson During Their Audition
John Krasinski and Rainn Wilson were perfectly matched as Jim and Dwight on The Office, but Krasinski said he wanted to punch Wilson at their audition. Part of the audition involved improvising and Wilson's perfect Dwight delivery left Krasinski very frustrated.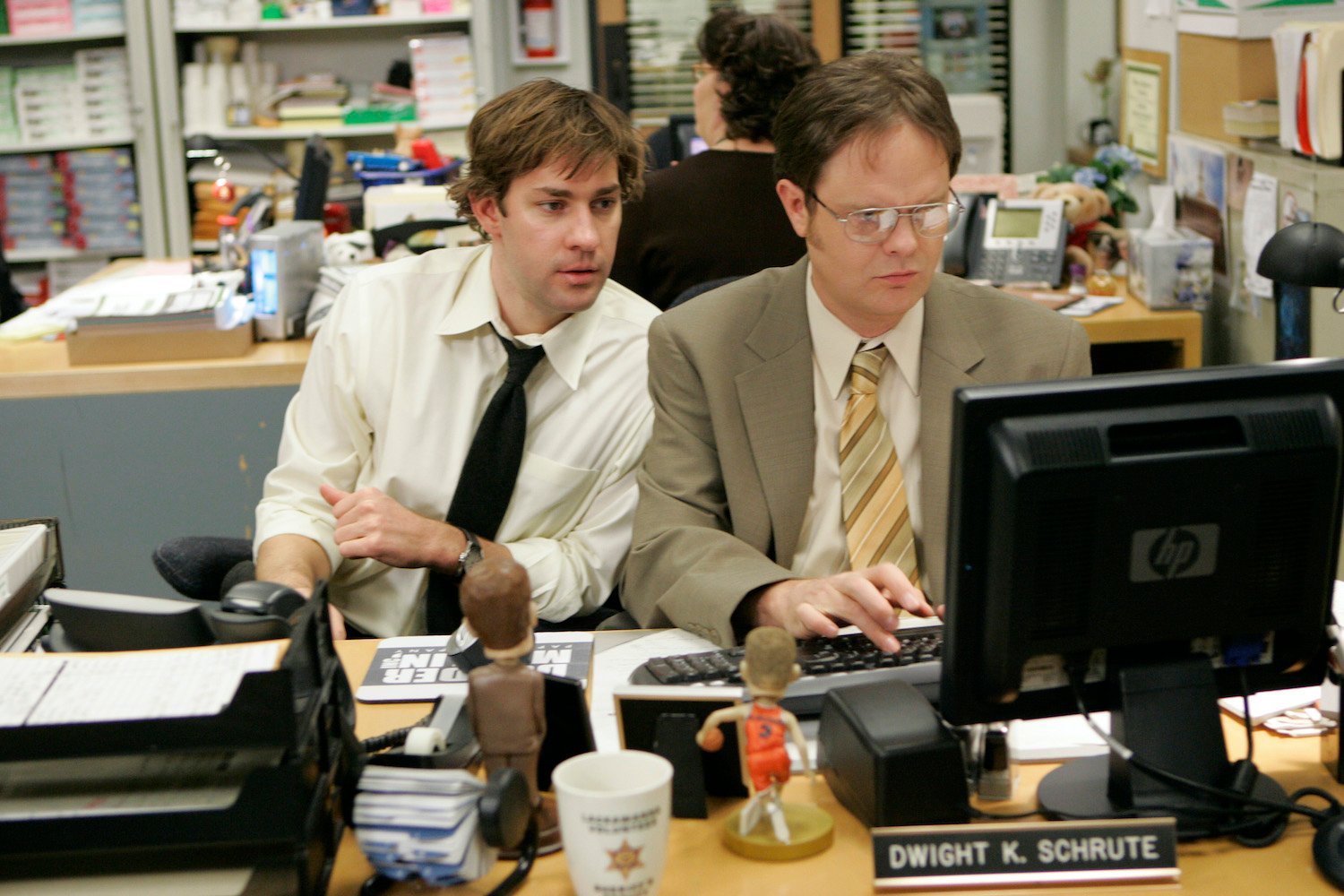 Rainn Wilson felt like he was perfect to play Dwight
During episode 2 of the An Oral History of The Office podcast, host Brian Baumgartner, who played Kevin Malone, shared how the casting worked for the show.
Wilson thought that he was really perfect for the role of Dwight.
"It was one of those rare times where I was like 'this part is mine,'" Wilson explained. "No one can do this better, no one knows this world of total nerddom and kind of white trash bullydom, heavy metal, Dungeons and Dragons, authoritarian, creepy weirdo better than me."
"This is my thing," he added.
Krasinski was less certain that he'd get the part of Jim, in part because he accidentally told executive producer Greg Daniels that he worried how they would do an American version of The Office.
John Krasinski wanted to punch Rainn Wilson at the audition
Wilson's assessment that he was perfect for the role was proven true when he was paired with Krasinski during the audition process.
Wilson tapped into the Dwight character so precisely, Krasinski felt legitimately frustrated by his scene partner.
During a 2018 interview with SAG-AFTRA Foundation, Krasinski shared his audition story and recalled how things went when he and Wilson were paired up.
"Once we went to the test, I auditioned with everybody," he explained. "I remember Rainn, it was one of those things where you know it sounds like a cliché, but it's true. When you look at the moments, I remember the second I auditioned with Rainn."
"We started doing this improv and as soon as we started doing it, I legitimately was not only frustrated as Jim in the scene, but I was super frustrated as John Krasinski for Rainn Wilson screwing up this scene for me," the actor continued.
The improv involved Jim needing to use the bathroom and asking Dwight to cover his phone. Krasinski recalled asking him to watch his phone and Wilson miming doors closing to ignore his request.
"By the end of it, I legitimately was like, 'I'm going to punch you in the face,'" Krasinski recalled.
John Krasinski would laugh when Rainn Wilson gave a certain look
During the interview, Krasinski also shared how Wilson would make him break the most while filming The Office. And it wasn't always about the lines he was delivering, but really just a look.
"Rainn and I had this weird thing — I think he'd say the same thing too — it was just like, a look that he would give me and I would laugh all the time," he explained.
"I think it's in the bloopers, like he'll say something that he doesn't even look like he's breaking or anything but there was just … there really is such a thing as a twinkle in an eye," Krasinski added.