'The Office': How John Mayer Earned His Own Personalized Dundie Award
Superfans of The Office would likely love to have a Dundie award displayed somewhere in their home. The awards, created by Michael Scott, are referenced multiple times throughout the hit series. And while most characters receiving the awards don't think too much of them, fans love the concept of the hilarious trophies. In fact, there's one fan of the show who actually nabbed his own, personalized, Dundie and loves to show it off. That fan is, of course, singer-songwriter, John Mayer.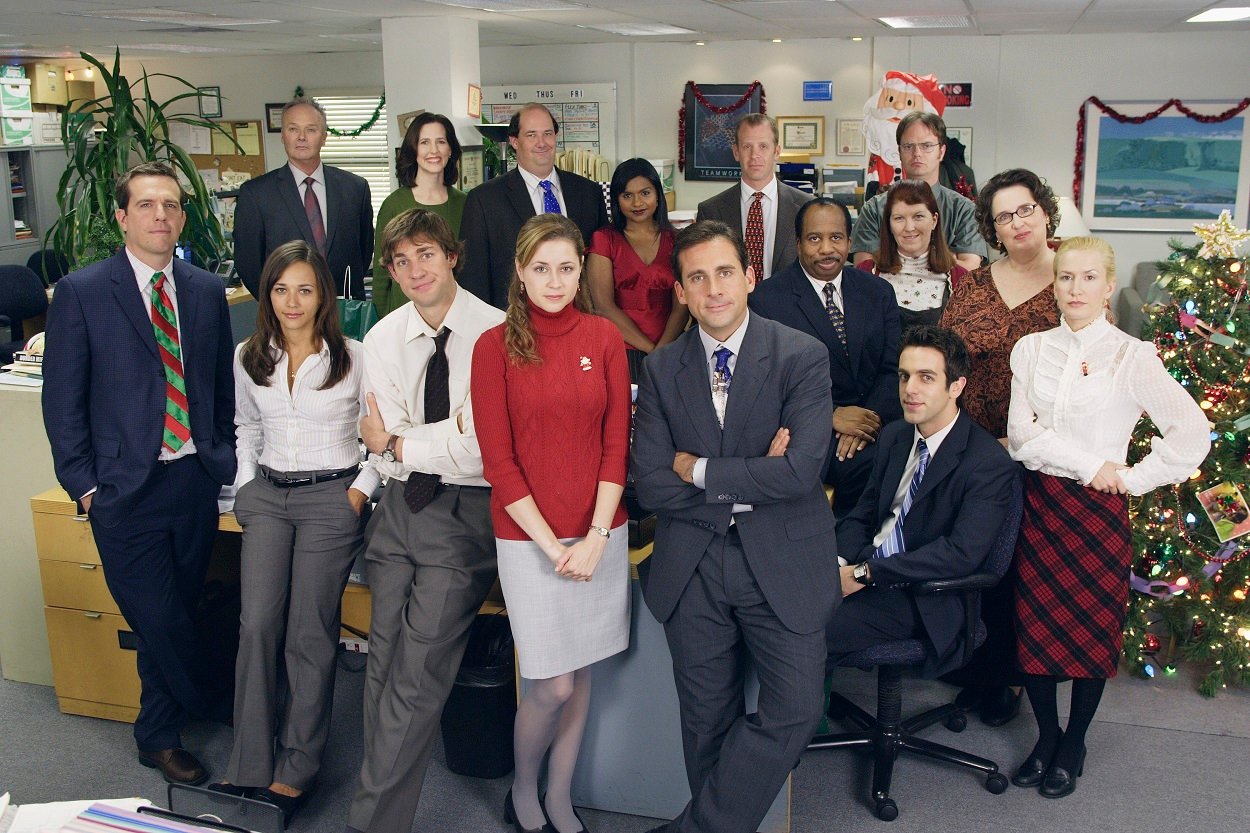 "Might I remind you once again that I have a Dundie Award?" Mayer captioned a photo of his Dundie Award for "tallest music dude" which he posted to his Instagram page in September of 2018. The post racked up over 245,000 likes and many of The Office wondered how the "Gravity" singer managed to earn the award. So how did he get it?
John Mayer's song is featured in the 'A Benihana Christmas' episode of 'The Office'
Mayer's journey to a Dundie began way back in 2006. Fans are likely to remember the memorable Christmas episode from Season 3 of The Office called "A Benihana Christmas." After real estate agent, Carol, dumps Michael, Andy, Jim, Dwight, and Michael go to Benihana to cheer Michael up. While there, they pick up two waitresses and Michael brings one of them back to the office for the annual Christmas party. During the party, Michael attempts to serenade his romantic interest with the song "Your Body Is a Wonderland."
Of course, Mayer's fans will not that "Your Body Is a Wonderland" is one of his most popular and well-known songs. In order for The Office to use it in any capacity, they needed Meyer's approval. Since Meyer was a fan of the show and he also knew B.J. Novak (who wrote for the show and also portrayed Ryan Howard in the cast) personally, it seemed like getting permission wouldn't be an issue. However, Meyer actually rejected the initial proposal.
How 'Your Body is a Wonderland' earned Mayer a personalized Dundie award for tallest music dude
Fortunately, Meyer eventually had a change of heart and agreed to let his song be utilized in the memorable episode. However, he did have one demand. In order for his song to be featured in The Office, he required his own personal Dundie award. In a blog post from 2016, Meyer wrote about his unusual request.
"One of my favorite shows on television, The Office, wanted to use my song 'Your Body Is A Wonderland' in a scene for their Christmas episode," Meyer penned. "Now, I'm not making apologies for my work, but it's safe to say I don't get asked to use 'Wonderland' for strongman competitions and documentaries about aircraft carriers. I get asked so that people can goof on it. I initially turned the request down, but after thinking about it, (and hearing the details on the incredibly funny-sounding scene from producer BJ Novak) I decided to go for it — but with one stipulation: I want a Dundie."
Personally, we think a personalized Dundie was a fair trade. Clearly, Meyer still gets good use out of the award and it likely makes for a great story whenever fans of The Office notice his unusual trophy.