'The Office': Michael Scott's Iconic Diss to Dwight Was an Homage to 'Saturday Night Live'
Michael Scott (Steve Carell) has many funny lines on The Office, but not all of them are original. His often-repeated diss to Dwight Schrute (Rainn Wilson) was a reference to Saturday Night Live.
'The Office' and 'Saturday Night Live' have multiple connections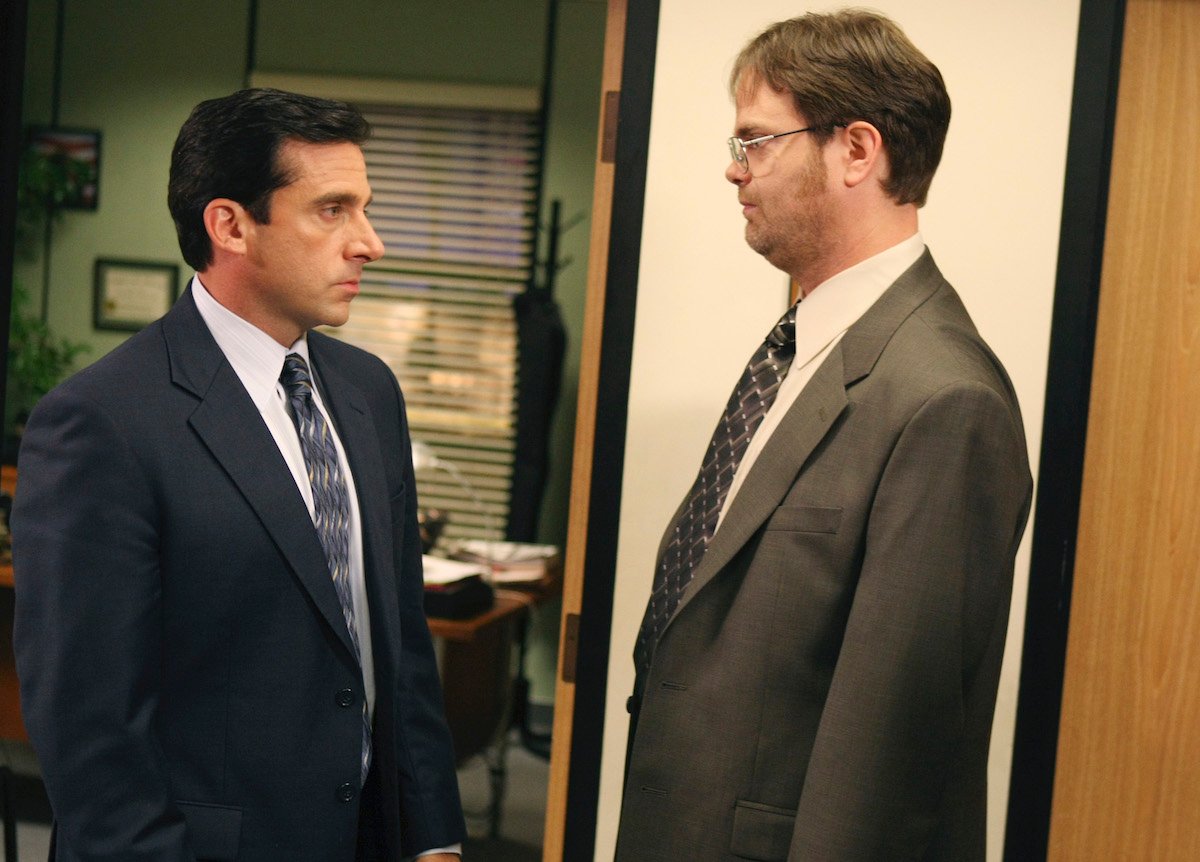 It's probably not that surprising that The Office and Saturday Night Live have some things in common. The NBC shows overlap when it comes to actors.
Carell voiced several characters on an animated sketch on Saturday Night Live before he played Michael Scott. He later hosted the show three times and made a cameo. He also is married to Nancy Carell, who worked on the show from 1995 to 1996. She played real estate agent Carol Stills on The Office.
In 2018, the cast of The Office had a small reunion on Saturday Night Live. They appeared in Carell's monologue asking him to sign on for a reboot of the show. The Office also referenced some SNL sketches.
Michael Scott's memorable Dwight Schrute diss isn't original to 'The Office'
The Office episode "Safety Training" shows the office employees going through safety training day. But Michael and Dwight decide it would be more exciting to show the dangers of the office.
Things take a turn when Michael goes on the roof pretending to be someone who has depression. Dwight gets everyone outside and starts asking Michael questions.
"Depression? Isn't that just a fancy word for feeling bummed out?" Dwight asks. "Dwight, you ignorant slut!" Michael says before explaining how many people are affected by depression every year.
Fans often quote this line. But some might not know it's not an original joke.
'Dwight, you ignorant slut' is a nod to 'Saturday Night Live'
Jenna Fischer, who played Pam Beesly, answered a fan question on the Office Ladies podcast about the joke's origin. She explained that it came from a Saturday Night Live skit.
"Well this was based on a skit from Saturday Night Live with Dan Aykroyd and Jane Curtin," Fischer explained. "They would do this parody of the 60 Minutes point/-counterpoint and Jane Curtin played a liberal and Dan Aykroyd played a conservative."
Curtin would make a point, and Aykroyd's character would say, "Jane, you ignorant slut." Fischer said, "This is Michael once again stealing from Saturday Night Live for his little show."
There is also a connection between the sketch show and the director for "Safety Training." Office Ladies co-host Angela Kinsey said the Saturday Night Live reference is from "a time when [director] Harold Ramis knew all those folks." Ramis worked with many people who were affiliated with SNL.
That certainly isn't the only time Michael makes a pop culture reference. But it is interesting that one of his most famous lines is one.