'The Office': Mindy Kaling Calls This Scene Her 'Favorite Toby Moment Ever'
Though there are plenty of outrageous characters that work in the office of Dunder Mifflin Scranton, the person who receives the most persistent hate is undoubtedly, Toby Flenderson. An HR rep, Toby is a bit of a lemon, much to the disgust of Regional Manager, Michael Scott. Because Toby is a bit boring and a stickler for the rules, he often receives a lot of hate from his fellow employees. Naturally, this makes him particularly fun to watch for fans of The Office.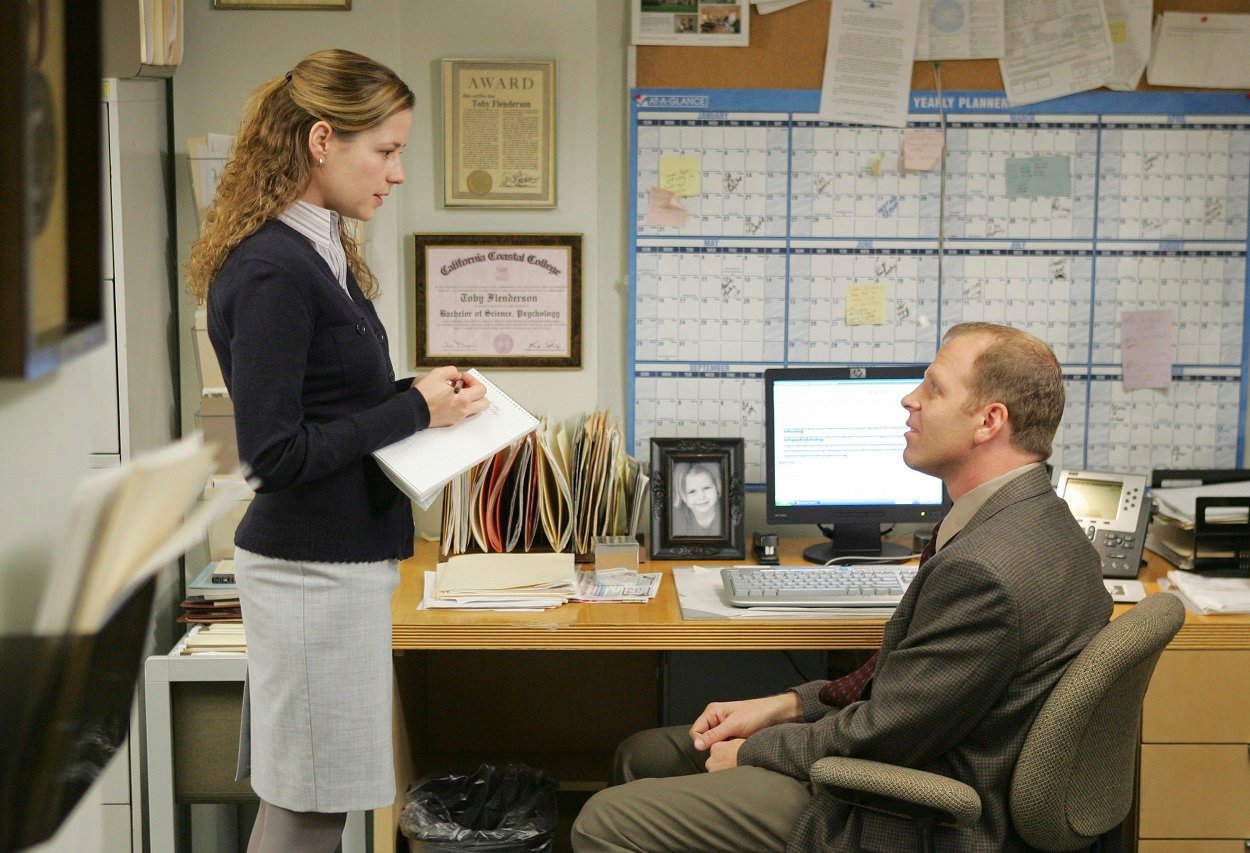 Funnily enough, Toby was never supposed to be such a big character on The Office. Paul Lieberstein, who played Toby to perfection, actually started out as a writer on the show, though he would later become a showrunner. Lieberstein was only supposed to play a tiny part in the series. However, once NBC (the network that The Office aired on) saw the dynamic between Michael and Toby, they insisted that Lieberstein play a larger role in the cast.
Toby Flenderson has a persistent crush on Pam during 'The Office'
Though Toby's interactions with Michael comprise most of his more memorable moments, he also has great moments with other employees. An example of this is the dynamic that he has with Pam Beesly. Toby maintains a crush on the receptionist for the entirety of the series. Though Pam is mostly clueless about Toby's feelings, the entire office gets a huge indicator about his crush in the "Night Out" episode of The Office.
Fans may recall the extremely awkward moment in Season 4 of The Office where Toby rubs Pam's knee as she sits next to her boyfriend, Jim Halpert. The moment is deliciously awkward and a real treat for fans. But viewers aren't the only ones who enjoyed the cringeworthy moment. In a 2008 interview with Office Tally, Mindy Kaling (who wrote and starred in the show) revealed that the actors had a ball filming that particular scene.
Mindy Kaling reveals her favorite Toby moment
"We shot that scene at about 2:30 in the morning on a Friday night," Kaling revealed. "Sometimes when we do night shoots, the actors can get really tired and there can be a lack of energy because we are doing things over and over and over and everyone's exhausted. Paul was so funny in that scene, everyone's energy was super high, and we did it joyfully about eight times. Everyone kept breaking because Toby was so vulnerable and awkward. It's probably my favorite Toby moment, ever."
Of course, that moment was only made funnier when Toby fled the building and jumped over the fence. But did Lieberstein really make that epic jump in real life? In the interview, Kaling also set the record straight for fans of The Office.
Did Paul Lieberstein really jump that fence?
"Paul is valiant and shows a quiet bravery in his day-to-day life, but no, he did not do his own stunt," Kaling shared. "There was some talk in our writers' room about this very subject, and for a glimmering moment, Paul insisted that he try. Then our boss, Greg Daniels, weighed the pros and cons of having one of our senior-est writers being out on disability pay because he was in a coma, so we scrapped that idea completely."
We're sure fans of The Office couldn't tell that Lieberstein wasn't actually the one who made Toby's iconic jump, so it's probably for the best the Lieberstein didn't risk life or limb.