'The Office': Mindy Kaling Started Her Role of Kelly Because of 'Diversity Day'
"Diversity Day" is a memorable episode and many would say it's the first of The Office since the pilot was a remake of the original show. Mindy Kaling had a very small role in the episode, but it helped her start acting.
Mindy Kaling was 1 of many writers who acted on 'The Office'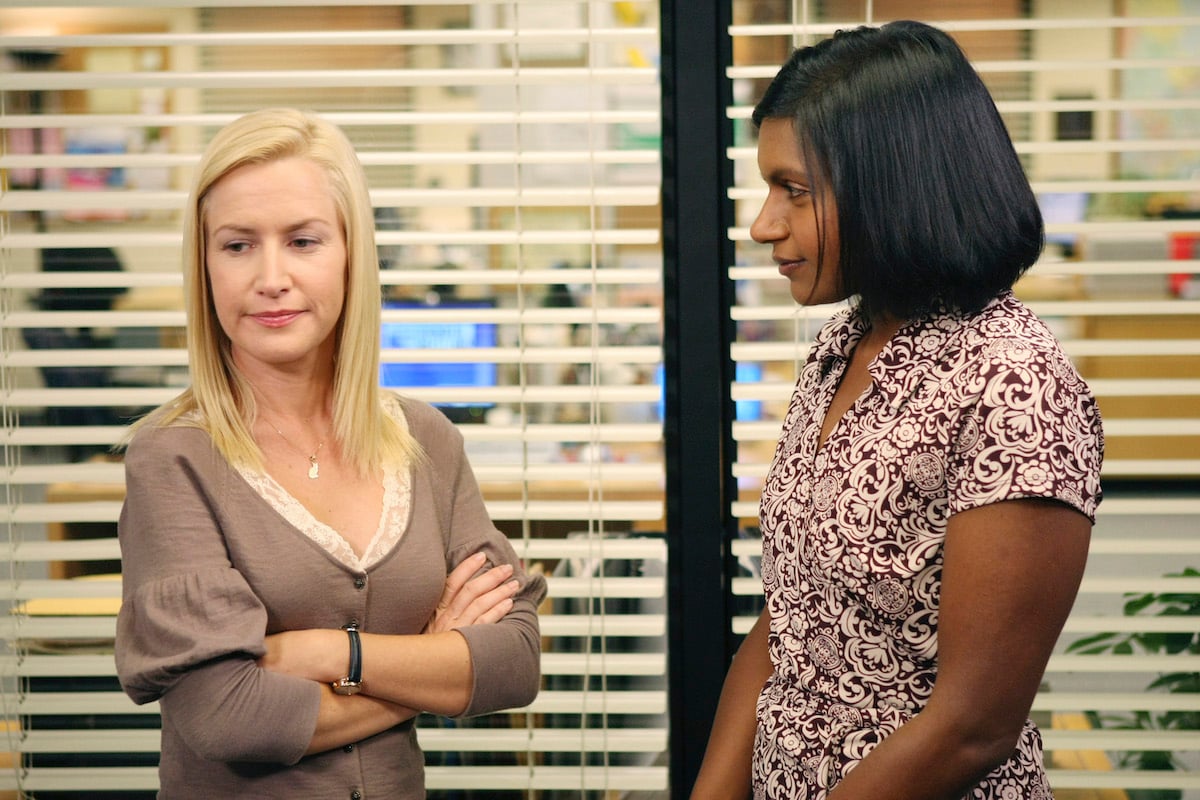 Kaling played Kelly Kapoor on the show since the very beginning. She also was a writer on the show.
She wasn't the only writer to have an acting role. B.J. Novak played Ryan Howard, Paul Lieberstein played Toby Flenderson, and Michael Schur played Mose Schrute.
Kelly and Ryan's relationship was full of ups and downs. The actors admitted their roles were based on their odd connection at the time. They were always together but often fighting.
She would argue with Greg Daniels over stories
Kaling had strong opinions and wasn't afraid to share them. She wrote about one of her heated interactions with the show's creator in her book, Is Everyone Hanging Out Without Me?
"I tend to fight with [creator] Greg [Daniels] the most. My friend and fellow Office writer, Steve Hely believes it is because I'm emotional and intuitive and Greg is more cerebral and logical. Or as I like to think of it, I'm a sensitive poet, and Greg is a mean robot. Our fighting is legendary."
She then described one of their fights. "I wish I could say they were big, smart philosophical issues about writing or comedy," Kaling wrote. "But sometimes they're as small as 'If we do that cold open where Kevin dumps a tureen of chili on himself, I will quit the show.' We did that cold open by the way and it was a hit. And I'm still working at the show. I can get a little theatrical, which makes sense because, after all, I came up through the theater."
Kaling played Kelly because of 'Diversity Day'
Kaling talked about the origin of her role on the "Diwali" episode on the Office Ladies podcast. She said Daniels put in acting clauses into some of their writing contracts.
Kaling said she thinks this was the case for Lieberstein too. She remembered Daniels loving the idea of Michael Scott (Steve Carell) offending everyone.
"But it's kind of the funniest version of it when there's some minority people there too who can get extra offended. So at that time, I think it just made sense to have another minority person," explained the writer. She added that Daniels asked her if she wanted to be in it and she answered with, "Of course."
Kaling is in the group scene where everyone has to guess which race is on the post-it note on their forehead. Michael does a racist accent to Kaling and she slaps him.