'The Office': Mindy Kaling Wanted Jenna Fischer to Do Her Wedding Vows in 'a Goofy Accent'
Given that The Office boasts such a large and dynamic cast, it's pretty impressive that the actors all got along. However, many of them are still in contact today and are extremely supportive of each other's acting careers. They are also constantly championing each other for the work that they did on the show. Nearly every member of the cast has spoken out about how warm and collaborative life on set was.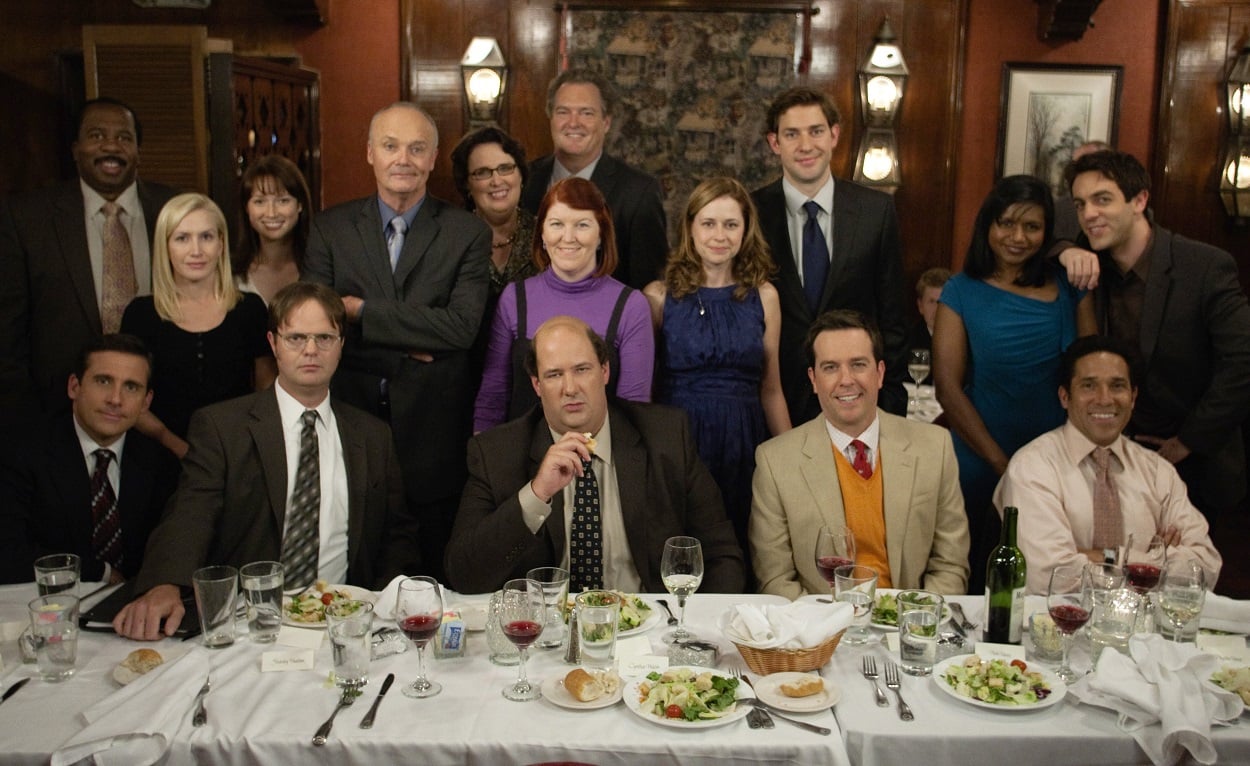 Unlike a lot of other shows that feature an ensemble cast, all of the actors on The Office were given the opportunity to showcase their many talents. Not only were they allowed to pitch character ideas to the writers, but they were also given the opportunity to improvise. In fact, Greg Daniels (who created the American version of The Office) created a rule that the funniest take always ended up making the cut, no matter who came up with it.
'The Office' cast as gifted with using various accents
One form of creativity that was often utilized during the nine seasons of The Office was vocal expression. Actors like Brian Baumgartner created an entirely different speaking voice for his character, Kevin Malone. Meanwhile, Rainn Wilson, who portrayed Dwight Schrute, varied his natural speaking cadence to embody his character. And, of course, fans of the show would be remiss to forget the many accents that Steve Carell utilized throughout his tenure on the show.
Of course, Carell wasn't the only member of the cast who played around with accents. Fans of The Office may recall that in the "Secretary's Day" episode, a handful of characters were actually imitating Cookie Monster, who they felt sounded eerily similar to Kevin. This imitation, of course, gets Jim and Pam temporarily "suspended" from work by an overzealous Gabe.
Mindy Kaling loved Jenna Fischer's Cookie Monster impersonation
While the Cookie Monster accent was attempted by many characters, Mindy Kaling (who played Kelly Kapoor and wrote the aforementioned episode of The Office) actually wrote in one Sesame Street character joke specifically for one cast member. In a 2012 interview with Office Tally, Kaling revealed that she specifically chose The Sesame Street joke because she wanted to hear Jenna Fischer (who portrayed Pam Beesly) do the accent.
Kaling shared that Fischer had a penchant for doing accents well and she found her skill adorable. "Jenna is unbelievably cute when she does accents," The Office writer declared. "Her Kevin/Cookie Monster impression that gets her suspended was a highlight of the episode. Some of you might remember her Forrest Gump impression from Lecture Circuit Part 2, another shining moment from Jenna."
Kaling wanted 'The Office' star to use a goofy accent on her wedding day
In fact, Kaling loved Fischer's accents so much, she encouraged her to do one at her wedding. "When she gets married this year, I'm going to try to convince her to do her vows in a goofy accent," Kaling revealed about Fischer. "It would be awesome and adorable and memorable for all, especially her husband." Who knows if Fischer actually did an accent for her wedding. But, if she did, we're sure fans of The Office would love to see the footage.