'The Office': Mindy Kaling Wrote Kelly and Ryan Scenes Just to Hang out With B.J. Novak
Though most fans of The Office know Mindy Kaling and B.J Novak thanks to their characters, Kelly Kapoor and Ryan Howard, fewer people know that they were actually writers on the show also. In fact, Novak, who was a part of the main cast from the show's inception, was actually the very first person hired in the series as both an actor and a writer. The pair starred in and wrote some truly hilarious episodes during their tenure on The Office.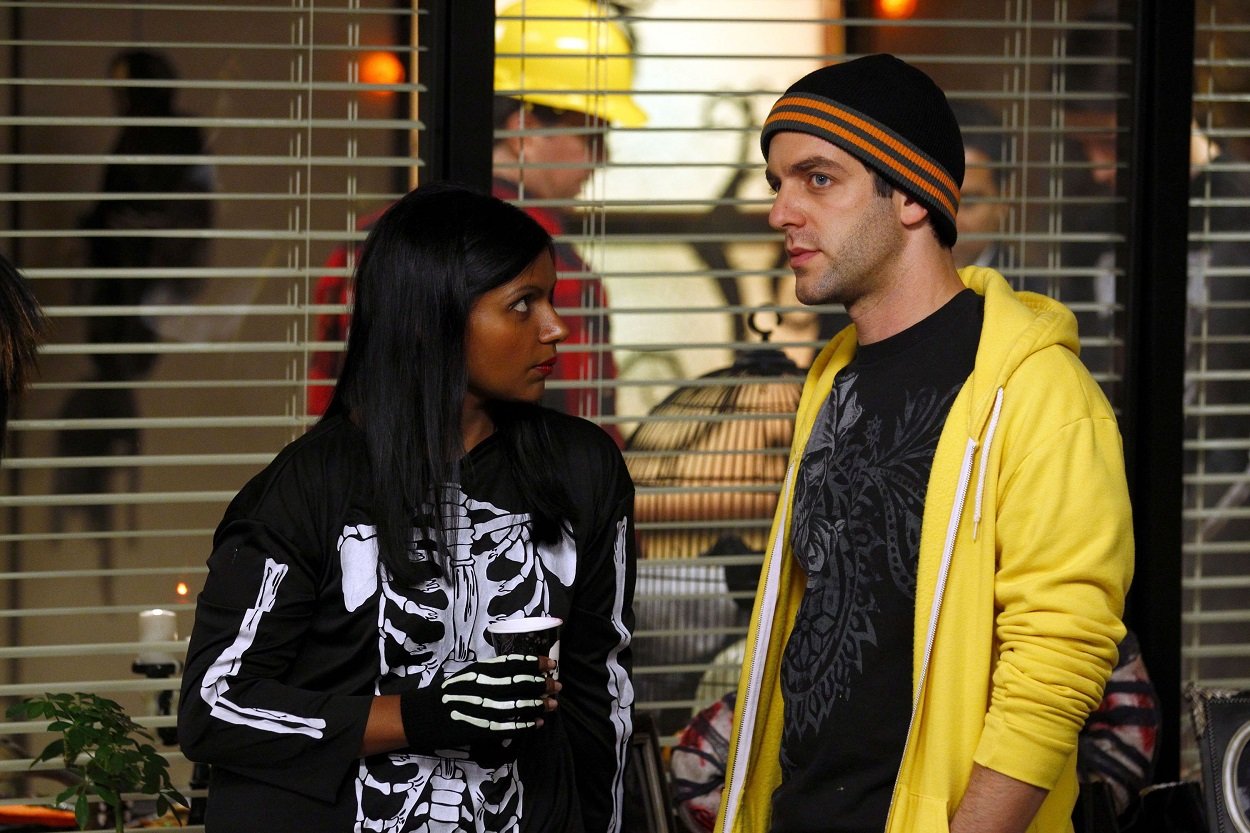 Because Novak and Kaling spent so much time on set, they also got to know each other pretty well. Not only did their characters have an on-again/off-again romance, but The Office actors had a romantic relationship for a time period as well. Of course, it was hard for the pair when they initially split but ultimately, they were able to sustain a close friendship even after they broke up. In fact, they enjoyed each other's company so much that it even impacted how viewers perceived their characters' relationship.
Mindy Kaling wrote scenes on 'The Office' for her and B.J. Novak
In a 2009 interview with Office Tally Kaling confessed that she sometimes wrote scenes where she and Novak were in close proximity simply so they could spend time together. This occasionally led fans of The Office to believe that Kelly and Ryan were dating, once again, even if they weren't at times. "B.J. is my best friend and I like to do scenes together so we can chat," Kaling admitted about writing for The Office. "Ao sometimes Ryan and Kelly look de facto back-on because we like to hang out on set. Lazy, huh?"
RELATED: 'The Office': Jenna Fischer Once Joked About Will Ferrell Manhandling Her Breasts
We can certainly see why Kaling would want to spend additional time with someone who was such a close friend. But what is their relationship like now that The Office has been off the air for years? According to the actors, they still maintain a close friendship today. They chat frequently and Novak is even the godfather of Kaling's children.
Are Novak and Kaling still friends today?
"He's a wonderful friend," Kaling shared about Novak in a 2019 interview with CBS. "He's the godfather to my daughter. I see him every week. It isn't the thing that people sometimes think it is. He's really part of my family now, which is great. Even though that's less of a sexy characterization of our relationship, I think it's a deeper and a closer one. We do spend a lot of time together and it's a great blessing in my life."
Naturally, some fans of The Office are still hoping that the pair's relationship will once again take a romantic turn. But that doesn't seem to phase either of the actors. Kaling values the relationship she has with her long-time friend for what it is, but she doesn't mind that fans constantly pressure them to get back together.
Kaling understands why 'The Office' fans still ship her and her ex-boyfriend
 "It's nice that people care," Kaling confessed. "I've known him for 16 years. We met each other when we were 24, and we're about to be 40. Anyone who's known each other for that long…I think it's nice. I like when people think it's more romantic or sparkly or interesting than it is." While we're sure some fans of The Office will always be shipping the pair, we think it's pretty special that they've maintained a friendship all these years later.