'The Office': One Character's 'Super Long Speeches' Were Left On the Cutting Room Floor
There are many reasons for the longterm success of The Office. The biggest of which is casting. Without Steve Carell and his off-beat managerial exploits, the show may not have been the cult favorite it is today. That said, once Carell left, the network struggled to fill the void with the same charisma. One of those guest stars allegedly had a little trouble becoming one with The Office cast.
Some celebrities didn't 'fit' with 'The Office' vibe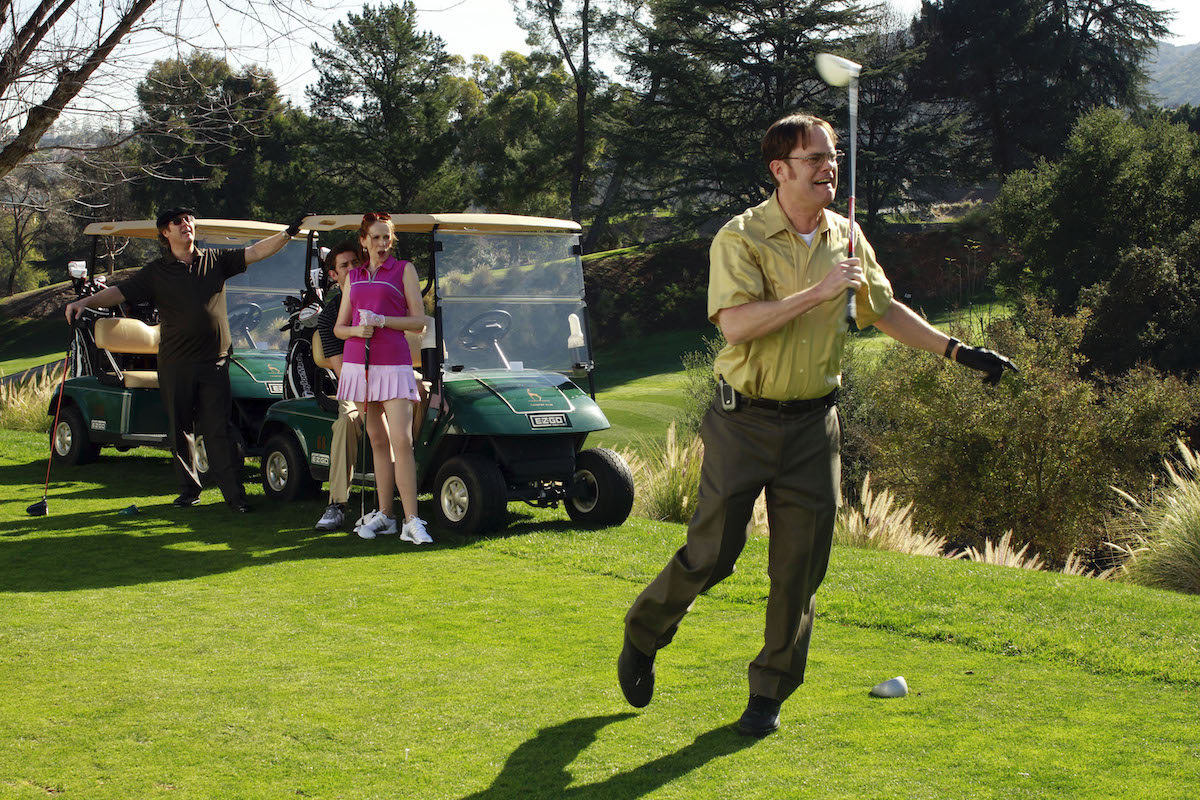 A lot uncovered since The Office's series finale has to do with cast interactions with one another. Early seasons proved the talent of the cast and how well they worked together.
However, once Carell left his post as Dunder-Mifflin leader, showrunners struggled to make the show work in the same ways it had before.
Andy Green's book, The Office: The Untold Story of the Greatest Sitcom of the 2000s: An Oral History, offers viewers new insight about the inner-workings of the sitcom — both before Carell left, and after.
One notable topic refers back to which celebrity could attempt to fill Carell's shoes. Producers brought in big names such as Will Arnett, Will Ferrell, Jim Carrey, and Ray Romano to name a few. James Spader is the name that surpassed them all.
"He played the Robert California character as a suave, cocksure mystery man, almost as if Don Draper from Mad Men had an evil twin. Even critics who felt The Office had jumped the shark by that point were impressed," Green writes in the book.
Spader's Robert California is among the most memorable
Spader played Robert California for 15 episodes over one season. His one-episode cameo brought in much praise and a renewed sense of what The Office could be without Carell. In turn, they offered him more. Most, if not all, were on board — temporarily.
Creed Bratton (who played Creed) didn't think Spader felt comfortable among the regular castmates.
"That wasn't because he's not a great actor, because he is a great actor. But not everyone can play what Steve Carell can do," he said in the book.
Executive producer, Ben Silverman, claimed Spader "is a good guy" but that he "isn't funny." Along the same lines, the set's costume designer, Alysia Raycraft, had a more candid opinion of Spader.
"He didn't fit and we worked our damndest to make it happen because if anybody can make something funny, that group could," she said.
Clearly those involved in The Office post-Carell wanted a "replacement" to work. But that doesn't mean it did. Still, would writers use this to sort of "punish" anyone who didn't fit in the comedic group?
Spader's speeches were allegedly cut
The actors and actresses weren't the only ones to notice the change in energy. Boom operator, Brian Wittle, gave his perspective in the book. Wittle claimed writers gave Spader long speeches with lengthy dialogue that were cut.
Spader didn't see it that way. He felt much of what he acted out ended up in the final product.
"To be frank, if that's how they were operating, then I would have gone to the writers and said, 'Write less, because I'm not just going to act on the set for it to […] end up on the cutting room floor,'" Spader said.
Devoted fans of The Office are still divided over Spader's role. Some compare his presence to Carell's (which you really can't do as they are two separate characters).
Spader viewed Robert California in a different light
Still, Spader recalls his time on the show as pleasant, knowing his character would come off as polarizing.
"He's not as concerned about being loved. He's very different and brings with him a very different energy," Spader said via TV Addict.
"I don't know a great deal about how Michael Scott functioned within the office but Robert California, the character I play is not so concerned with how loved he is," he said.
"We just started shooting and right now he's sort of doing what I'm doing, getting to know the office, all the people, and trying to figure out how to make it all work."
Fans noticed one minor detail about Robert California
Spader might be seven seasons into The Blacklist, but that doesn't stop The Office fans from catching details in reruns.
In a Reddit thread posted on June 25, multiple fans pointed out what Spader's character wrote on his "winners" and "losers" list. California created the list during his first appearance appropriately title "The List."
"If I invited you to lunch, I think you're a winner," Spader's character said. "If I didn't, I don't. But I just met you all. Life is long. Opinions change. Winners, prove me right. Losers, prove me wrong."
The list is divided into two columns: winners and losers. All employee names are written into the column Robert California believed they deserved to be. The only name missing? Creed. California aptly wrote "Old Man." If that doesn't sum up everything Spader brought to The Office set, nothing will.