'The Office': Oscar Nuñez Calls Steve Carell 'Insane' for Improvising Their Big Kiss
Steve Carell unexpectedly kissed Oscar Nuñez on the lips when filming 'The Office.' Find out what else was improvised in the episode and more.
"Gay Witch Hunt" kicks off season 3 of The Office. It's important for multiple reasons and one is that Oscar Martinez (Oscar Nuñez) is outed for being gay. Michael Scott (Steve Carell) comes up with an idea on how to make things right. Find out what was improvised in the episode and more.
Steve Carell improvised Michael asking Oscar out for a beer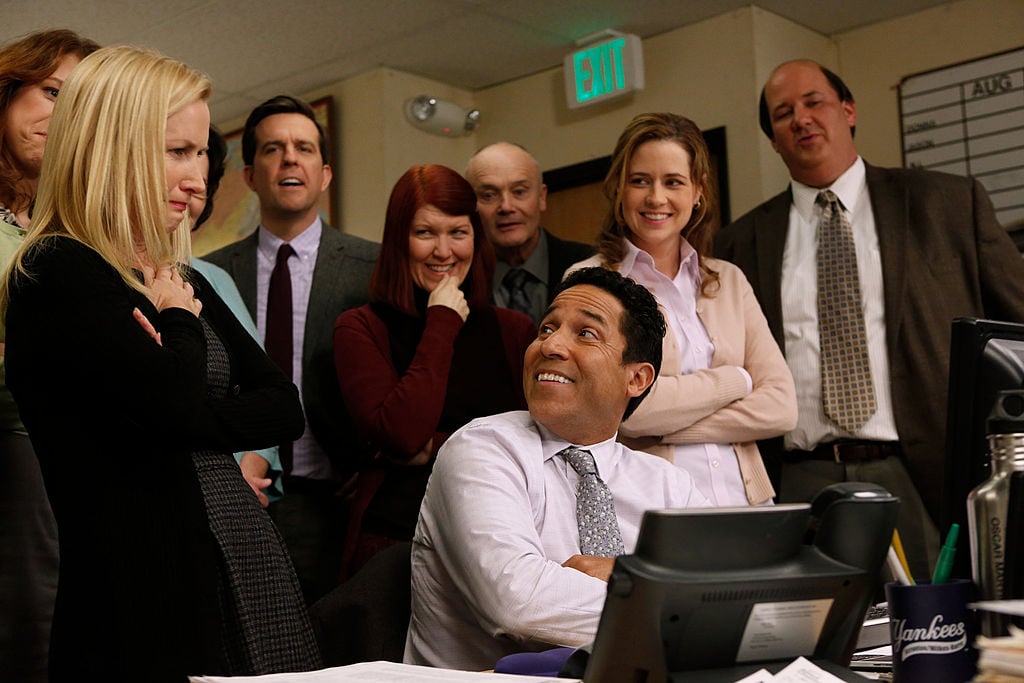 "Gay Witch Hunt" starts with Michael talking to Toby (Paul Lieberstein) because he used a gay slur when talking to Oscar. Toby tells him that Oscar is actually gay.
There is a scene of Michael apologizing to Oscar in the middle of the office. Michael then asks him to hang out.
"Listen, man. I'm so sorry. I had no idea," Michael tells him. Oscar tells him it's OK but you can tell he's just trying to get Michael to stop talking about it. "If I don't know how to behave it is because I'm just so far the opposite way, you know? I just…I can't imagine. Maybe we can go out for a beer sometime and you can tell me how you do that to another dude."
Oscar replied, "That sounds like a great, wonderful idea. Let's do that." He then walks back to his desk looking upset.
"I have the script for 'Gay Witch Hunt'," Jenna Fischer told Angela Kinsey on the Office Ladies podcast. Kinsey asked what was improvised in the scene. "Steve and Oscar improvised that whole couplet. That is not in the script."
Fischer also clarified on what "improvised" means. "Sometimes the writers were on set and they would pitch lines to the actors," she said. "But I know that in the particular episode Steve and Oscar took a lot of liberties. They are both masterful improvisers and they improvised a lot on these scenes."
Their kiss was also improvised
Later in the episode, Michael calls everyone into the conference room to talk about the situation. Oscar threatens to quit and is about to storm out. Michael stops him and decides to kiss him on the lips.
Nuñez joined Kinsey and Fischer later on the podcast to talk about this scene. "Originally he hugs you and he was supposed to go in for a kiss," Fischer said. "But he chickens out and is supposed to like kiss you on the forehead or something."
She then added, "But I remember sitting in that room and when Steve said the line 'I want you to burn this into your brains' that was the moment. We were like 'That was not scripted. What does Steve have in his head right now?'"
They filmed the scene with three or four takes. Nuñez said Carell really did catch him off guard with the kiss on the lips. At first he thought Carell was trying to hug him and then he kissed him. "Carell's insane," Nuñez later said.
It's definitely one of Oscar's most memorable moments on the show. Fischer said everyone tried their hardest to not laugh during the surprising scene.