'The Office': Why the Pam and Michael Art Show Scene Was So Emotional
The Office may be a comedy, but fans know the NBC series contains moments that will make you weep. And of course, that includes the art show scene between Pam Beesly (Jenna Fischer) and Michael Scott (Steve Carell) in "Business School." But how was the show able to capture so much emotion in such a simple sequence? In an episode of the Office Ladies podcast, Fischer and writer Brent Forrester revealed some real-life truth behind the scene.
What happened to Pam Beesly and Michael Scott in 'The Office' Season 3 Episode 17?
Both Michael and Pam suffer through The Office Season 3 Episode 17. Michael attends Ryan Howard's (B.J. Novak) business school class. But by the end of the lecture, Michael learns Ryan doesn't believe in Dunder Mifflin's success.
Meanwhile, Pam has her art showcase. But no one shows except for Roy Anderson (David Denman), who is obviously trying to pretend he's a good boyfriend, as well as Oscar Martinez (Oscar Nunez) and Gil (Tom Chick). Gil also calls her pieces "motel art" when she's not present. And ultimately, Pam is crushed.
Just when Pam is about to take her art down at the end of the night, Michael shows up at the showcase. He's genuinely impressed by Pam's work and even wants to buy a piece. 
"I'm really proud of you," Michael tells Pam as tears form in her eyes. She hugs her boss and thanks him.
'The Office' writer Brent Forrester reveals why the Pam and Michael art show scene was so emotional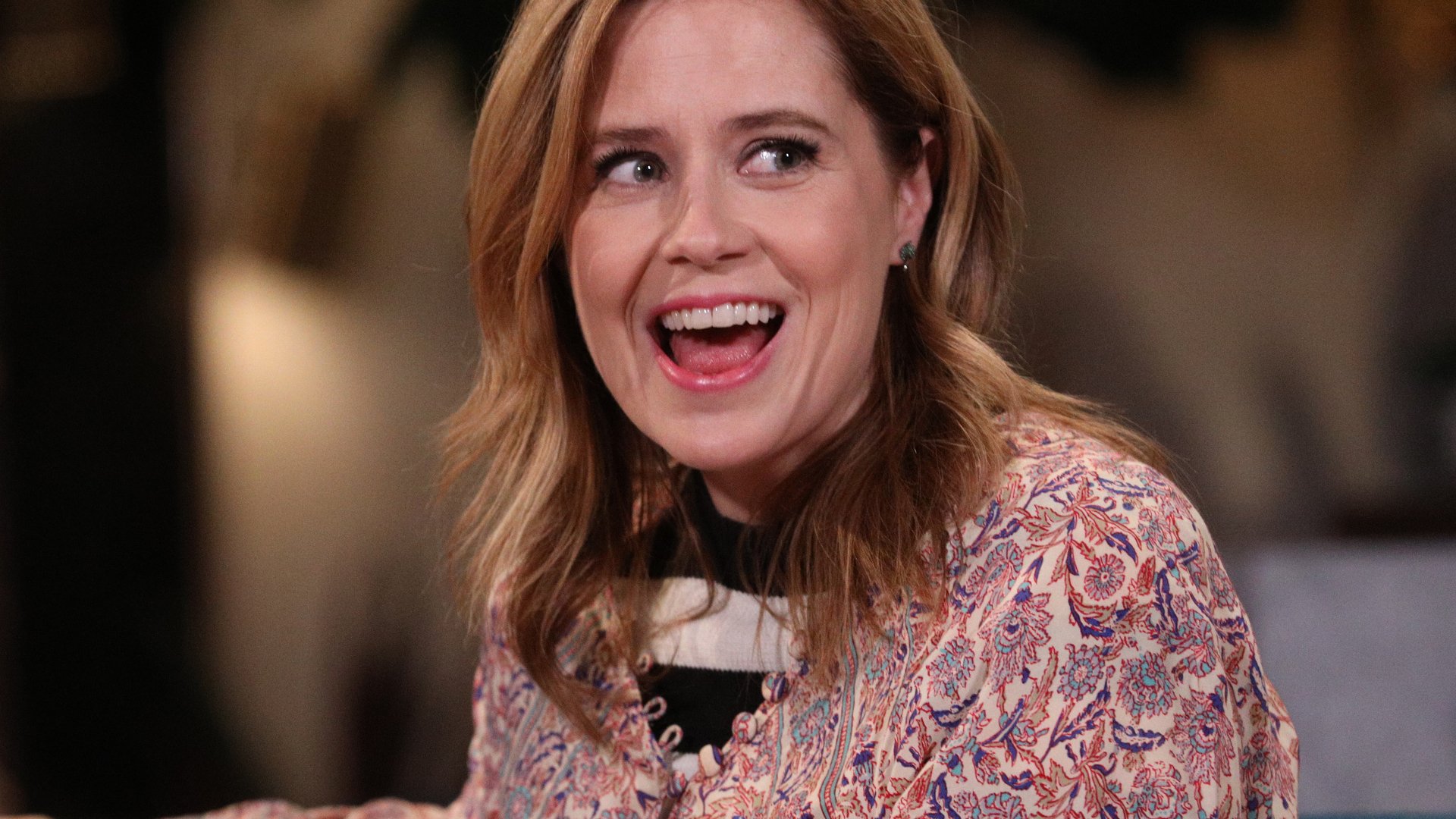 In the Sept. 23 episode of the Office Ladies podcast, Fischer and Angela Kinsey, who played Angela Martin, discussed "Business School." The hosts recapped the episode. Then when Forrester hopped on the podcast, he touched on why Fischer's performance as Pam was so moving.
"I think that what is happening at Pam's art show is one of those wonderful coincidences of the experience of the writer, me, and the actress, Jenna, coming together," Forrester said. "If you try to be an artist of any kind, you have to believe in yourself so profoundly. And inevitably, there will come moments of failure where the belief in yourself is dashed."
He continued, "It is so painful and unforgettable when it happens to a human being. I think it's really what Jenna is expressing at the end of this episode."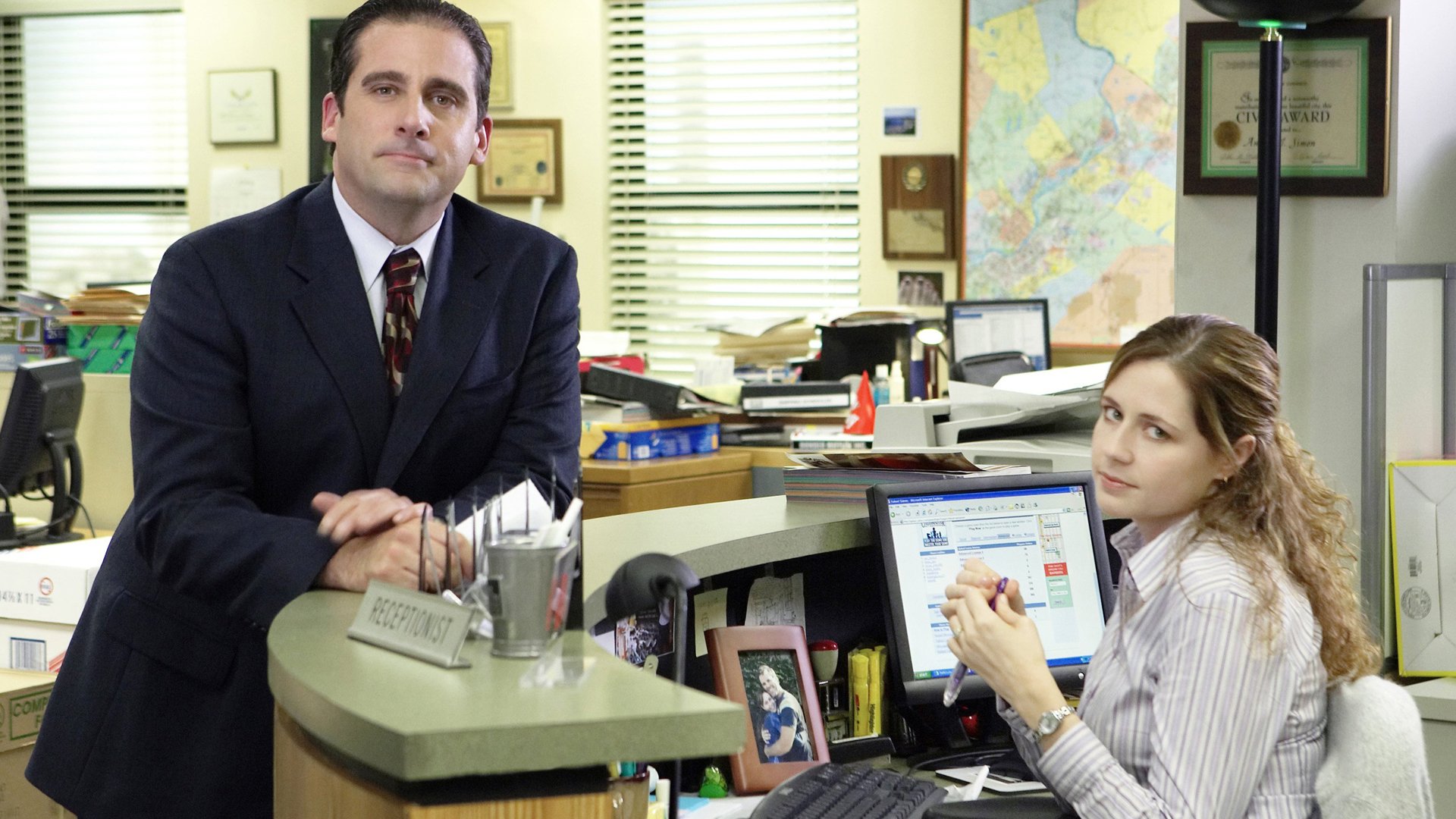 Then Forrester shared Fischer's hardships before being cast on The Office and reminded fans that she almost quit acting altogether. "That experience of terrible defeat is something I believe she never forgot," Forrester said. "And it's what she's expressing at the end of this episode."
The writer also revealed what Carell thought of Fischer in the scene between Pam and Michael.
"Steve Carell says that when he watches 'Business School,' the moment where Michael Scott hugs Pam … he can see five different emotions running through Jenna's face," Forrester said. "It is heartbreak, and it is gratitude. It is just the whole human experience wrapped up in a single take. It's a tremendous performance."
Jenna Fischer on the Pam and Michael art show moment during 'The Office'
After Forrester shared his thoughts on the art show moment between Pam and Michael, Fischer opened up about the scene from her perspective.
"I did channel a lot of those struggling years into my performance for Pam," the actor said on the Office Ladies podcast. "I literally sat at a reception desk and dreamed of being an artist. I have done that, I did it for seven years. So I deeply, deeply felt Pam's longing."
Meanwhile, Fischer couldn't take all the credit, noting she was able to bring the emotion because of Carell.
"I will tell you, I didn't have to prepare much for this [scene] because my scene partner was Steve Carell," Fischer said. "The relationship that I had with Steve in real-life … he was some I look up to, in the way that you look up to a mentor or parent. And I admired him so much. So just to have him look at me and say, 'I'm proud of you,'  I just started crying."
She added, "His sincerity and his truth in saying it, he's a wonderful actor. It was easy."
Check out Showbiz Cheat Sheet on Facebook!