'The Office': Jenna Fischer and Angela Kinsey Get Brutally Honest About Pam and Roy
When The Office premiered in 2005, everyone knew Pam Beesly (Jenna Fischer ) and Roy Anderson's (David Denman) was destined to fail. The couple was clearly incompatible. But the parties involved never saw what was right in front of them. That is until reality set in on Pam during "Business School" from season 3. Then while recapping the episode on the Office Ladies podcast, Fischer and Angela Kinsey, who played Angela Martin, spelled out exactly what went wrong between Pam and Roy.
What happened to Pam Beesly and Roy Anderson on 'The Office'?
Roy is Pam's fiancé for the first two seasons of The Office, and the two individuals are clearly not on the same page. But they're still committed to one another. Then when Jim kisses Pam during "Casino Night," everything changes. Pam calls off the wedding and she's single at the start of the third season.
Nevertheless, Pam and Roy get back together midway through season 3. But when Pam tells her partner about her kiss with Jim, Roy attacks Jim at the office. Pam breaks up with Roy, and he is fired. 
Jenna Fischer and Angela Kinsey reveal why Pam and Roy didn't belong together on 'The Office'
Before Pam and Roy's final goodbye, The Office writers already started to give hints about the crumbling relationship. In the Office Ladies podcast published on Sept. 24, Fischer and Kinsey discussed "Business School" and revealed a few moments that truly showed how Pam realized Roy wasn't her person.
In the episode, Pam has her art showcase and invites everyone. However, no one shows up except for Roy as well as Oscar Martinez (Oscar Nunez) and Gil (Tom Chick). Then during the Office Ladies podcast, Fischer and Kinsey called out Roy, as he wanted applause for showing up.
"You know, Roy has just regressed," Fischer said. "He says all of this stuff that is so insulting. He's like, 'Oh, hey, no one else showed up. But I came.' … He needs some 'congratulations' for showing up to his girlfriend's art show? You're doing the bare minimum."
Meanwhile, Kinsey noted Roy expected to be "applauded" for doing the "basic amount of effort." Then Fischer added, "Roy is the type of man who needs to be thanked profusely for doing everyday chores like the dishes and taking out the trash as if he's done something extraordinary. When really, he's just contributing to the partnership of running a household."
But ultimately, the moment at the art show highlights why Pam and Roy aren't compatible.
"I definitely think this art show night, [Pam's] raw, she's vulnerable. And she needs Roy to be more of a support and he's just not able," Kinsey said. "That's just the reality. Roy is going to be a great partner to someone else that doesn't need the same things from him that Pam needs."
Jenna Fischer and Angela Kinsey discuss the moment Pam re-evaluated her relationship with Roy on 'The Office'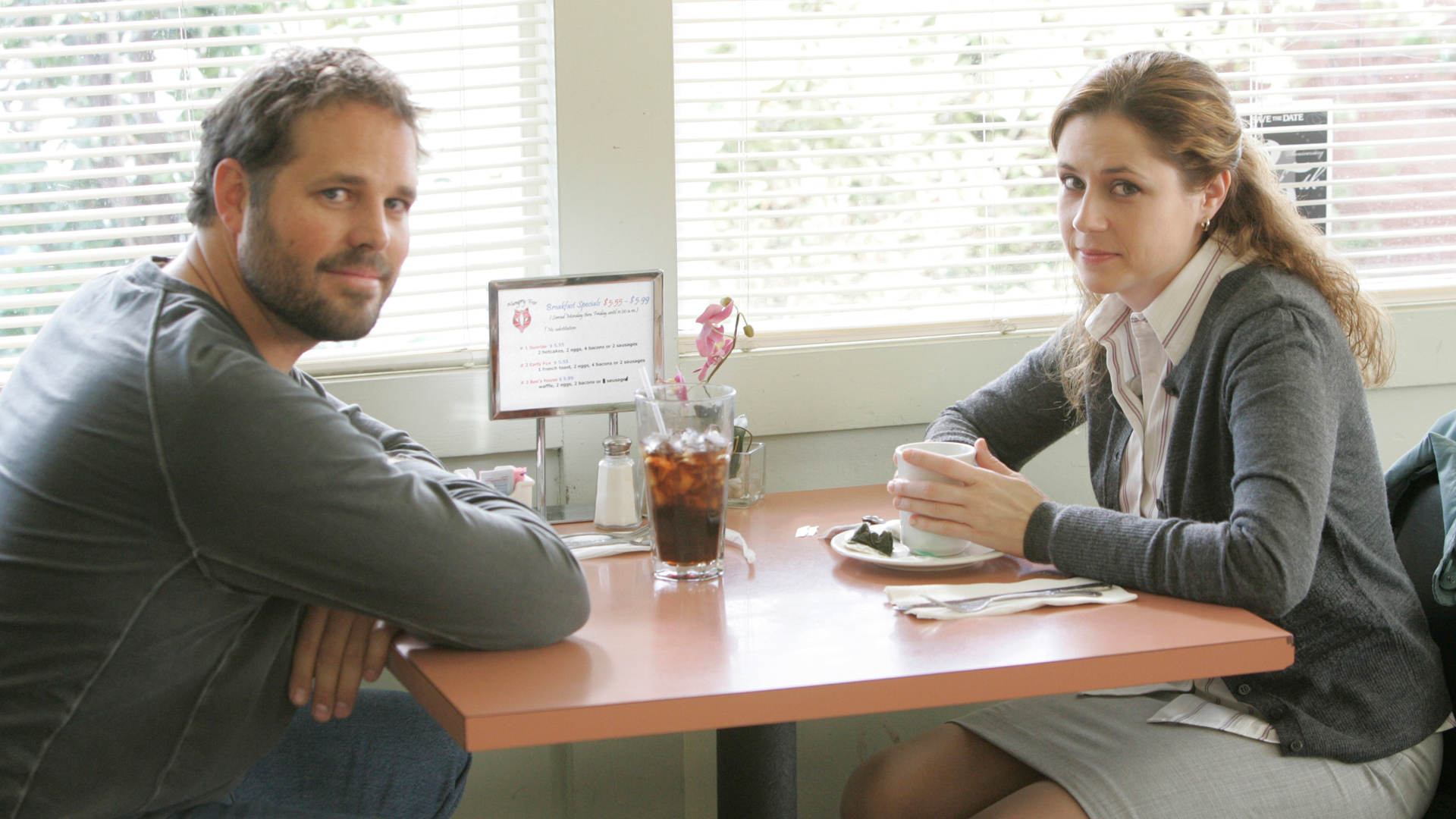 While Roy's attitude in "Business School" was no surprise to fans, it was an eye-opener for Pam. Later in the episode, Gil calls Pam's creations "motel art" and state they don't have "courage" or "honesty." And in response, Oscar says those aren't Pam's strong points. Then on the Office Ladies podcast, Kinsey and Fischer confirm what the comments truly meant for Pam.
"I think all of that hits her so harsh," Kinsey said. "It's even more powerful for Pam to hear because, in this moment, she's forced to hold up the mirror to her life. And part of that courage and honesty is finally, boldly saying, 'Roy is not my person.'"
Meanwhile, Fischer reminded her co-host that her character actually claimed her reunion with Roy showed "maturity and dignity." However, Oscar and Gil's remarks force her to see reality.
"When she hears this from Gil and Oscar, she's confronted with the fact that getting back with Roy does not show dignity or honesty or courage," Fischer said. "On the one hand, we're talking about her art. But on the other hand, for Pam, it's like this self-realization about her choices and her life."
Check out Showbiz Cheat Sheet on Facebook!