'The Office': The Sweetest Reason Why Phyllis Stole Pam's Wedding
The Office fans were shocked when Phyllis Lapin-Vance (Phyllis Smith) chose to steal Pam Beesly's (Jenna Fischer) almost-wedding with Roy Anderson (David Denman) in season 3. Phyllis and Pam always seemed friendly. But the move made the spouse of Bob Vance of Vance Refrigeration (Bobby Ray Shafer) appear stone-cold. Now, Smith has a theory on why Phyllis stole Pam's wedding ideas. And not going to lie, it's really sweet.
What happened to Phyllis and Pam in 'The Office' Season 3 Episode 15?
In The Office Season 3 Episode 15 — titled "Phyllis' Wedding" — Pam instantly notices her co-worker took "inspiration" from her canceled wedding plans. And even when Phyllis walks into the church, Pam looks at the camera in disbelief. 
"That's my dress," she says.
In the original episode, Pam talks to Phyllis about the stolen wedding plans. But when Fischer and Angela Kinsey recapped "Phyllis' Wedding" on the Office Ladies podcast, the actors revealed there was a deleted scene containing a confrontation of sorts.
During the wedding reception, Phyllis comes up to Pam and asks her whether or not she is having a good time. Phyllis also admits she "borrowed" Pam's idea about the after-dinner mints. But Pam isn't having it. She calls her friend out for taking everything, from the dress to the cake. Then Phyllis' response is pure gold.
"You really sound like you're keeping track," she says. "You know, I could make an announcement if what you want is credit."
Phyllis Smith reveals why her character stole Pam's wedding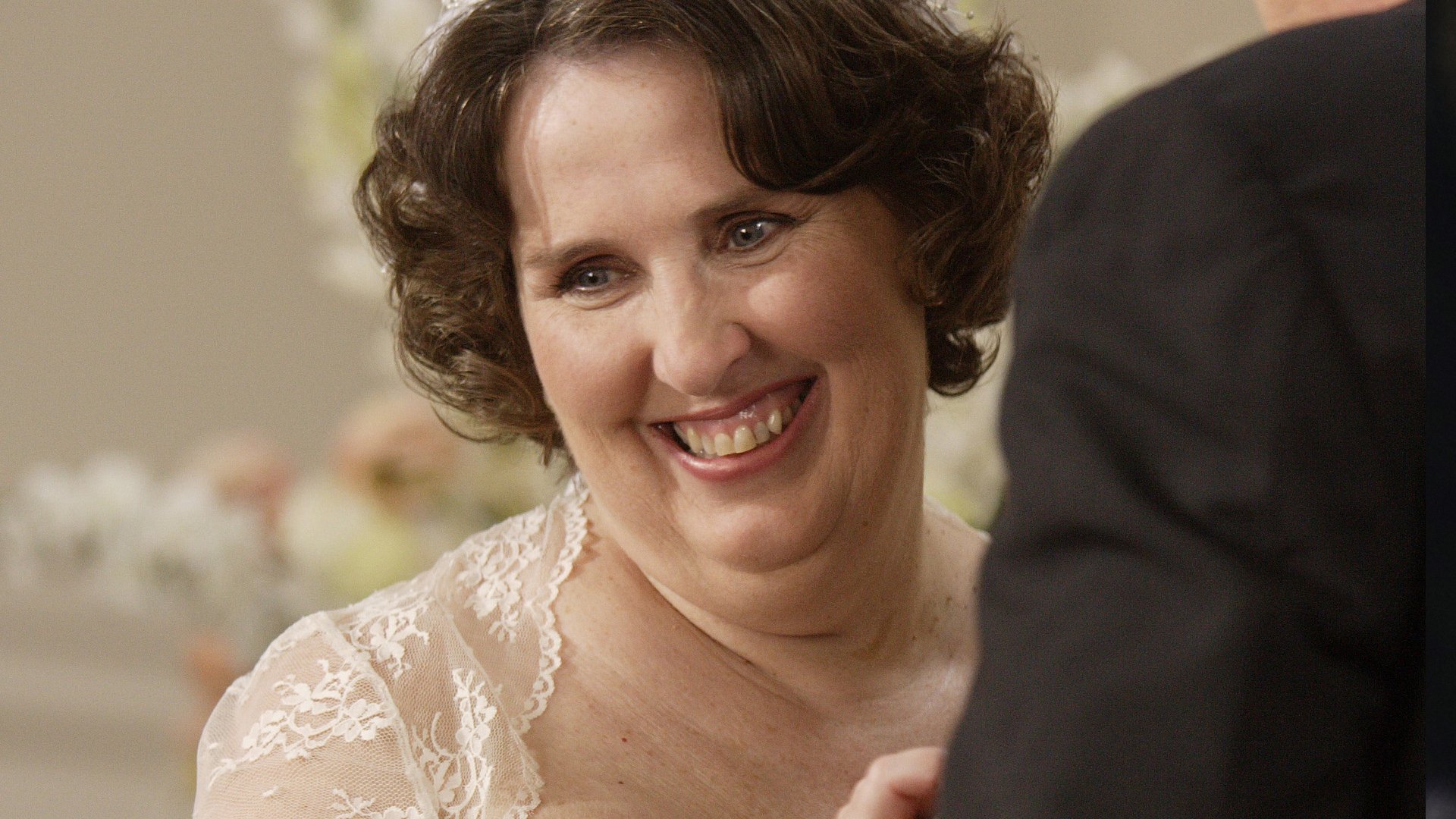 The Office fans are used to Phyllis' sassiness. So the character's reaction to Pam's accusations aren't exactly out of the ordinary. But stealing Pam's canceled wedding plans takes things to a new level. Nevertheless, Smith doesn't think the action was inherently cruel.
"When I got to thinking about it, I don't think that Phyllis Lapin-Vance stole Pam's ideas, colors, flowers, and stuff because she was being vindictive," the actor said on the Office Ladies podcast. "I think that Phyllis had an admiration for Pam."
Smith also noted Phyllis probably thought that if Pam liked something, it meant it must be special. So she wanted to honor her friend.
"That was always kind of the backstory in my mind — that I wasn't being nasty," Smith said. "I was being kinda honoring Pam's wishes for her ill-fated wedding."
Jenna Fischer and Angela Kinsey react to Phyllis Smith's take on the Pam and Phyllis situation on 'The Office'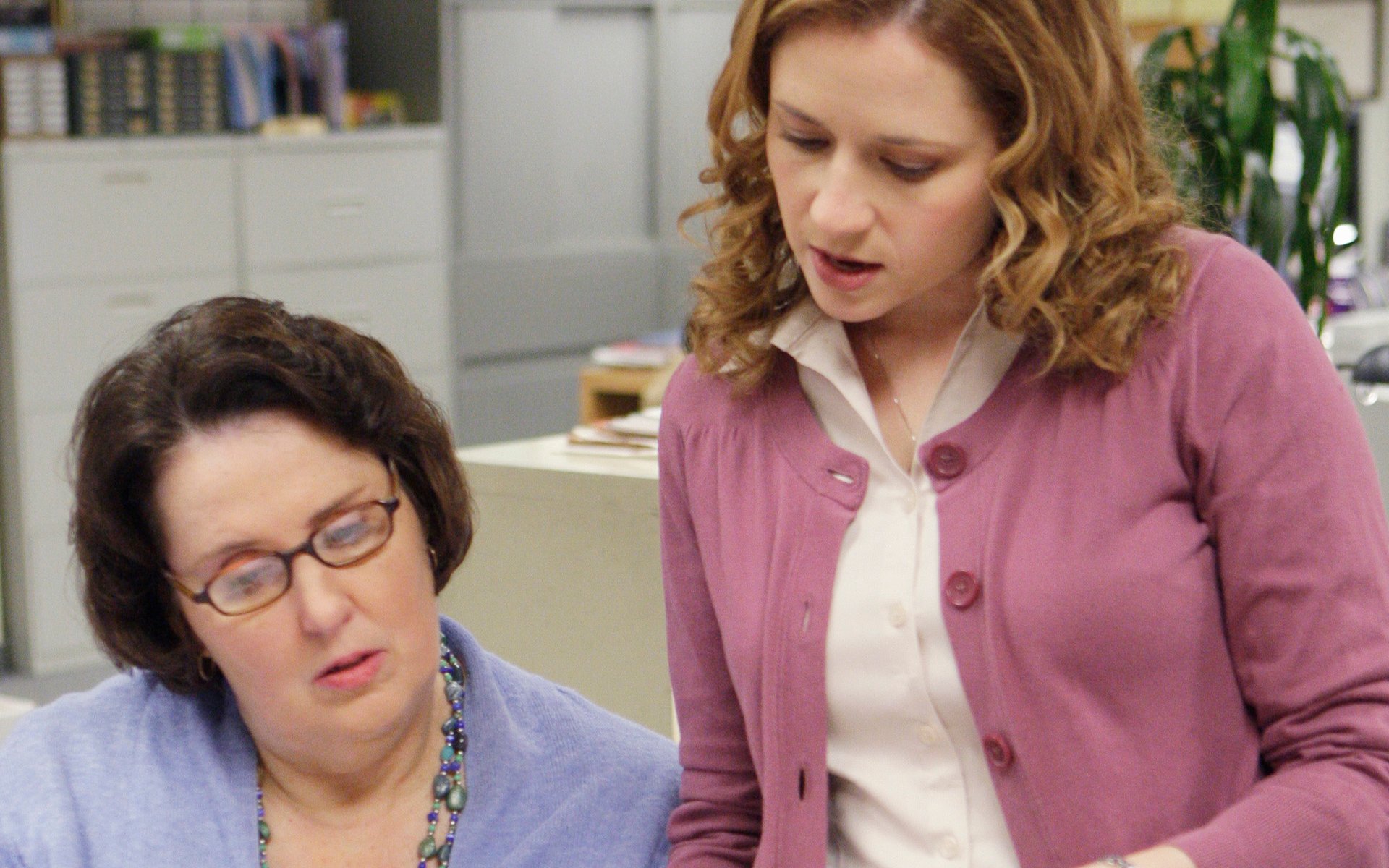 While Smith doesn't think Phyllis stole Pam's wedding ideas, Kinsey and Fischer cast their doubts on the Office Ladies podcast. 
"Phyllis Smith is just so sweet," Kinsey said. "I do think that Lapin was a little shady."
Then Fischer agreed. But even so, the actor noted Smith's reason explains Phyllis' "snarky" comment to Pam in the deleted scene. Fischer also pointed out that the stolen wedding ideas indicate just how much Phyllis paid attention to Pam during the planning process. She said:
I think it's sweet because it really speaks to how much Pam shared with Phyllis about her wedding planning. And you see little snippets of that, where Phyllis is showing interest. Like they're in the kitchen and Jim [John Krasinski] walks in. But [Phyllis] is the person that Pam could share with at work and probably was the only person who took interest in her wedding. 
Check out Showbiz Cheat Sheet on Facebook!