'The Office': Proof Dwight Schrute and Pam Beesly Had the Best Relationship
If you're a fan of The Office, there's one relationship that you coveted the most. It may be the love Michael Scott (Steve Carell) had for his job and his employees. It could have been Kevin Malone's (Brian Baumgartner) affinity for food. Or it could be the friendship that Pam Beesly (Jenna Fischer) shares with Dwight Schrute (Rainn Wilson).
If you chose Pam and Dwight, you're right. Here's what made their friendship on The Office so special.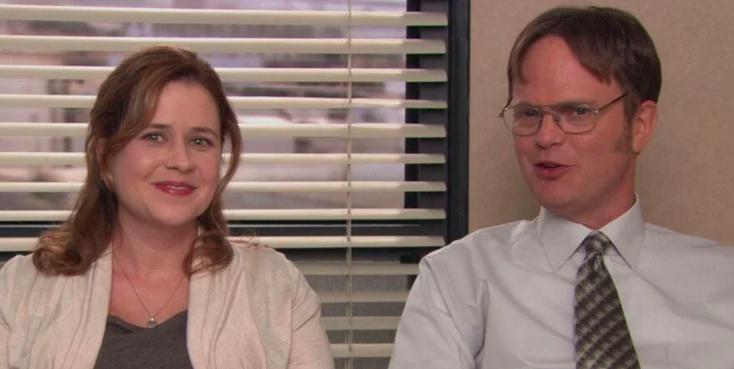 Dwight always had a soft spot for Pam
Dwight never let Pam's feelings for Jim (John Krasinski) motivate how he treated her. In the season 3 episode "Back From Vacation," Dwight found Pam crying and immediately went into defense mode, asking: "Who did this to you? Where is he?"
After he realized it was something more, Dwight offered Pam a handkerchief and took a seat. "You don't need to stay here," Pam said. "I know," Dwight replied, but he didn't leave. Early on in the series, this scene demonstrated the kindness and high regard Dwight held for Pam. Sure, he made a comment: "So you're PMSing pretty bad, huh?" but in a way, that took Pam's mind off of being upset and stayed true to the character's quirky nature.
Dwight and Pam were never enemies
Throughout the series, Dwight did plenty of things to make Pam's life more difficult. Dwight's ability to do so justified whenever Pam decided to help Jim with a prank. Ultimately, Pam and Dwight were harmlessly torturing one another, the way only real friends could.
When necessary, Pam always did right by Dwight. When Pam learned that Dwight and Angela were in love with each other, she kept the secret hushed. When she watched Dwight struggle to watch Angela date other people, Pam was a shoulder to cry on. Pam's actions, however small, demonstrated how much she valued Dwight's feelings — something a true friend does. 
Pam and Dwight grew closer each season
Early on in the series, Dwight held no disdain toward Pam until he learned of her feelings for Jim. In season 7's "Viewing Party," Pam was in need of Dwight's help. "I've always considered us to be very good friends — great friends," Pam said in desperation. "Remember your concussion?" Dwight, holding a sleeping Cece, replied: "I do. But you married my worst enemy." 
Dwight's comment once again demonstrated that he didn't have a problem with Pam — he considered her a friend, despite her misstep of marrying his "worst enemy." Forgiveness is vital in any relationship and something that Pam and Dwight had throughout The Office.
As the series drew closer to a conclusion, Pam and Dwight's friendship only continued to grow. In season 9, when Clark Green joined Dunder Mifflin, Pam asked Dwight to help her "prank the new guy" — something she would have done with Jim in the past. Not only did this scene symbolize how much the two had grown in their friendship, but it also demonstrated how much value Dwight placed in pleasing Pam as a friend — not to mention how laid back he had become over the years.
Pam was honest with Dwight
Dwight's communication skills were never his strong suit. Seeing how hurt Dwight was after ending things with Angela, Pam sought to teach him how to talk to women. In a heart-warming scene, Dwight engaged another woman in conversation. Curious about where their relationship might go, Dwight agreed to keep Pam in the know. Confused by his willingness to be so open, Dwight clarified: "Because you are my friend, and you are a woman — and women love gossip, it's like air to you people." A hilarious line, yes, but one that reaffirms the bond between the two.
Pam and Dwight's had the best relationship on 'The Office'
There were undoubtedly other amazing friendships formed on The Office, but compared to what Dwight and Pam shared, they were only surface-level relationships.
"Office manager Pamela Beesley Halpert is my best friend," Dwight said in a tearful final moment of the comedy series. At the conclusion of the series, Dwight shed his rough exterior and admitted what fans had known all along — he and Pam had the best relationship.
Related: 'The Office' and 'Schitt's Creek' are Combatting the Boredom Associated With the Coronavirus