'The Office': Rainn Wilson Accidentally Spit Food in Steve Carell's Face During 1 Hilarious Blooper
A blooper clip from season 5 of The Office shows an unfortunate mistake that involved an actor spitting chewed-up food into his co-star's face. During the Office Ladies podcast, hosts Angela Kinsey and Jenna Fischer discussed the moment when Rainn Wilson and Steve Carell cracked up during a scene and Wilson was in mid-chew.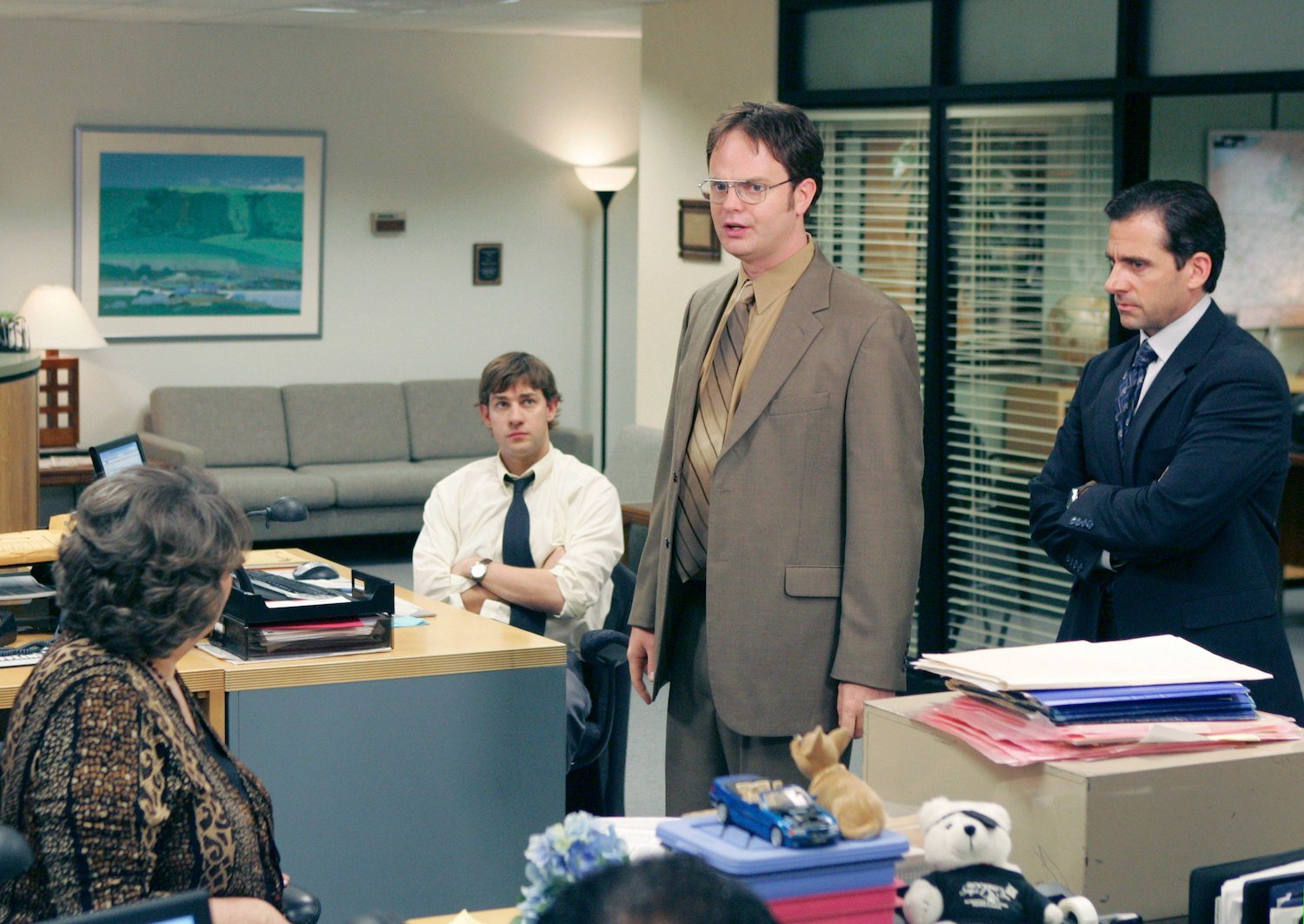 'The Office' episode has Michael and Dwight spying on a rival paper company
During the Sept. 1 Office Ladies podcast, Kinsey and Fischer discussed The Office Season 5 episode "Prince Family Paper" which involves David Wallace asking Michael to get intel about a rival paper company.
Michael takes Dwight along to assist him and Kinsey pointed out "a scene I absolutely loved," involving the two driving to Prince Family Paper. "Did you notice how much they bicker in this scene? They're like an old married couple," she said.
Kinsey continued, "They bicker about who would seduce the fictional daughter. They don't even know if this person exists. And they bicker about Denny's and IHOP. They bicker about the clouds. Dwight says, 'Get your clouds right'. Michael tells him to shut up."
Rainn Wilson spit chewed up food in Steve Carell's face
While Michael and Dwight are developing a plan for their visit to Prince Family Paper, Dwight explains they need a signal, which they agree will be licking their lips. The two actors cracked up during the scene and Wilson, who was chewing almonds at the time, accidentally spit his food at Carell when he laughed.
"I actually love the blooper for this scene so much that I filmed the blooper and I sent it to Rainn and texted him and I was like, 'What are you guys eating?'" Kinsey said. "And he was cracking up. He said, 'I am pretty sure those were smoked almonds.'"
She continued, "And while they're eating these almonds, they decide on a signal that they need to give each other if there's danger, they need to get out of there. And Dwight says you've got to lick your lips and Michael does a quick lick. Meanwhile, they're eating these almonds the whole time. And Dwight goes, 'No, like this' and does this big thing."
The moment proved to be too hilarious for the actors, however. "And in the process of doing this, they started laughing," Kinsey shared. "And when they did, Rainn in his laughter, in his guffaw, he spit like projectile almond. It like flew and hit Steve in the face." 
Rainn Wilson felt so bad after it happened
In the blooper, both Wilson and Carell start laughing and the food lands on Carell's face. Wilson is clearly apologetic, saying, "Oh no! Oh dude, I'm so sorry! … I'm so sorry, dude."
Carell tells him, "That's OK." 
"He sprayed the side of his face with wet half-chewed almonds," Kinsey said. "And then Rainn felt so bad that he grabs like a tissue. He starts, in the moment, just reacting. He just starts wiping Steve's face."
Jenna chimed in to add, "Oh, my gosh. It's so good. It's so good."
RELATED: 'The Office': John Krasinski Said He Wanted to Punch Rainn Wilson During Their Audition