'The Office': Rainn Wilson Breaks Down Why Fans Love Dwight Schrute
Rainn Wilson is best known for playing Dwight Schrute on The Office. Find out how Wilson's classical theater training and his experience as a clown helped make Dwight such a beloved character on the NBC comedy series.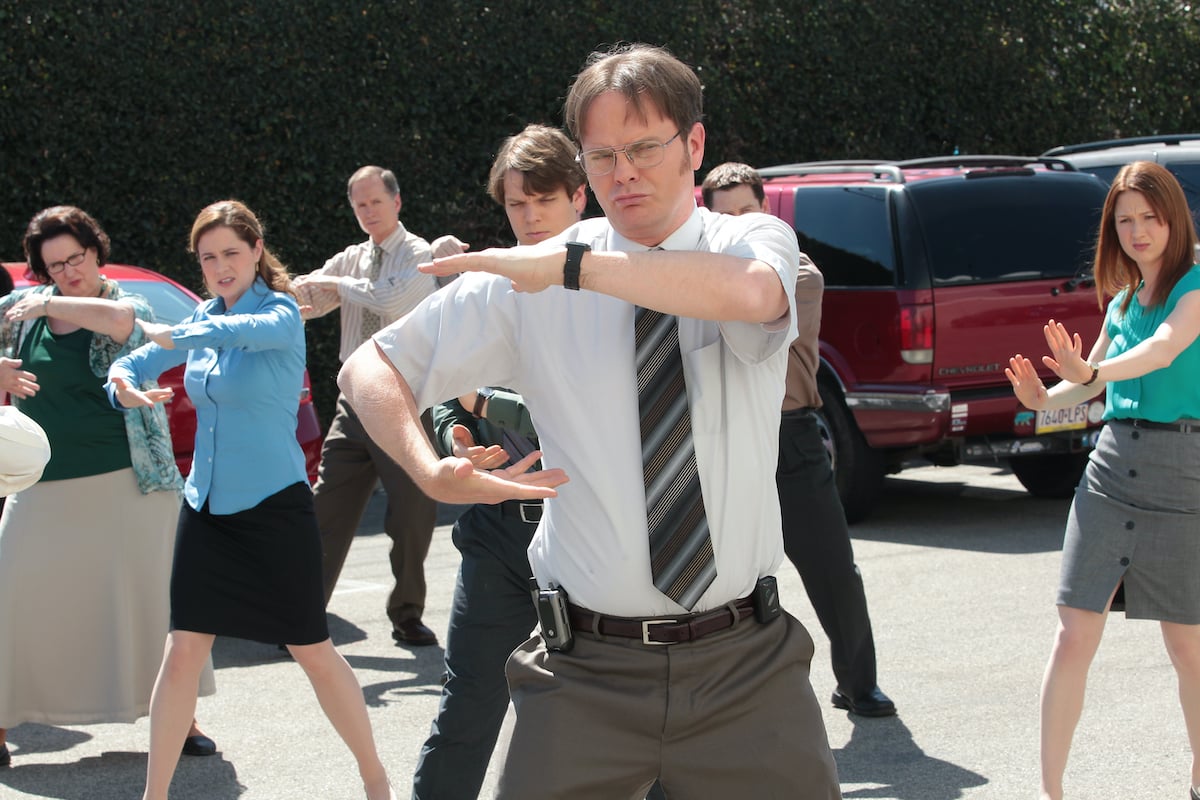 Brian Baumgartner spoke with Rainn Wilson on his new podcast about 'The Office' 
Office actor Brian Baumgartner's first venture into podcasting (An Oral History of The Office) was such a success, he's back with more. Baumgartner, who played accountant Kevin Malone on the show, brings fans The Office Deep Dive, a show that features full-length, in-depth conversations with the cast and crew of The Office. 
Dwight Schrute actor Rainn Wilson dissects what makes him a loveable character on 'The Office' 
During the first part of Wilson's interview with Baumgartner, they spoke about his approach to creating Dwight. 
"[When] people ask me about playing Dwight, I always say that I think my goal was to make Dwight very specific," Wilson started. "Having Dwight have a pager or stand a certain way, drive a certain way, sit in his chair a certain way — [I wanted Dwight to] have certain attitudes about certain things that are very specified." 
At the time, Wilson said no one else was doing a character that fell into the "muscle-car nerd" category. 
"If you think about it, there's a lot of elements that go into the creation of Dwight," he continued. "Heavy metal, muscle car [lover] rarely equals Battlestar Galactica fan." 
But the more specific Wilson made Dwight, the more human he appeared to fans. All of those elements — muscle cars and nerdom and beet farming — are what make Dwight such a beloved Office character. 
Rainn Wilson's background in theater and clowning helped him play Dwight Schrute  
Wilson also talked about his time studying theater in NYU's theater program during his podcast interview.
"I did a lot of clowning, I did a lot of physical work in physical theater," Wilson explained. He mentioned how his training involved "finding a character in his body" — a skill that became extremely useful playing Dwight Schrute. Ironically, Baumgartner had a similar background in theater and clowning.
"There were certain elements of Dwight that if I needed to get into character, I could just put my focus on certain parts of my body, and I would immediately be Dwight," Wilson said. Those focuses included a straight neck, hips forward, and thinking about "big hips." 
"Dwight always stands too close to people," Wilson laughed. "There's kind of a ramrod in the neck, a little bit of swagger in the shoulders. Those are some of the elements of Dwight that [helped early on]." 
Physicality was a big part of playing Kevin Malone, too
Baumgartner also talked about the physicality he brought to the role of Kevin Malone. 
"For me, it was my jaw," Baumgartner began. "I knew there was a specific place that I could put my jaw that was [Kevin]. Also, as he moved through the space, he wasn't aware of his size in the space, which to me was always hilarious when I would come against Angela [Angela Kinsey] and knock her around." 
The other big part of physically playing Kevin Malone was using his torso. 
"There was something about my torso that it doesn't move agilely from side to side, it's all sort of connected down at my hips," Baumgartner said. "The whole body turns and maybe even shuffle my feet to turn to one direction if I needed to." 
Both Baumgartner and Wilson created lovable characters on The Office thanks to their shared background in theater and experience clowning.