'The Office': Rainn Wilson Created a 'Defining Friendship Moment' for Angela Kinsey & Jenna Fischer
Thanks to their Office Ladies podcast, most fans of The Office won't be surprised to learn that Angela Kinsey and Jenna Fischer are best friends in real life. Unlike their characters (Angela Martin and Pam Beesly) on the hit comedy, the pair hit it off almost immediately and quickly forged an everlasting friendship. But what exactly made the pair become so close so quickly?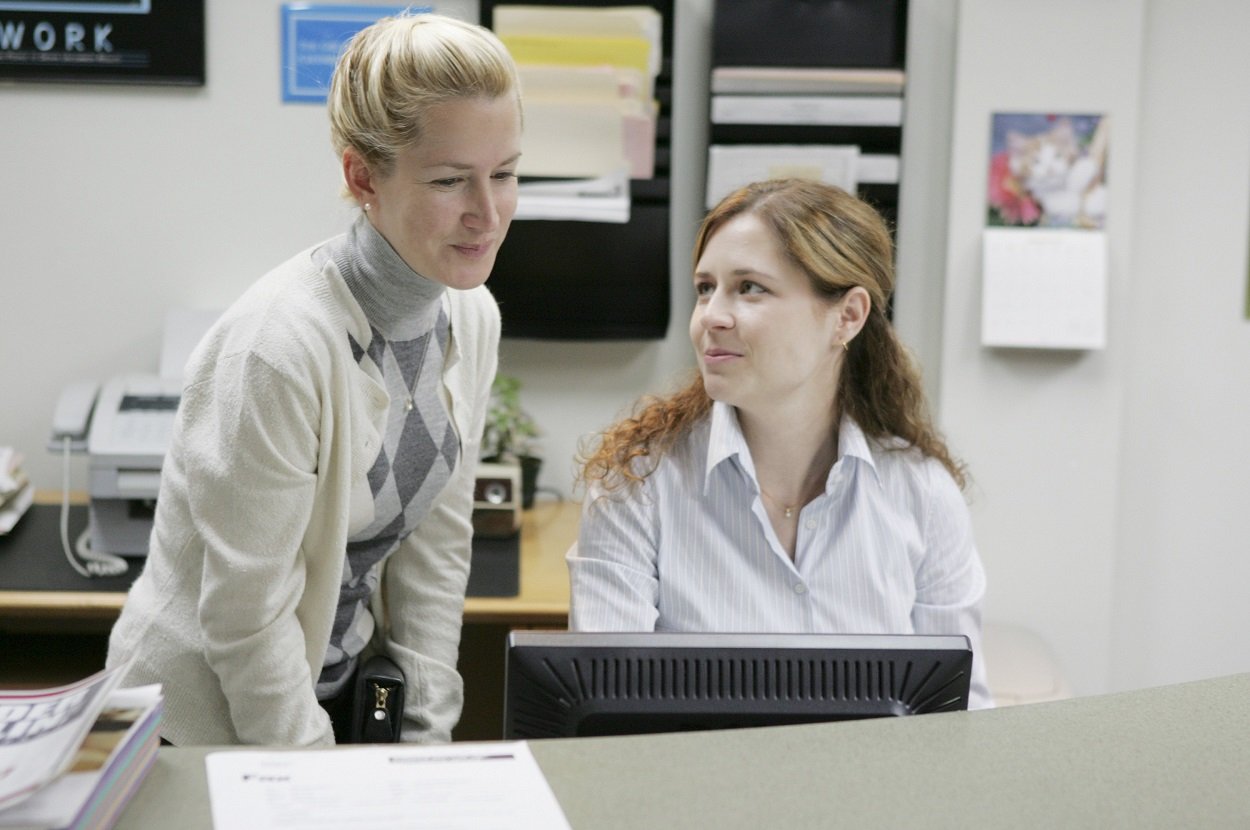 Kinsey has often been candid about the fact that she is nothing like her character on The Office. Throughout the years, the actor has shared that many fans of the show are surprised to learn that she is extremely talkative in real-life and much friendlier than the accountant that she was portraying. In fact, in a 2019 interview with Vulture, Fischer revealed that her first impression of Kinsey was that she couldn't stop talking.
How Office Ladies Angela Kinsey and Jenna Fischer became best friends
"My first impression of Angela was that she was very tiny and wouldn't stop talking," Fischer recalled about meeting Kinsey in early days of The Office. Kinsey quickly shared that she too remembered being a "tiny chatterbox" and that she was drawn to Fischer because she was so nice. The pair also cited that their close proximity on set is what helped them form a connection early on.
"She was literally the closest person to my desk," Fischer shared about her fellow Office co-star. "I was very lonely at reception. People would often stand in front of me and have conversations, but not talk to me! It would drive me crazy. When I was a real receptionist when I first moved to Los Angeles it would drive me crazy. And then it happened to me again fictionally! It just never ended. I remember being so happy she was right over that partition and was always someone I could talk with."
Rainn Wilson inadvertently created a defining moment for his castmates
Once Kinsey and Fischer started the habit of talking, they couldn't stop. The pair would talk all day on set in between shots, talk at lunch, and then continue their conversations when they were driving home from set. Kinsey even admitted that she and Fischer talked so much it was shocking to Rainn Wilson (who played her love interest, Dwight Schrute on The Office) and he called them out for it. Interestingly, the moment with Wilson became a defining moment for their friendship.
"Rainn Wilson one time watched us chitchat in-between scenes — we talked on the entire walk back to our trailers, then we talked during our lunch together, then we talked all the way to hair and makeup, then we talked while back on set, and then we talked all the way to our cars at the end of the day," Kinsey recalled. "Rainn was like, 'What else could you possibly talk about?! You guys have been literally talking the entire day!' That was our defining friendship moment for me."
It seems that years later, Fischer and Kinsey haven't yet run out of things to talk about. Clearly, the actors get along far better than their characters on The Office ever did.