'The Office' Star Rainn Wilson Once Revealed His Favorite Heartfelt Moment Between Dwight and Jim
Rainn Wilson is best known for playing Dwight Schrute on NBC's The Office. Throughout the show's run, he and Jim Halpert (played by John Krasinski) were constantly at odds. At times, Dwight would refer to him as his "mortal enemy." 
While working at Dunder Mifflin, Jim would continuously pull pranks on Dwight. As the show progressed, their relationship blossomed into a special bond. Wilson has a lot of memorable moments from the comedy series. But, one particular scene between Dwight and Jim truly defines The Office for him.
Dwight Schrute and Jim Halpert went from sworn enemies to close friends 
In the first season of The Office, Dwight referred to Jim as his "arch-nemesis." They rarely got along because Jim would constantly pull jokes on the paper salesman. Aside from the pranks, Dwight despised the practical joker because of his relationship with Michael Scott (Steve Carell). While Jim was the most favored by the boss, Dwight would continuously fight for his approval. But, as the show progressed, their relationship began to change. 
Although Jim would still pull pranks, they would often work together as a team. For instance, the two worked together in The Office episode titled "Lecture Circuit: Part 1." After forgetting Kelly Kapoor's birthday, Jim and Dwight are appointed the heads of the Party Planning Committee and must organize a party to make it up to her. Despite their constant bickering, the party was a huge success.
In the end, the two went from frenemies to best friends. In The Office Season 9, Dwight chose Jim to be his "bestest mensch" on his wedding day. Then, Jim pulled the best (and finale) prank ever on the groom – calling Michael to Colorado to be his best man. 
'The Office' actor Rainn Wilson shared his all-time favorite scene in the sitcom
Even though The Office has a lot of unforgettable moments, there's one scene that is Rainn Wilson's all-time favorite. In a 2018 interview with ESPN, the 55-year old actor shared that his favorite scene was between his character and Jim. 
In season 4, Dwight is heartbroken after Angela (Angela Kinsey) broke up with him. While sitting in the staircase, Jim sits beside him for support. After having a heart-to-heart conversation, Dwight extends his arm to Jim, but he is gone. Dwight looks around, kind of embarrassed. 
For Wilson, that moment truly defined their relationship. "I love that moment because it kind of sums up The Office for me," he said. "If Dwight had connected with Jim, if he put his arm around him, and looked into each other's eyes and said 'I got you, bro,'" then the whole show would've fallen apart. They need to be antagonists. But, it was this poignant moment that ends kind of comedically."
What did John Krasinski think about Jim and Dwight's relationship?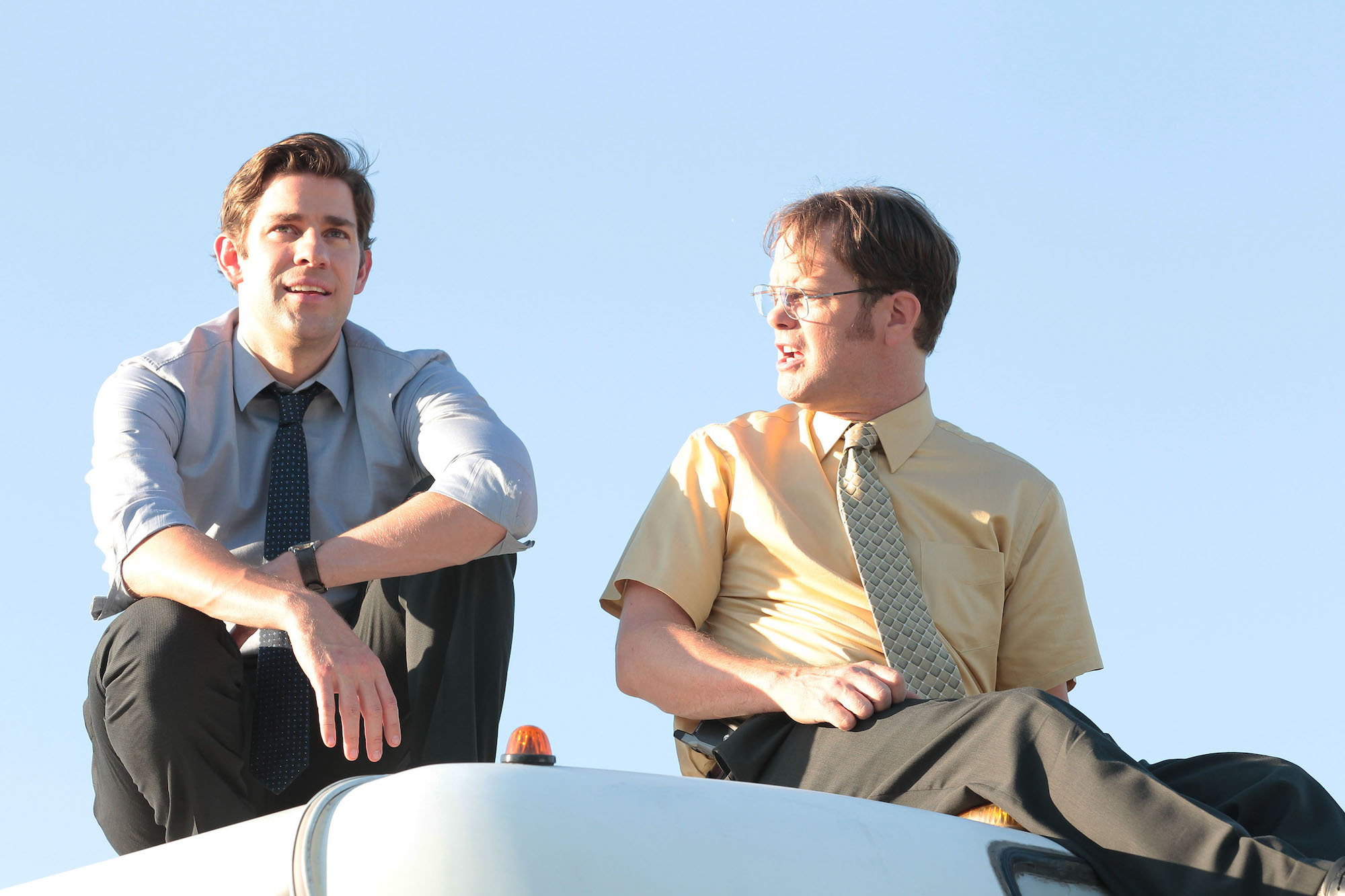 Jim and Dwight's wacky antics were enjoyable to watch on screen. Yet, John Krasinski attributes their dynamic to the writers, noting that the pranks were like a "kind of loving and brotherly" way for the two to interact. In an episode of Brian Baumgartner's podcast, An Oral History of The Office, Krasinski delved into what he loved about Jim and Dwight. 
"What the writers did so well was make those pranks kind of loving and brotherly, like there was a brother aspect to it that I think made them so great," he explained. "I wasn't being mean. I was doing something that I knew he kind of got a kick out of too." 
Krasinski went on to say that Jim's initial feelings toward Dwight influenced his performance. "I think [Dwight] was everything I didn't want to be, or so I thought," he continued. "We were in the scenes together coming from two totally different places, and that was so cool the weird explosive thing."
All nine seasons of The Office are streaming now on Peacock.