'The Office': Rainn Wilson Reveals How His Favorite Jim and Dwight Moment Perfectly Defined the Show
There was one iconic Jim and Dwight scene on The Office that was so well executed it perfectly defined what the show was all about. Rainn Wilson, who played Dwight, believes if the two characters had connected fully in that moment it would have completely changed their relationship.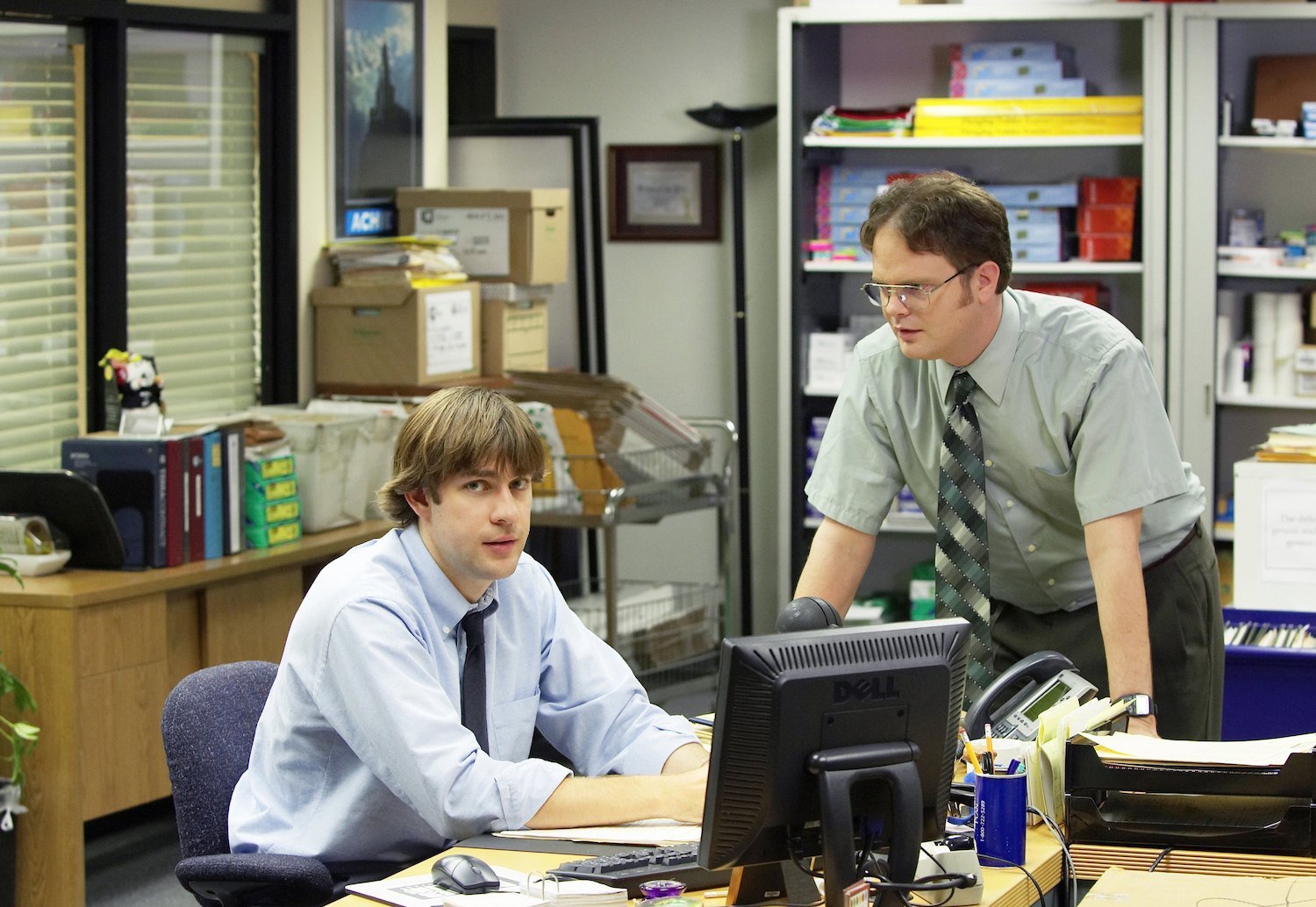 'The Office' was always about the 'beauty in ordinary things'
During the June 29 episode of The Office Deep Dive with Brian Baumgartner, the host and Wilson discussed how the show was really about the beauty of ordinary things, as Pam sums up in the series finale.
Wilson agreed with that idea and said, at the risk of sounding "pretentious," that his favorite theatre artist is Anton Chekhov, the playwright.
He explained how Chekhov "really saw the beauty in ordinary things and in ordinary people," adding that a "Chekhovian moment" is "a profound moment that's very simple, where hearts are broken over a teacup being passed around, or what's not said, or a longing has some kind of physical manifestation."
"I think, at its best, I think The Office was Chekovian in that sense, where there was a beauty found in ordinary things," Wilson explained.
The actor also pointed out the term "dramedy" and how Chekhov was the first to bring comedy and drama together. The Office often tapped into that mix, where viewers would sometimes find themselves laughing and crying over the span of an episode.
Wilson said that creator Greg Daniels and the show's writers, cast, and directors knew how to "ride that line between buffoonery and heartbreak."
Rainn Wilson said this Jim and Dwight scene is one of his 'favorite moments'
Wilson shared one iconic Jim and Dwight scene that brought that line of buffoonery and heartbreak to life and how a slight change in that moment might have changed the characters' relationship.
"The example I always give is one of my favorite moments, directed by Paul Lieberstein … and it's Dwight and Jim in the stairwell," he explained. "Dwight is heartbroken over Angela and Jim gives him some advice."
"But Jim gives Dwight some really heartfelt advice, like 'You'll get over it' or 'Go tell her you love her' or something like that, something about Angela," Wilson continued. "And then Dwight has got his head down in his hands and Jim slips away and it's a spy shot of a camera down the stairs and then Dwight reaches out with his left arm, as if he would have put his arm around Jim and like hugged."
"And it would have been like their first hug ever. And Jim's not there," he added.
"And [Dwight] kind of looks around and it's this awkward moment," he noted.
Rainn Wilson said this Jim and Dwight scene 'defined what The Office was'
Wilson shared the way the scene illustrated some of the reality, heartbreak, and absurdity so perfectly.
"But I always think if Jim hadn't left and if Dwight had just put his arm around Jim, like they might have bonded in a way that wouldn't have allowed the show go on because they wouldn't have been the nemesis to each other," he explained. "They would have like connected too deeply — and you can't have that on the show, you want to have them episode after episode after episode not connecting."
"But to me, it's like that little moment defined what The Office was — it had absurdity to it, reality to it at the same time, it was based in heartbreak, and then it twisted it into something kind of peculiar and odd and awkward."